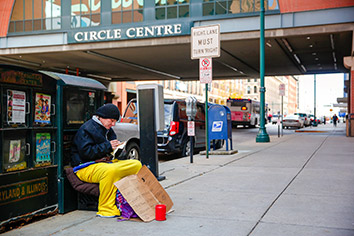 Indiana lawmakers have taken steps to significantly expand the definition of panhandling in a measure that effectively bans the activity throughout downtown Indianapolis.
The Indiana House and Senate both passed legislation Tuesday night that would make panhandling illegal within 50 feet of any ATM; entrance or exit of a bank, business or restaurant; public monument; or place where any "financial transaction" occurs.
The definition of "financial transaction" includes any exchange of money that is received by a business, parking meter, parking garage, public transportation authority facility or pay station, or restaurant.
Current state law makes it a criminal offense to panhandle within 20 feet of an ATM or entrance to a bank or when the individual being solicited is at a bus stop, in a vehicle or in the sidewalk dining area of a restaurant.
Legislators nestled the new definition in House Bill 1022, authored by former House Speaker Brian Bosma, R-Indianapolis. The proposal was initially inserted into Senate Bill 335 during a committee hearing in February, but lawmakers removed it from that bill and instead added it to HB 1022 this week.
The House voted 84-10 to approve the bill. The Senate voted 35-14. It heads to Gov. Eric Holcomb, who can sign it into law, veto it or let it become law without his signature.
The measure, which is targeted at Indianapolis but would apply statewide, is strongly supported by the Indy Chamber, Indiana Restaurant & Lodging Association and Visit Indy as local officials believe the issue is damaging tourism and economic development.
Several stories have been shared by lobbyists and lawmakers of visitors being aggressively approached for money and saying they would no longer return to the city as a result of the unpleasant encounter.
Bosma said in the past six months he's heard from three representatives from different conferences that were held in Indianapolis who mentioned the panhandling problem.
"They love the city but they're not coming back, and the reason was the panhandling situation," Bosma said.
Bosma said officials have noticed that panhandlers in Indianapolis are meeting in the mornings and coordinating how to approach individuals on the street.
"This is organized," Bosma said. "The vast problem is an organized shakedown."
The ACLU of Indiana said the wording in the legislation is unconstitutional because it violates the First Amendment, but supporters say the language is similar to laws in other states that have survived court challenges.
State Rep. Ed DeLaney, D-Indianapolis, supported the bill, but said he thinks lawmakers need to do more to address the problem of mental health and addiction issues.
"I will vote for this, but I hope that we recognize that we can't just wish this problem away," DeLaney said.
State Rep. Justin Moed, D-Indianapolis, also voted in favor of the bill, but said he's worried if enforcement isn't thorough, it could simply push the problem to different areas of the city. He said he would like to see the state allocate funding toward a long-term solution in the next budget, which will be crafted next year.
"I think we need to be creative and look at ways we can support the city," Moed said.
State Sen. Greg Taylor, D-Indianapolis, said the bill doesn't prohibit activities like selling Girl Scout Cookies, so "now people are going to be downtown selling products rather than asking for change."
State Sen. Mark Messmer said someone would need a retail permit to sell products.
"That's a big ol' zero on that one," Messmer said.
The city of Indianapolis has not taken a position on the measure, other than to say it would enforce whatever becomes law.
Please enable JavaScript to view this content.