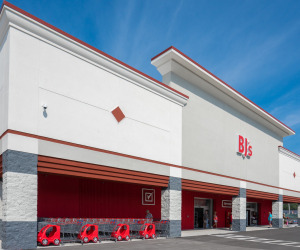 BJ's Wholesale Club is planning to open a store in Carmel that would be its second location in Indiana, according to documents filed with the city.
The Westborough, Massachusetts-based wholesale shopping club plans to build a 102,000-square-foot store, gas station and parking lot on about 8-1/2 acres in Greyhound Commons at 14480 Lowes Way.
The location is south of the Lowe's store near West 146th Street and the junction of U.S. 31 and Keystone Parkway.
A BJ's spokesperson did not immediately respond to a question from IBJ about when the company plans to break ground on the store in Carmel.
BJ's is the third-largest warehouse club chain in the country. It opened a 105,000-square-foot store Sept. 30 at 13210 Tegler Drive near Hamilton Town Center in Noblesville.
The company opened its first location in 1984 and now operates at least 230 warehouse-style stores in 18 states, mostly in the eastern United States.
The company went public in 2018 and plans to open 11 new stores by the end of 2022. It reported sales of $4.4 billion in the first quarter of 2022.
The stores sell groceries, electronics, apparel and other items, offering a mix of brand-name and private-label items in a no-frills environment.
To help keep its prices low, BJ's deliberately limits the variety of items it offers. The average BJ's store carries about 7,200 different stock keeping units, or SKUs. In comparison, the average supermarket carries about 40,000 SKUs, and a supercenter might carry more than 100,000 SKUs.
As is common in the warehouse club model, BJ's customers must purchase annual memberships in order to shop at the store. BJ's annual membership fees start at $55, but it often offers promotional discounts to reduce membership costs.
BJ's top competitors are Sam's Club and Costco. Sam's Club has three local stores: 7235 E. 96th St. and 5805 Rockville Road in Indianapolis, and 1101 Windhorst Way in Greenwood.
Costco has four area locations: 8816 Dr. Charles Nelson Drive in Avon, 6110 E. 86th St. in Castleton, 9010 Michigan Road on the northwest side, and 4628 E. County Line Road on the south side.
Costco received approval on Oct. 18 from the Indiana Alcohol and Tobacco Commission for a beer, wine and liquor license for a potential store at the southwest corner of East 148th Street and North Pointe Boulevard—near the busy intersection of State Road 37 and 146th Street.
Arkansas-based Sam's Club, a division of Walmart Inc., operates close to 600 locations in the U.S. and Puerto Rico, with an average store size of 136,000 square feet.
Costco, based in Washington state, operates 809 locations, including 559 stores in the U.S. and Puerto Rico. Costco's stores range from 80,000 to 230,000 square feet, with the average store occupying 146,000 square feet.
BJ's was started by discount department store chain Zayre in 1984. The company's name was derived from the initials of Beverly Jean Weich, the daughter of Mervyn Weich, who founded the chain.
Please enable JavaScript to view this content.