Canada-based hair styling chain Blo Blow Dry Bar is expanding into Indiana via a franchise deal that will bring three locations to the northern suburbs of Indianapolis.
Franchisee Theresa Shadley of Noblesville said she's in lease negotiations for a spot in the Clay Terrace shopping mall in Carmel and plans to have that store open by the end of the year. She's also in negotiations for a location in the Fishers Station development at the corner of 116th Street and Allisonville Road. Shadley said she expects to open the Fishers location next year. She's also planning to open a third location at a yet-to-be-determined site that will also be in the northern suburbs.
"What attracts me to this brand is, really, the category of blow-dry is growing exponentially within the beauty industry," Shadley told IBJ on Thursday.
Blo specializes in wash and blow-dry services and special-occasion hairstyling. It does not offer haircuts or coloring. Shadley said she will also offer special-occasion makeup and hair extension services at her locations.
Shadley's background includes experience in both franchising and the beauty industry. While earning an undergraduate business degree and a master's degree in accounting, she worked as a licensed cosmetologist. Later, she moved to Indianapolis for a job at Kenra Professional LLC, working her way up to become vice president of sales.
Kenra, which makes professional-grade shampoos and other hair-care products, was founded in Indianapolis in 1929, but its corporate office relocated to Los Angeles in 2017 following Kenra's 2014 acquisition by Connecticut-based Henkel Corp.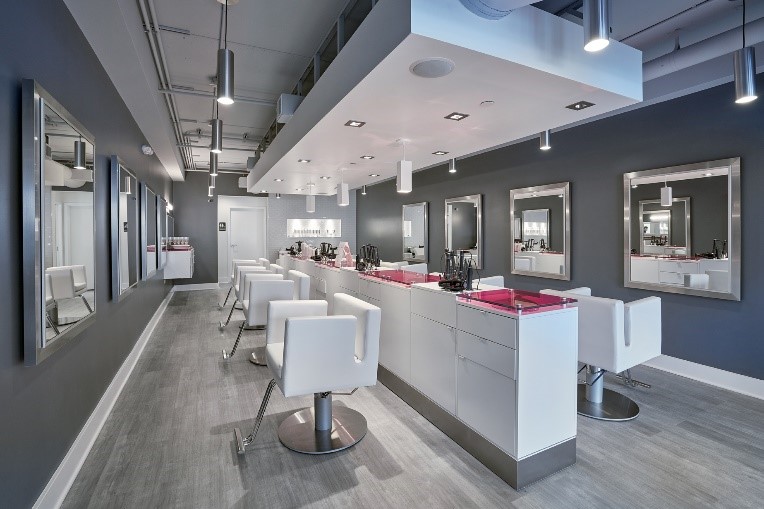 Rather than move to California, Shadley stayed in central Indiana and became a franchisee of the fitness studio chain Pure Barre. She opened her first Pure Barre location in downtown Indianapolis in 2016 and later opened studios in Noblesville and Fishers, with a fourth location in the works in Westfield.
Shadley said she got involved with Pure Barre because she saw a market need. "I was my own customer. I loved the [Pure Barre] brand, and it didn't exist here in downtown Indianapolis at the time."
Likewise, Shadley said, when she moved to Noblesville she found a lack of blow-dry bar services in Hamilton County, so she decided to sign on with Blo.
Blo, which says it pioneered the blow-dry bar concept, was formed by two Canadian women who opened their first locations in 2007 Vancouver. In 2009, the husband/wife team of Vanessa and Ari Yakobson, along with Paul Spindler and a group of investors, acquired the company and relaunched it using a franchising model.
Blo opened its first U.S. store in 2010, and the company currently has 130 locations either open or in development in the U.S. and Canada. In March, Blo announced it had received a "significant capital injection" of an undisclosed amount from NewSpring, a Radnor, Pennsylvania-based private equity firm. The investment, Blo said, will help it reach its goal of opening 300 new stores over the next five years.
Please enable JavaScript to view this content.