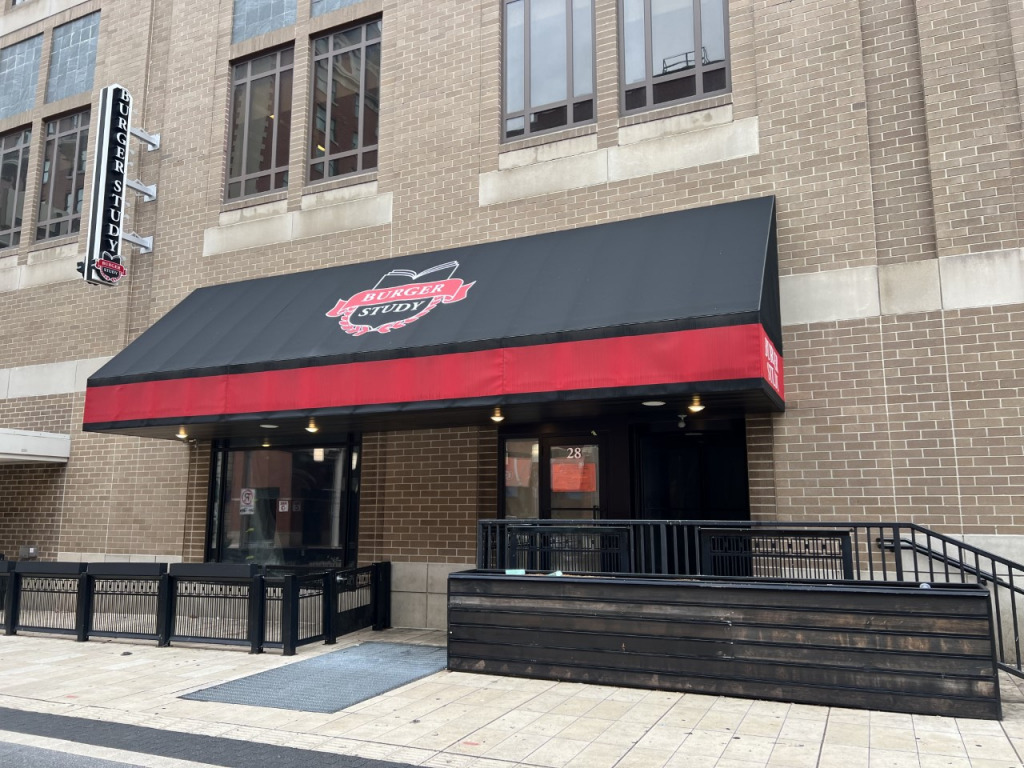 A new blues-themed restaurant and lounge is slated to open in the former Burger Study space at Circle Centre Mall in the coming months.
Georgia Street Rhythm & Blues Lounge plans to offer live music, drinks and Caribbean and soul food in the nearly 6,000-square-foot space on the south end of the shopping complex, at 28 W. Georgia St.
On Tuesday, the Alcoholic Beverage Board of Marion County approved the transfer of a beer, wine and liquor restaurant license to lounge owner and operator Larry Jones. That license was previously owned by former downtown bar and restaurant Ike & Jonesy's, which isn't involved in the new lounge.
"My goal of opening Georgia Street Rhythm & Blues Lounge is to appeal to all music lovers and have a place that brings everyone together over their love of live music and exquisite food and drinks," Jones said in written remarks. "We will focus on musicians and artists that bring a soulful feeling to their music, while carrying that same flavor over into our menu and beverage service."
Also known as R&B Lounge, the venue is expected to operate from 11 a.m. to 2 a.m. daily and would serve patrons ages 21 and older.
Jones also owns the Fuzion Ultra Lounge at 9439 E. Washington St.
The Georgia Street space been vacant since the Huse Culinary-owned Burger Study closed in October 2020 due to the pandemic, three years after it originally opened. The space is adjacent to Helium Comedy Club, near the intersection of South Meridian and Georgia streets.
"Circle Centre is adding yet another first-in-market restaurant and entertainment concept to our lineup that's second to none in Indy," Sarah Grannan, marketing manager for Circle Centre, said in written comments. "Our customers demand unique live experiences and Georgia Street Rhythm & Blues Lounge is well suited to fill this need in a setting that cannot be duplicated at home. We are delighted to welcome Georgia Street Rhythm & Blues Lounge to Circle Centre."
The lounge would be the second active downtown blues bar, joining The Slippery Noodle in the 300 block of South Meridian Street.
The Rhythm & Blues Lounge is expected to open in the first quarter of this year, with work already underway on renovations.
Please enable JavaScript to view this content.