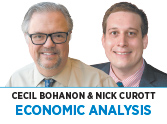 Russian novelist Leo Tolstoy begins "Anna Karenina" with, "Happy families are all alike; every unhappy family is unhappy in its own way."
The same, perhaps, can be said about functional and dysfunctional economies. The list of economic disasters seems to grow by the day: Haiti, Cuba, Venezuela, Afghanistan, South Africa, but our focus this week is on Lebanon. Its rather unique combination of government mismanagement highlighted by its fixed exchange rates generates a malaise near impossible to remedy.
Lebanon is an ancient land, mentioned 64 times in the Bible. Its population is slightly larger than Indiana's in an area one-ninth the size of the Hoosier state. In the '50s and '60s, it was dubbed the "Switzerland of the Middle East" because of its stability, peace and prosperity. Unfortunately, the civil war beginning in the '70s left the country in tatters and with a weak central government. Lebanon can be described as a nation run by numerous sectarian militias. Despite this, the nation boasts a 94% literacy rate and, until recently, had exceeded its neighbors in educational attainment.
A hallmark of the nation's economic policy has been to fix the exchange rate between its currency, the Lebanese pound, and the U.S. dollar, at 1,500L=$1. Most middle-class Lebanese held their savings in dollar-denominated local bank accounts. As a small country, Lebanon imports lots of goods, which it pays for with dollars. As long as it could earn or borrow sufficient dollars, the exchange rate could be sustained.
However, once the government defaulted on its debt, dollar inflows dried up. Rather than let the pound fall, the government kept the fixed rate and limited access to dollars. It also cranked up printing Lebanese pounds, generating a 160% domestic annual rate of inflation.
With dollars unavailable from the banking system, Lebanese importers are forced to access the black market for dollars, where the going exchange rate is 20,000+ Lebanese pounds per dollar. Dollar savings accounts can be redeemed only at the 1,500-pounds-per-dollar rate, implying that over 90% of the value of household savings has been wiped out. The best and the brightest are emigrating, while the poor are stuck in a shrinking economy where their living standard continues to deteriorate.
Lebanon is yet another example of dysfunctional crony capitalism. Government borrowing coupled with a pegged exchange rate can support the economy—for a while. However, endless borrowing is never a way to maintain a nation for the long run.•
__________
Bohanon and Curott are professors of economics at Ball State University. Send comments to ibjedit@ibj.com.
Please enable JavaScript to view this content.