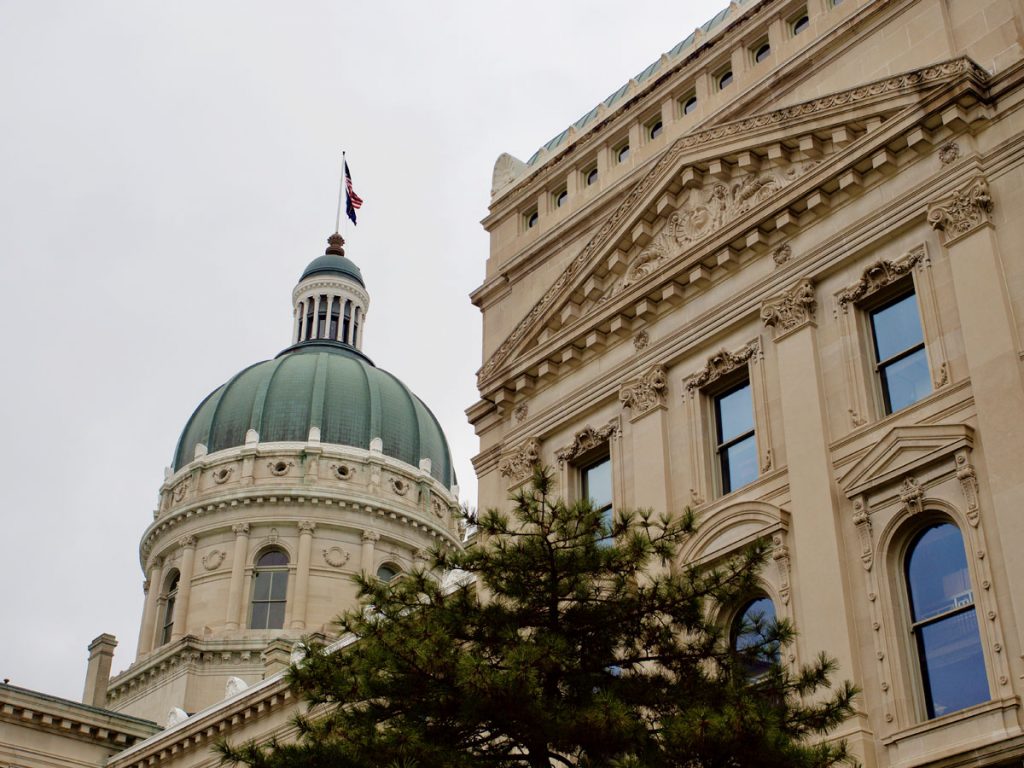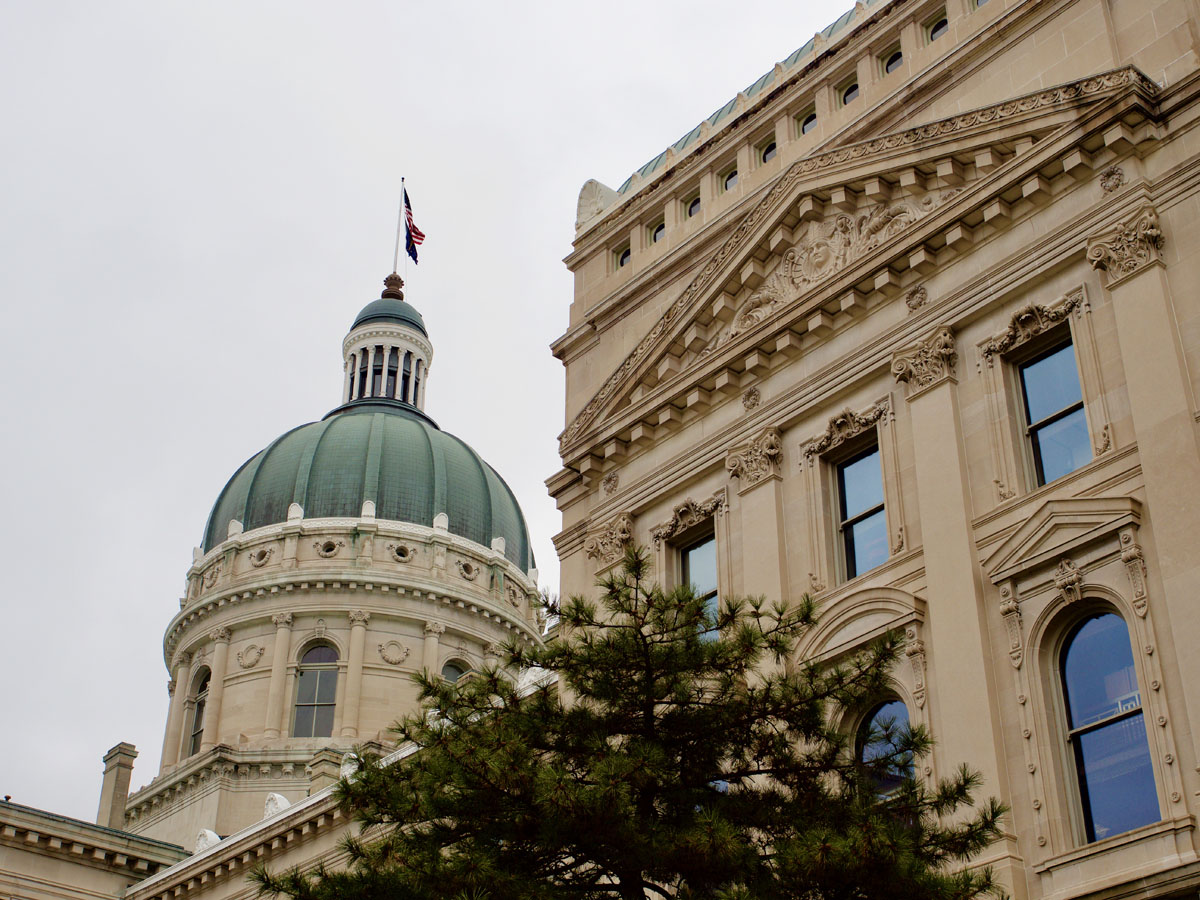 During the Indiana House session on Thursday, a bill concerning school district boundaries that some are calling racist sparked an emotional and angry debate. Several legislators walked out of the chamber, GOP legislators in their seats booed and shouted "no" and "stop," and some members even clashed in the halls after Black legislators spoke out against the bill.
The confrontations broke out on a day when Black members were celebrating Black History Month by wearing traditional African garb.
"We kinda felt like it kind of fed into how the members were acting," said Rep. Robin Shackleford, D-Indianapolis, who is chair of the Indiana Black Legislative Caucus. "I think having on the African garb and our members going up there stating how they felt about a bill, I think that just antagonized them even more."
The bill would allow de-annexation of neighborhoods that are currently part of the South Bend Community School Corp., which is mostly non-white, and move them to John Glenn School Corporation, which is mostly white.
Rep. Greg Porter, D-Indianapolis, spoke against the bill and said it raises questions of racism. As Porter spoke, several legislators booed and jeered audibly on the livestream. Shackleford said some GOP members ignored the proceedings to gather in the back of the room.
"I have a right to speak," Porter said before walking out into the hall.
Rep. Vernon Smith, D-Gary, once a Gary Public Schools teacher and a principal, spoke after Porter and expressed similar concerns that the bill had racist intent. He also was booed. Legislators are worried the issue of white communities trying to leave minority-dominated school districts and take away funding could result in legal challenges.
"This is another wrong of this nation," Smith said. "I don't care how you twist it, how you paint it, how you disguise it, how you camouflage it. It's racist."
Several Republicans, including Rep. Jim Lucas, R-Seymour, walked out of the chamber while Smith was still speaking. Rep. Vanessa Summers, D-Indianapolis, followed Lucas to talk to him and Rep. Sean Eberhart, R-Shelbyville, tried to defend Lucas, according to Shackleford.
Huston says "let the speaker speak."

Someone calls point of order.

Rep. Lucas just said "everybody walk out" and walked out with a few others.

— Niki Kelly (@nkellyatJG) February 18, 2021
A confrontation between Summers and Eberhart then broke out, and Rep. Bob Morris, R-Fort Wayne, tried to hold Eberhart back from Summers. Eventually, Morris pushed Eberhart into the men's restroom to deescalate the situation.
"For a member to now take it to a violent situation and look like they're going to hit a member and have to be pulled away from a member, especially when it's a white male versus a Black female, then we have some serious issues there," Shackleford said.
The tail end of the confrontation. It did continue through the double doors for a minute. Again, don't know what was said to start this but it came out of debate on 1367. pic.twitter.com/eT8lZm2GwF

— Arika Herron (@ArikaHerron) February 18, 2021
Both The Atlantic and The New York Times have reported instances in Louisiana and Alabama where white communities have tried to separate from minority communities.
"Laws in 30 states explicitly allow communities to form their own public-school systems, and since 2000, at least 71 communities across the country, most of them white and wealthy, have sought to break away from their public-school districts to form smaller, more exclusive ones," the Times reported, citing a study by EdBuild.
Based on the United States Census as of 2019, South Bend is 61.7% white, while 48.5% identified as part of a minority group.
The bill's author, Rep. Jake Teshka, R-Mishawaka, said his bill was not based on race but rather other issues like transportation for students and putting them closer to their homes.
The bill passed with a 53-42 vote. Fourteen Republicans joined Democrats against the bill. It now moves forward to the Senate.
While in a meeting with Speaker Todd Huston, R-Fishers, Shackleford said representatives came in saying Smith had been verbally attacked in the bathroom by Rep. Alan Morrison, R-Brazil. Smith came into the meeting and said he was in the bathroom washing his hands when Morrison entered, calling him a bully and other derogatory names. Smith tried to ignore it and keep going, according to Shackleford, but Morrison kept following him until Smith said something back. Neither Morrison nor Smith could immediately be reached for comment.
Shackleford said she has renewed her request for all members of the House to go through implicit bias training.
"I really think all members need it," Shackleford said. "I think there needs to be some education, clearly, on what racism is and what implicit bias is."
Huston said he was disappointed by what took place on Thursday, but he did not commit to having members go through implicit bias training.
"We all want to be better, and we'll keep having the conversation," Huston said.
Huston also did not say whether any members will be disciplined.
"I've got to figure out what the facts are, and just take note of what happened," Huston said.
Shackleford said she also thought Huston could have been more aggressive in reprimanding members on the floor before the situation escalated.
"What I am hoping is we see a more aggressive standpoint in making sure that kind of behavior will not be tolerated," Shackleford said.
House Minority Leader Phil GiaQuinta said he thinks the heckling while members are speaking needs to stop.
"House Democrats have every right to get up there and speak on amendments, speak on bills," GiaQuinta said. "Our members deserve to be heard and deserve the respect of all members on the floor."
Huston said he knows he needs to do a better job overseeing the chamber and making sure there's decorum.
"I want to own my mistakes," Huston said. "It's easy to be informal and it's easy to let decorum slide. Certainly, I have to be better and collectively we have to do better."
Please enable JavaScript to view this content.