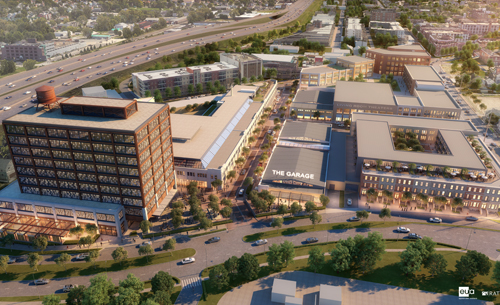 The Bottleworks District on Wednesday announced the addition of three tenants who are expected to open as part of Phase 1 of the project later this year.
The Harbour, YogaSix and Witch Hazel Salon will join a growing list of tenants for the first phase of the 12-acre, $300 million mixed-use development at 850 Massachusetts Ave., officials said.
— The Harbour is at least the 15th tenant to join the Garage Food Hall lineup. The food hall is expected to open in October.
Stuart Robertson, owner of MacNiven's Restaurant & Bar on Mass Ave., said The Harbour will be modeled after a traditional British fish and chips shop, offering breaded and battered fish, shrimp, calamari, sausage, haggis, fritters and pakora. It also plans to carry hard-to-find British and international candies.
"It has always been a dream of mine to open a traditional British chippie like the ones I'd see in every town back home," said Robertson in written remarks.
— YogaSix is growing national yoga studio brand owned by Irvine, California-based Xponential Fitness. The studio offers six different core yoga classes.
— Witch Hazel Salon, a high-end hair salon located on Virginia Avenue in the heart of Fountain Square, is relocating to Bottleworks to expand its space and services. Witch Hazel specializes in extensions and offers advanced education for stylists, among other traditional salon services.
"We've been in a historic building for three years, so naturally we loved what was happening at Bottleworks with maintaining the building's historic integrity but having a state-of-the-art facility," said Sarah Moscato-Goodpaster, co-owner of Witch Hazel Salon alongside Mel Moss and Kelsey McColm, in written remarks.
In addition to restaurants and 175,000 square feet of retail space, the Bottleworks development is expected a boutique hotel, residential options and 180,000 square feet of flexible office space.
Part of the development is expected to open as early as June with the hotel and food hall slated to open in October or later in the year.
Please enable JavaScript to view this content.