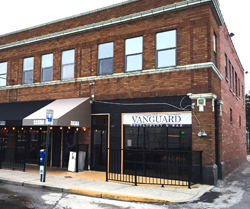 The Vanguard Restaurant & Bar in Broad Ripple has ceased operations, but the owner says he plans to reopen this fall with a new concept.
Owner Bill Ficca said he plans to reopen the restaurant at 6319 Guilford Ave. after Labor Day, though he declined to provide many specifics.
"We're in discussions to partner with a well-known chef on a pop-up concept that would run through the end of the year," Ficca told IBJ. "We're discussing a concept that has zero representation in Broad Ripple proper."
This is not the first short-term shutdown for the restaurant.
Ficca opened The Vanguard in December 2016, and it gained a reputation for offering creative high-end food and cocktails produced by chef Adam Ditter and head bartender Steve Simon.
The restaurant temporarily closed in June 2018 after Ditter and Simon left to work for Sahm Restaurant Group's Liter House, leaving The Vanguard short-staffed.
The Vanguard announced its closure last week on its Facebook page.
Please enable JavaScript to view this content.