In coming years, Indianapolis faces the possibility of more flooding, heat waves and ozone pollution as the worldwide impacts of climate change settle in locally.
But a plan drafted by the city's Office of Sustainability—and a commission the City-County Council is forming—aim to mitigate the effects on the Circle City.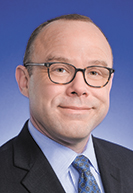 A year ago, the city's Metropolitan Development Commission approved the Thrive Indianapolis plan, which charts a course for the city to become more sustainable and resilient to climate change while becoming more equitable for all residents, including those with low incomes who are disproportionately affected by erratic weather.
The plan lays out 16 objectives backed by 59 action steps that are meant to help the city achieve carbon neutrality by 2050, a goal first set by Democratic Mayor Joe Hogsett in 2017.
Without changes, experts say, the city by 2050 will see 10-15 additional 95-degree days each year and seven to 9.4 additional days of heavy precipitation, meaning more heat waves and potential flooding.
The Thrive Indianapolis goals include increasing the percentage of residents with affordable, multimodal transportation options at least 15% from 2016 to 2025; increasing electric vehicle ownership 300% over the 2017 level of 760 by 2025, and increasing the amount of trash diverted from landfills 40% by 2030.

Other goals include making sure trees and green space are sustained and equitably expanded and seeing to it that 20% of energy consumed in Indianapolis comes from renewable sources by 2025.
Now, a proposal by City-County Council Democrats aims to bolster Thrive Indianapolis by creating a commission dedicated to supporting it and making recommendations to the council for steps it needs to take to achieve the plan's ambitious goals.
Earlier this month, Democratic Councilor John Barth introduced a plan to create a year-long commission charged with studying how Indianapolis is responding to climate change and making recommendations for policy changes and funding for Thrive initiatives.
In his bid for re-election, Barth, who represents the 7th District, promised constituents he would introduce the proposal after hearing from a "steady" number of concerned residents.
Barth said clear evidence of climate change shows it's beginning to affect people's day-to-day lives. He said his constituents don't see as much action as they'd like from state and federal representatives.
As envisioned by Barth, the Commission on Environmental Sustainability would spend 2020 "really digging into the issues and building a lot of expertise among councilors." In December, it would present the council with action recommendations.
The commission, which would consist of four councilors, four residents and the Office of Sustainability director, would be charged with the following:
◗ Reviewing the status of the city's response to climate change, including the implementation of Thrive Indianapolis.
◗ Recommending council action to advance Thrive Indianapolis priorities.
◗ Gathering information from environmental experts and community members to recommend additional policy changes that advance sustainability and resilience.
Proposals could include funding mechanisms for implementing Thrive Indianapolis actions (the estimated cost of each and potential funding sources are laid out in the Thrive plan) or policy changes or ordinances necessary to achieve various goals, Barth said.
While the proposal, which is the first to be introduced by the council in 2020, seems to have support from Democrats (six councilors are listed as co-sponsors) and environmental activists, it has also met criticism.
Brian Mowery, the council's minority leader and District 25 representative, said the Republican Caucus doesn't believe the council should be focusing on the proposal at this time—"let alone making it the very first proposal introduced."
Mowery said climate change in Indiana has already been studied by Purdue University, and he argued the commission would be discussing a topic local government has no control over.
"Violent crime has been running rampant in Indianapolis, and that is something we believe we should be spending our time on," he said in an email to IBJ. "Infrastructure is needing our attention as well. These are topics that are within our purview and that we can act on."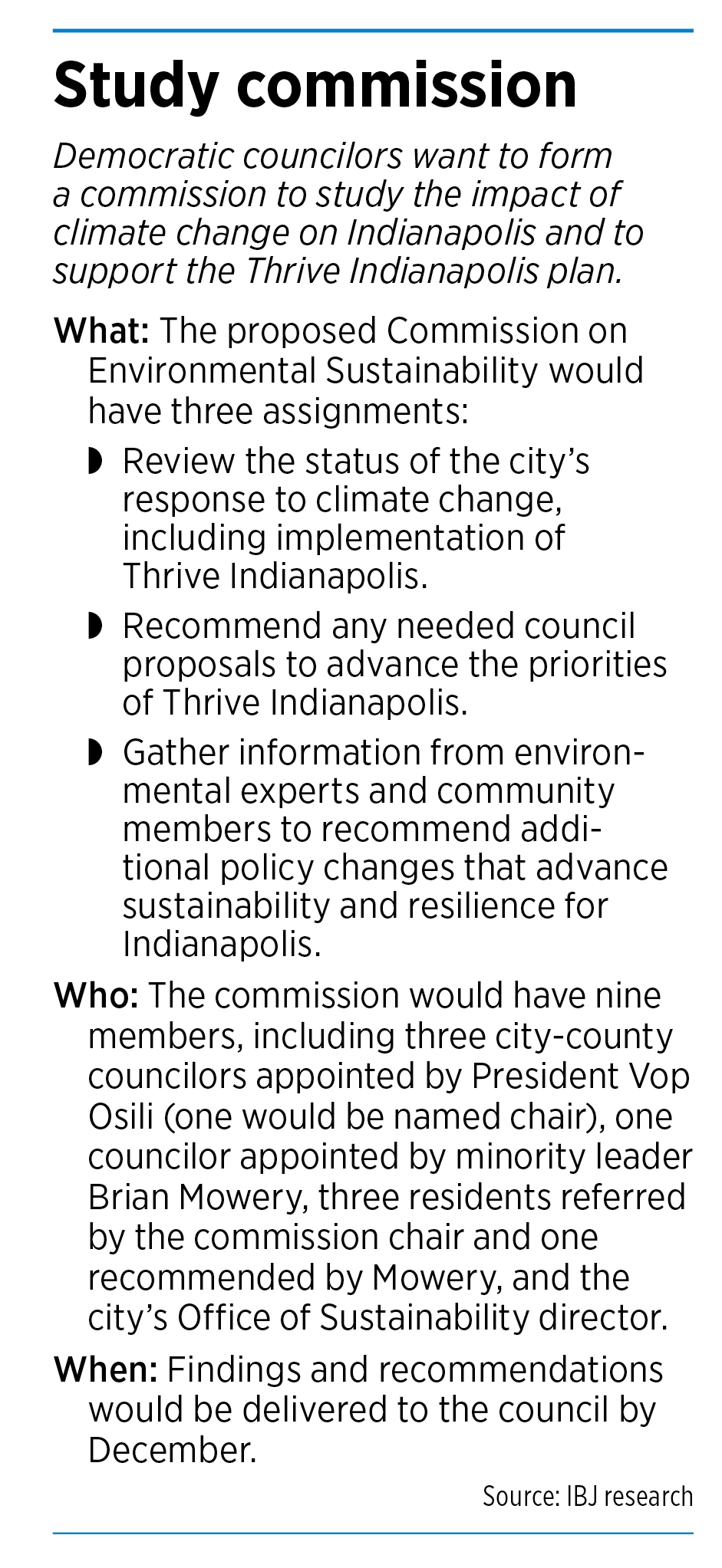 Barth argues that the council is capable of addressing more than one issue at a time and that some infrastructure problems, like potholes, are caused by climate change.
Jesse Kharbanda, executive director of the Hoosier Environmental Council, said forming the commission is the next step in implementing Thrive Indianapolis.
He argued that local governments can make the most impact on climate change.
Cities might be faster in addressing climate issues than higher levels of government because they can more easily modify policies to head off the worst impacts of increasingly erratic and extreme weather. And given their proximity to the people they serve, Kharbanda said, local officials can best communicate what's at stake.
While the federal government has become increasingly polarized and the state has been cautious about acting on climate change, cities can step up, he said.
And Indianapolis isn't alone in taking action, he said.
Many Indiana cities have started to look at the issue and actions they can take to become sustainable and climate-change resistant.
Bloomington Mayor John Hamilton, for example, has proposed a local income tax increase of a half percentage point to fund that city's efforts to combat climate change. The city has also installed solar panels on many buildings and has started encouraging homeowners to go solar.
In North Vernon, every city-owned building has solar panels, with a goal of eventually relying completely on solar energy, Kharbanda said.
Michigan City has established a sustainability commission, and South Bend has put an emphasis on expanding open spaces and parks.
Should the proposed Indianapolis commission gain approval (which is likely, given Democrats' 20-5 council majority), the group will need to zero in on low-income residents who will be most affected by climate change, Kharbanda said.
Studies show poor people tend to live in areas with limited access to resources and outdated infrastructure, making them more susceptible to flooding and heat waves.
And they often lack the financial resources necessary to weather extreme heat or cold, storms and more.
"I think it's so critical to emphasis that climate change is fundamentally a pocketbook issue," Kharbanda said.
"The commission really needs to be very proactive in talking to the public about how very much these extreme weather events we're going to experience are going to affect people's everyday lives and pocketbooks."•
Please enable JavaScript to view this content.