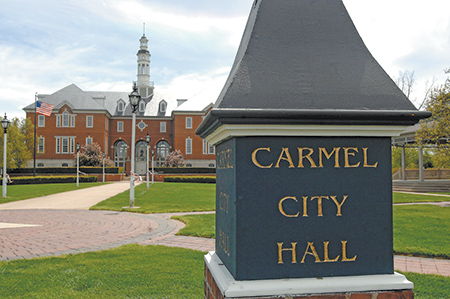 The Carmel City Council on Monday passed an ordinance to provide additional paid leave to city employees who need to miss work due to the spread of COVID-19.
Full- and part-time employees for the city now have access to 75 and 60 hours of additional paid leave, respectively, if they meet certain criteria related to the spread of the coronovirus. The ordinance approved by unanimous decision Monday night set standards for employees experiencing direct and indirect impacts.
When Carmel Human Resources Director Barbara Lamb introduced the measure, she suggested it be applied retroactively, to cover those absences the city started seeing Friday.
"This seemed proactive a couple of days ago," Councilor Tim Hannon said. "Now, it's either just in time or a couple of days late."
Eligible employees include:
Those who have tested positive or have a family member who has tested positive for COVID-19.
An employee who has presented symptoms, has had sustained contact with a person presenting symptoms or has been in contact with a person who works or attends school where a person was diagnosed with COVID-19.
Employees who have have recently returned or has a member of their household who has recently returned from a foreign country that has received a CDC Level 3 Travel Health Notice.
Individuals who were told or whose family or a member of their household was told by a public health agency that they were exposed to another person who has tested positive for COVID-19.
Employees whose children attend a school or daycare facility that has closed to prevent the spread of the virus.
Those who were instructed by their doctor to self-quarantine for being high-risk due to pregnancy, being older than 65, having a compromised immune system or chronic health condition.
Now adopted, the bank of new paid leave will be made available to eligible employees for an indefinite time period determined by the mayor.
The ordinance does allow for employees who are not sick to remain on-call or to work from home. Lamb clarified that those who work from home will not have to draw from the COVID-19 leave bank.
Seasonal and temporary employees were not included in the measure. The ordinance also gave the city's fire and police chiefs authority to develop policies for their officers and firefighters.
Please enable JavaScript to view this content.