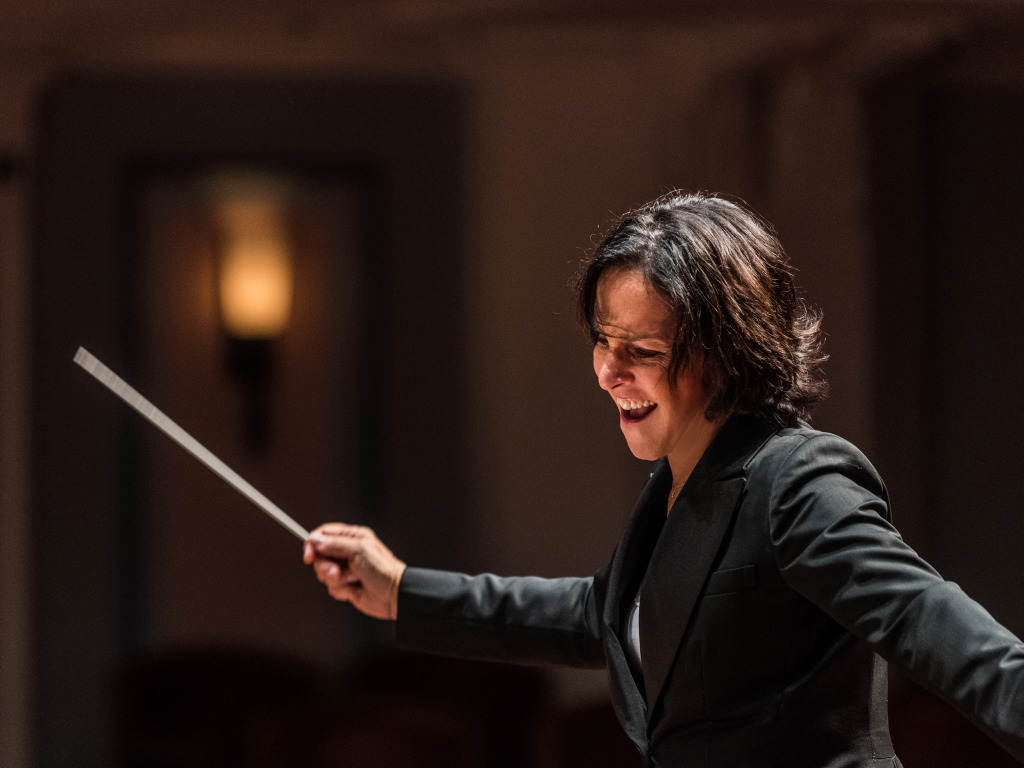 Janna Hymes, artistic director of the Carmel Symphony Orchestra, is challenging her musicians to play music she wouldn't have asked them to play before the pandemic.
She describes the orchestra she inherited in 2017 as "pretty good." Today? "I think it's becoming really good."
The New York City native who studied under iconic conductor Leonard Bernstein said she seeks excellence when musicians audition for the regional orchestra, and she wants them to be prepared for performances.
In November, she was encouraged by the orchestra's strong execution of the 23-minute "Pines of Rome" by Ottorino Respighi.
"They played fantastic," she said. "I never want it to be, 'Oh, we did it just to do it.' I want to do it and have it be at a certain level. There's no reason why this orchestra can't do that."
On Sunday, the Carmel Symphony Orchestra will present two shows of its holiday pops program as part of the organization's 47th season that opened Oct. 8 with a Hispanic Heritage Month celebration.
The holiday performances are at 3 and 7 p.m., featuring guest vocalists Josh Kaufman and Leah Crane at the Palladium at the Center for the Performing Arts, 1 Carter Green. Tickets, starting at $25, are available at thecenterpresents.org.
One of the reasons Hymes is asking more of the orchestra is that Carmel deserves it, she said.
"This city is growing like crazy," she said. "The Palladium is a stellar venue. So how can we maintain sort of being OK when everything around us is great?"
One only-in-Carmel opportunity is on the orchestra's schedule on Feb. 19. Thanks to Carmel partnering this year with Cortona, Italy, as a sister city, Cortona is sending a deputy mayor to Indiana.
The deputy mayor is Francesco Attesti, a high-profile concert pianist who will perform Edvard Grieg's "Piano Concerto in A Minor" with the Carmel orchestra.
The program also will offer a Gioachino Rossini overture and a rendition of Aaron Copland's "Appalachian Spring."
"It's a really nice concert," Hymes said. "And [Attesti] asked me if I would come to Italy to conduct in August. I love sister cities."
Another expected highlight of 2023 is a visit from the Harlem Quartet, a group that's been on the Carmel Symphony Orchestra but postponed because of the pandemic.
On Feb. 11, the Harlem Quartet—which has featured cello player and Carmel native Felix Umansky in its lineup since 2015—will showcase material from "West Side Story."
Bernstein wrote the music for "West Side Story," which arrived onstage in 1957. Bernstein, who died in 1990, is the subject of "Maestro," a film starring Bradley Cooper that's scheduled for release in 2023.
Hymes said the Harlem Quartet performance, billed as the third of five "masterworks" performances in the CSO's 2022-23 season, is "near and dear" to her heart.
"Getting to study with Bernstein at Tanglewood [Music Center in western Massachusetts] was one of the greatest things for me," she said.
Hymes remembers conducting in her 20s and not being interrupted by Bernstein with suggestions and corrections he gave to her peers.
"The first day he came, we were terrified but so excited, too," she said. "I get to a stopping point in the movement I'm conducting, and he comes up and takes my face in his hands and kisses me right on the lips. He said, 'You can do this. You have work to do and you need some time, but you will be able to do this.'"
Please enable JavaScript to view this content.