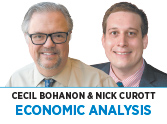 The COVID crisis has certainly spawned enormous changes in the ways we interact. Patterns of work, commerce, leisure, worship and education have all been upended. It is natural to speculate on which changes will be permanent and which will revert to their pre-COVID patterns. One change we find interesting: the off-the-charts increase in household savings.
The household savings rate is defined as the percentage of household income neither spent nor used to pay taxes. The Federal Reserve Bank of St. Louis' FRED (Federal Reserve Economic Data) database reported the household savings rate at 26% for the second quarter of 2020. This is nearly three times higher than the post-WWII average of 9%, and almost two times higher than the previous high of 13.8%, recorded in the second quarter of 1971.
Of course, the reason is clear. For those fortunate enough to continue working and whose household income was unaffected by COVID, there simply were fewer options for spending. Moreover, at-home meals are cheaper than restaurant meals, bingeing on pay-for-TV series is a cheaper diversion than taking cruises to the Bahamas, and visits to local state parks cost less than trips to Orlando theme parks. Other data from the Federal Reserve confirms this: Since February, the amount of money households hold in their checking accounts increased by $1.3 trillion; that's a 56% rise.
Will this increase in savings persist as COVID fades? Who knows, but we think it might. Just as the Great Depression inculcated habits of thrift and frugality in our grandparents, COVID might change the spending habits of this generation. Why run up credit card debt to take the kids to Disney when Pokagon State Park is so much cheaper? And those who did not have financial reserves during COVID might find the experience a compelling reason to make sure they have reserves in the future.
Although some fear that a permanent increase in the household savings rate might crimp economic recovery, most economists welcome increased savings as a boon to long-term prosperity. Household savings provide the funds necessary for productivity-improving investments that enhance our living standard.
In addition, healthy household savings provide a private safety net that reduces pressure on government budgets in downturns. As a savings and loan executive wrote in a 1960s advertisement outlining, "How Do Savings Help You?"—"To take care of you in sickness or loss of job."
Good advice then, good advice now, good advice anytime!•
__________
Bohanon and Curott are professors of economics at Ball State University. Send comments to ibjedit@ibj.com.
Please enable JavaScript to view this content.