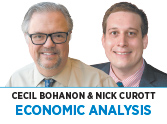 Few fallacies are repeated more often than the myth that massive government stimulus packages are necessary to sustain the economy during a recession.
The impasse over the next round of stimulus is a case in point. Hot on the heels of the $2.3 trillion CARES Act, Democrats are calling for an additional $3 trillion in deficit spending. Republicans, meanwhile, want $1 trillion. All this is cast as necessary to keep spending flowing and to preserve jobs.
But government spending is not manna from heaven. It is financed by borrowed money that must be repaid by future taxpayers. Every dollar spent by the government is a dollar that would have been spent or invested in some other way if it had not been borrowed by the government. Government cannot create purchasing power. All it can do is transfer purchasing power from one place to another. Perhaps such transfers are in order for humanitarian reasons. But let's not kid ourselves into believing they are necessary to sustain the economy.
Moreover, a poorly conceived stimulus package doesn't merely reshuffle resources; it can do active harm by creating perverse incentives. For example, restoring the $600 a week in federal unemployment benefits makes work less lucrative than remaining unemployed for many workers. Likewise for federal aid to state governments. A bailout that rewards profligate states reduces the incentive for states to commit to future fiscal responsibility. What is the point of having a flush rainy-day fund if the feds bail you out in any case?
However, stimulus spending is always a politically winning proposition. Deficit spending creates immediate benefits to easily identifiable constituents of powerful voting blocs. The costs, meanwhile, are deferred until later, harder to identify, and spread across a dispersed tax base. Poorly targeted spending doesn't solve problems—it just rearranges them.
Government stimulus does not have a successful track record. The 2009 stimulus passed during the last recession failed to prevent the loss of an additional 3.5 million jobs, despite White House projections that the stimulus would raise employment by 3.3 million. Defenders of fiscal stimulus base their case largely on the unverifiable claim that the economy would have collapsed without it.
Fear of future tax hikes increases uncertainty and reduces investor confidence. When future tax rates are unknowable, return on investment is uncertain and businesses hold off on investment.
Increasing taxes creates a disincentive to generate wealth and reduces the number of mutually beneficial economic exchanges.•
Bohanon and Curott are professors of economics at Ball State University. Send comments to ibjedit@ibj.com.
Please enable JavaScript to view this content.