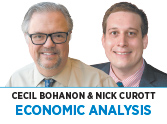 Should people be able to sell their vote? Even the question sounds appalling. It harkens to the days of corrupt machine politics and buying votes with pints of whiskey.
However, three contemporary realities are bringing a new form of vote trading to the fore in this presidential election.
First, given the Electoral College, the chance of an individual's vote "mattering" in the sense of changing the outcome of the presidential election varies widely between states. In the infamous 2000 presidential election, George Bush carried Florida by 537 votes. Had just 1%, or 900, of Florida's Ralph Nader voters switched to Al Gore, the national outcome would have changed. This is not a fluke: In 1960, 1976 and 2016, fewer than 100,000 votes in three or fewer states could have changed the outcome.
Second, third parties seem to be on the rise: In the 2016 presidential election, they garnered more than 5 million votes—or 4.5% of the total. Third and most important, cell-phone cameras make documenting one's vote from either mail-in or day-of-vote ballots easy to do and difficult to prevent. Not all states prohibit "ballot selfies" and court rulings on their prohibition have been inconsistent. If a citizen wants to document their vote to verify an exchange, the costs of doing so have declined.
So, we have observed an interesting preelection phenomenon: third-party partisans in swing states offering to exchange their vote for the votes of two-party partisans in non-swing states. Consider a hard-core Green Party voter in Ohio. Aghast by Donald Trump but not impressed with Joe Biden—she still considers Biden the lesser of the two evils. She offers the following deal to two Biden voters in California: You vote Green in deep-blue California and I'll vote for Biden in swing-state Ohio. My Green Party's national vote total rises, and you increase the odds of a Trump defeat. Just to be scrupulously nonpartisan, both sides can play. A hard-core Constitution Party voter in swing-state Michigan might offer to vote for Trump in exchange for two Trump voters' switching to the Constitution Party in deep-red Tennessee.
Note we are just reporting, not advocating. Nevertheless, this seems very different from the pint-of-whiskey vote buying of the 19th century. Vote trading among elected members of state and national legislatures is a well-documented phenomenon. We confess ignorance on the legality of such vote trading but profess agnosticism on its ethics. We'll just note the incentives are there.•
__________
Bohanon and Curott are professors of economics at Ball State University. Send comments to ibjedit@ibj.com.
Please enable JavaScript to view this content.