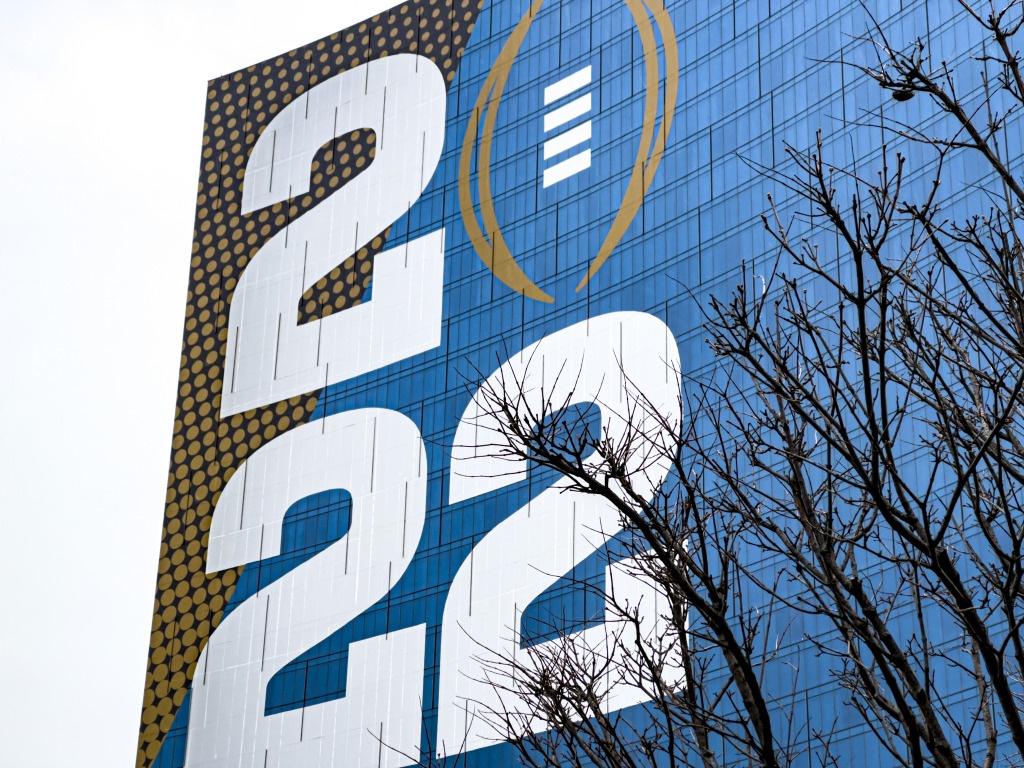 Bill Hancock, executive director of the College Football Playoff, said it's "too soon" to know whether the national championship will make a return trip to Indianapolis.
But Hancock added he's been impressed by the city's efforts to welcome visitors over the sport's biggest weekend.
"It's too soon to say about the future—we haven't really started talking about it," he said from the field of Lucas Oil Stadium on Monday. "But I know Indianapolis has impressed a lot of people this weekend."
But Mark Howell, chairman of Indianapolis Host Committee, said he is already planning for a return. He said he'll "do anything I'm asked to do" to make sure the championship game is played in Indianapolis again.
Speaking to IBJ from the field Monday night about 30 minutes prior to kickoff, Howell said he would like to see the city in a permanent rotation for the championship, much like what's typically done with the NCAA men's basketball Final Four.
"I think the biggest thing that we did to increase that likelihood was how this community executed over the last four days," he said. "The CFP is very happy with us, and our host committee is very proud of its work. I think everybody did everything they could to earn a spot in that rotation."
Howell, who has been involved in the effort to host the championship for about four years, since Indianapolis was first selected, said he has been pleased by the way local officials and volunteers have responded to challenging circumstances over the past four days, including inclement weather and a bogus bomb threat at Monument Circle on Saturday night.
"We face challenges, and we plan for challenges—you don't bring 100,000 people together for a big celebration and not pick up a few headwinds," he said. "But what I was most proud of is there was nothing that happened this weekend that surprised us. All of the challenges that we faced were challenges that we expected, and that we were really prepared to respond to."
Hancock said that he's enjoyed seeing the more than 2,000 volunteers who signed up to offer way-finding and share helpful information about Indianapolis throughout downtown and other parts of the city.
"They are off the charts friendly and knowledgeable. They're having fun during their jobs," he said. "I just love talking to them, and I've found that's been my favorite part."
He also addressed the possibility of playoff expansion—a subject of extensive conversation and debate over the past year. The CFP's Board of Managers on Monday failed to approve a proposed 12-team field for the playoffs, following meetings totaling 12 hours over the past three days.
"I would just say that we're going into overtime," Hancock said. "I think most people in the leadership want to see CFP expand, but there are just some issues that have to be worked out before that can happen."
He pointed to issues related to the landscape of college athletics overall, along with determining how the bowl game situation would work. He said determining when such an expansion would go into effect is also yet to be determined.
As for where he'll be watching the title game?
"I have a viewing position right below the press row," he said. "It's going to be fun."
Please enable JavaScript to view this content.