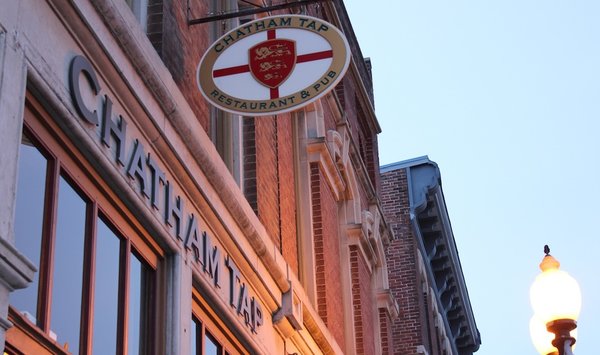 The former Scotty's Brewhouse location on the campus of Butler University will soon reopen as Chatham Tap, Butler announced Thursday.
It will be a third location for Chatham Tap, which opened its first site in 2007 at 719 Massachusetts Ave. in Indianapolis. A second location opened in 2010, at 8211 E. 116th St. in Fishers.
The eatery is aiming to open at Butler by the end of next month.
Chatham Tap offers a British pub-style environment, with local, domestic and imported beers, plus a menu that includes sandwiches, burgers, pizzas and salads. The establishment also airs international soccer matches on TV, and it opens early for breakfast during key weekend matches.
The 6,400-square-foot restaurant known as Scotty's Dawghouse opened in 2016 at the corner of Sunset Avenue and Lake Road. Scotty's Brewhouse filed for Chapter 11 bankruptcy protection at the end of last year and the company closed the Butler location—its last remaining Indianapolis location—in July as part of a continuing wave of restaurant closures.
Chatham Tap plans to occupy the entire space and add more outdoor seating, Butler said.
"We think this can be a great nexus between the neighborhood and the university," Chatham Tap co-owner David Pentzien said in a prepared statement.
Butler said it finalized a lease agreement with Chatham Tap in late August.
Chatham Tap plans to acquire Scotty's Dawghouse's liquor license.
According to a court document filed Wednesday in association with the Scotty's bankruptcy case, Scotty's has agreed to sell Chatham Tap its liquor license for $40,000 and its inventory of unopened wine and liquor bottles for $725.
Chatham Tap approached Scotty's with an offer to buy both the liquor license and inventory, the court document says.
The liquor license sale still must be approved by the bankruptcy court.
Please enable JavaScript to view this content.