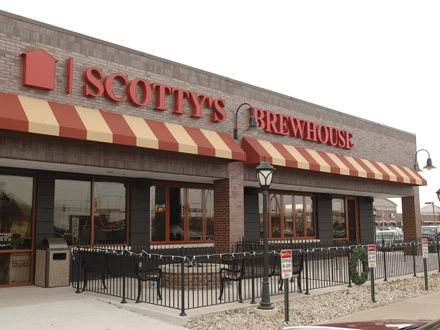 The last four Scotty's Brewhouse locations in Indiana have been permanently closed, according to a statement from the owner.
The decision affects the Scotty's location at the Butler University campus in Indianapolis (known as Scotty's Dawghouse) as well as other corporate-owned restaurants in Bloomington, West Lafayette and Mishawaka. All four locations closed Saturday.
An employee at an independently managed Scotty's in Poplar Bluff, Missouri, said his restaurant also was closing.
Independently managed Scotty's locations Oxford, Ohio, and in Champaign and Matoon in Illinois remained open Saturday. Employees there said their restaurants had no plans to close.
The remaining Thr3e Wise Men tap room and restaurant location in Muncie, which previously had been owned by Scotty's, also remains open.
At least 15 Scotty's or Scotty's-related locations have closed since the company filed for Chapter 11 bankruptcy in December. The closures have involved both corporate-owned and independent operations.
The earlier closures included local restaurants on 96th Street, in Southport, Carmel, Noblesville, and Brownsburg. The company closed its Thr3e Wise Men brewpub in Broad Ripple last month.
In its statement, the owner said it "made the untimely decision that all of their operations would be ceasing effective July 20th, 2019. This decision did not come lightly and was one of the hardest decisions to make."
The Indianapolis-based company said operations have continued to struggle following the bankruptcy.
"When filing for Chapter 11 bankruptcy in December of 2018, the company had the ultimate plan to restructure and come out stronger than ever," the statement said. "With the unfortunate and untimely series of events such as closings of stores, as well as the loss of some of our managed locations, this seemed to have an unfortunate and unrecoverable effect on the operations and overall sales and revenues that the company was bringing in. The company has been struggling for some time and unfortunately could not overcome the deficit that was ahead of [it]."
Muncie-area native Scott Wise founded Scotty's in Muncie in 1996. When he sold the business in 2016, the chain had 17 restaurants in multiple states.
Scottsdale, Arizona-based Due North Holdings LLC and Japanese firm Sase Kosan K.K. acquired the business for about $10 million.
Wise last month opened Roots Burger Bar in Muncie in a building that housed the original Scotty's Brewhouse location.
Please enable JavaScript to view this content.