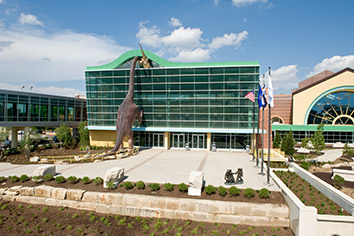 The Children's Museum of Indianapolis welcomed a record-breaking number of visitors in 2019, the museum announced Thursday.
More than 1.318 million visits were recorded in 2019 at the world's largest children's museum, setting a new annual attendance record.
Last year's tally surpassed the last record-breaking year in 2009, when 1.31 million visits were recorded. That year, the museum hosted a King Tut exhibit and opened the "Take Me There: Egypt" exhibit.
Last year, the museum also enrolled a record number of member households at 36,110, trumping 2016 when 35,682 households signed up for memberships.
The museum also reported that overall member attendance broke a record. The museum's previous member attendance record was set in 2018 with 641,318 member visits. In 2019, that number rose to 651,173.
The museum's 2019 lineup included "Star Trek: Exploring New Worlds" and "PAW Patrol Adventure Play" exhibits.
"We have a strong commitment to create and offer fun and imaginative exhibits that feature something for young children to grandparents," Jeffrey H. Patchen, CEO of The Children's Museum of Indianapolis, said in a media release. "We strive to make every family learning experience extraordinary, interactive and fun for every generation."
This year's lineup of new exhibits includes "The Pigeon and Pals! A Mo Willems Art and Play Exhibit," "Wild Weather" and "Barbie: You Can Be Anything."
Please enable JavaScript to view this content.