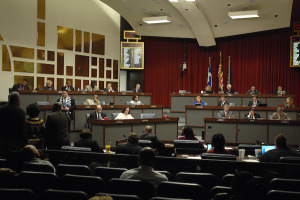 Indianapolis' City-County Council appears poised to give itself its first pay raise in 20 years, nearly tripling its members' base compensation.
A new proposal from the council's Democratic leadership, released Friday to IBJ, would push annual base pay for the city's 25 part-time councilors to $31,075 from just $11,400 and represents the council's fourth attempt at a pay raise in seven years.
Base pay is currently pegged to 12% of the mayor's $95,000 salary. Councilors haven't received a pay raise since since 2002.
"As it stands now, it's completely inconsistent with compensation throughout the [city-county] enterprise," Vice President Zach Adamson, a Democrat, told IBJ. "The City[-County] Council is the definite outlier in that philosophy of pay equity."
The city of Indianapolis recently upgraded it pay scale, but the changes didn't include councilors. Council pay in Indianapolis also has lagged compensation for council members in similar-sized cities and even much smaller ones in Indiana, IBJ research has shown.
The proposal is part of the council's agenda for its monthly meeting on Monday. 
Other pay changes
The proposal would also raise per-meeting pay to $150 from $112 for full council meetings, and to $75 from $62 for committee meetings. And, it ditches the 40-committee meeting pay cap.
Typically, a quarter of councilors' earnings come from this per-diem pay, according to the nonpartisan council office.
Assuming 14 council meetings and using the 40-committee cap, councilors not in leadership now earn a total of about $15,448 per year. Councilors each attended 62 committee meetings on average in 2020, so the proposed increases would push total pay to about $37,825.
An IBJ survey of councilor pay around the country two years ago showed that council members in other cities earned significantly more than Indianapolis councilors do now–and some will continue to even if the Indianapolis pay raise is approved.
In 2020, councilors in Columbus, Ohio, made $57,738; in Louisville, Kentucky, $48,791; and in Charlotte, North Carolina, $32,709.
Even smaller cities in Indiana paid more at the time, like Hammond ($31,211), Fort Wayne ($22,279) and Fishers ($20,157).
The proposed pay hike in Indianapolis also would increase the additional compensation provided for council leadership:
The president would get bonus pay of $3,250, up from $1,982.
The vice president, majority leader and minority leader would get $2,250, up from $1,320.
The chair of each standing committee would get $1,250, up from $797. There are currently ten standing committees.
The pay changes wouldn't take effect until 2024, after the next city election in November 2023.
"[It was] important that this was not done within this term of the council, that it was put to a future term," said Council President Vop Osili, a Democrat. "[It's] so that our own compensation today would not be altered, that we would not be making those adjustments for our own benefit, but for the benefit of those who serve on the council in the years to come."
Thirteen councilors either didn't seek or didn't win reelection in the most recent elections in 2019.
Part-timers
Council leaders said the current, lower pay is a disincentive for average citizens to run for the office.
"Having a salary that is so low really limits the ability of the average person to take part in what is meant to be a representative form of government," said Adamson, who also works as a hairdresser. "So to make so little from the council job, and also be taken away from my regular wage-earning job" is a financial strain.
Councilors also aren't reimbursed for their mileage, phone use, printing costs and other council-related expenses.
"[The job] lends itself to only being a possibility for a few types of people: someone who is independently wealthy, somebody that is retired and has the time," Adamson said. "Or—this is the one that I have the biggest concern with—individuals whose day job does direct business with the city, and so this would be an accompaniment to that type of job."
Trying again
The council's recent efforts to increase pay haven't been successful.
Councilors pulled a similar proposal, which would have doubled the base pay, shortly before a meeting in 2019. Democratic Mayor Joe Hogsett had threatened to veto the measure, and it had drawn criticism from members of both parties.
Hogsett's team didn't immediately return a request for comment on the latest proposal. 
In 2016, legislators killed another pay proposal, with then-President Maggie Lewis, a Democrat, saying it was because the state wouldn't have reviewed the city-county's budget in time.
And in 2015, then-Mayor Greg Ballard, a Republican, vetoed a council-approved proposal that would've raised base pay to $16,400. He objected to the timing, which was in the "lame duck" period shortly before a new council took office.
"It's a difficult task for a body to vote for its own pay. That is really challenging, and that may have led to a level of resistance within the body to actually take this on," Osili said. That's why, he said, "it was even more important" that the new proposal go into effect after the next council elections.
Council Chief Financial Officer Brandon Herget said that, right now, the council's own budget could likely absorb the $600,000 annual total increase in pay. The pay increases could impact the overall city-county budget if the council's own budget was cut in the future, he said.
Council staff formulated the proposed base pay by creating a data set of more than a dozen cities with similar populations, dividing each city's population by the number of legislators and adjusting the per-capita pay for each city's cost of living, according to a council office memo. Then, staff multiplied the $1.06 average per-capita pay by Marion County's 977,000 population, and lopped a quarter of the total off, to arrive at $31,075.
If approved, the proposal could pose a longer-lasting solution than previous pay changes. It includes a provision to use the same cost-of-living adjustment other city-county employee receive. 
Council staff have already briefed the Democratic caucus, as well as Minority Leader Brian Mowery, a Republican. His caucus has discussed the proposal, he said, but will also meet with council staff at a caucus meeting Monday.
Mowery indicated that the proposal wasn't an immediate "no" from him because of its 2024 effective date but said the council should still consider if the $600,000 would be better used on something else, like infrastructure or anti-crime efforts.
"What could it also be used for? Because let's be fair on this; even with that raise, you're not going to be living off that," Mowery said. "We're still going to have a full time job, most of us."
"I don't want my constituency to feel like I'm getting into this to get myself a raise," he said later.
Democrats wouldn't need GOP support to approve the proposal. They hold a commanding 19 seats on the 25-seat council. The council also has five Republicans and one independent.
If approved by the council, the proposal would go to mayor for consideration.
Please enable JavaScript to view this content.