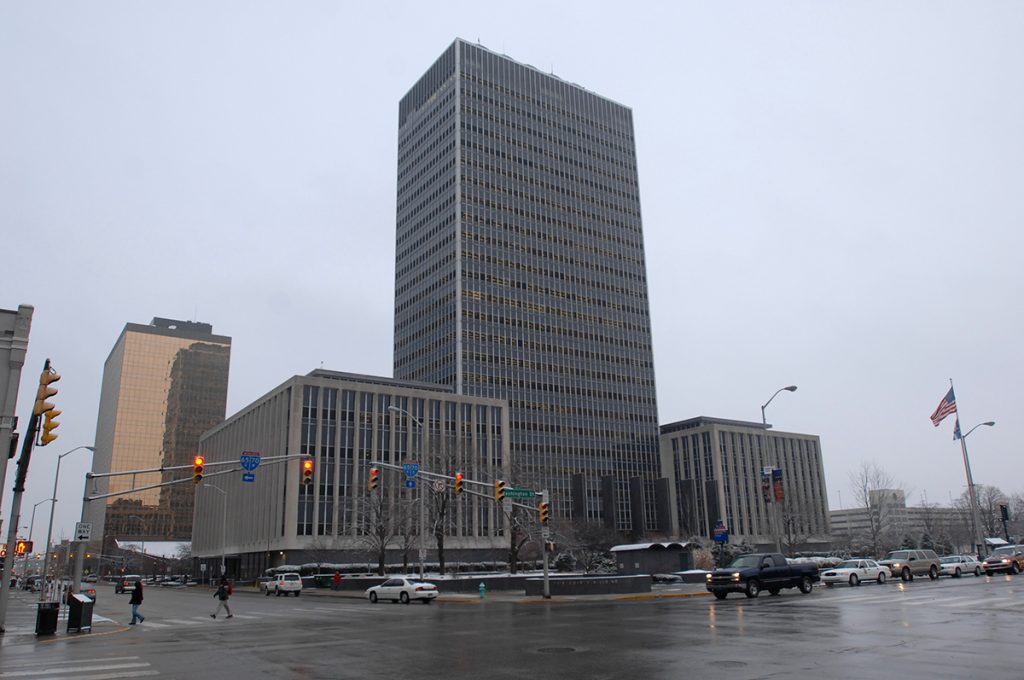 Indianapolis' part-time city-county councilors are paid significantly less than officials with the same positions in comparable cities across the nation—and even less than councilors in several smaller Indiana communities.
Just 115 miles south, city councilors in Louisville earn four times more than councilors in Indianapolis. The gap is even greater between officials in Indianapolis and those in Columbus, Ohio, just 150 miles east.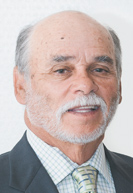 And closer to home, councilors in seven of Indiana's 10 largest cities make more than those in Indianapolis.
That soon could change, but likely not without a fight.
Democratic members of the Indianapolis City-County Council last month introduced a proposal to increase members' base pay from $11,400 to $21,480 next year and to about $25,000 in 2021.
The full council is expected to vote on the proposal at a Dec. 9 meeting, following a recommendation from the Rules and Public Policy Committee last month that it should pass. But the measure faces some opposition.
Republicans immediately criticized Democrats for introducing the proposal less than two weeks after the election, when Democrats gained six seats and a supermajority. Republicans Jeff Coats and Mike McQuillen voted against the measure in the rules committee and have said they will vote no when it comes before the full council.
Additionally, Mayor Joe Hogsett, a Democrat, immediately said he would veto the pay raise, a statement he still stands by.
But Democrats say now is the time to raise their salaries, which have been stagnant since 2002.
The base pay has actually been unchanged for longer.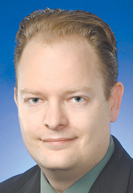 Councilor Monroe Gray, a Democrat who is sponsoring the proposal, told IBJ he's been fighting the pay battle for decades. During his nearly 30-year tenure on the council, the base pay councilors receive has not changed, he said. The only boost has come from small increases to the per-diem pay councilors earn for attending meetings.
"It's time to do it," Gray said.
Currently, councilors make $112 for every full council meeting they attend, up to 21 meetings. That can total $2,352. They also earn $62 per committee meeting they attend, up to 40. That can total $2,480.
Altogether, councilors with no leadership appointments can earn up to $16,232 annually, far below their counterparts in the state and across the country, IBJ research shows.
Meanwhile, in other places:
◗ Part-time councilors in Louisville earn $48,791; in Columbus, Ohio, $57,738; in Jacksonville, Florida, $49,974; and in Charlotte, North Carolina, $19,809 plus allowances of $12,900. Both Louisville and Jacksonville have consolidated government structures like Indianapolis.
◗ Salaries for full-time councilors in cities whose populations are similar to that of Indianapolis include $140,148 in San Francisco; $99,500 (half the mayor's salary) in Boston; and about $76,000 in Austin, Texas.
◗ Bloomington and Lafayette—at $16,127 and $14,404, respectively—are the only two of Indiana's 10 largest cities that pay their councilors less than what Indianapolis councilors make. Fort Wayne and Evansville, the state's second- and third-largest cities, pay more than $20,000 a year.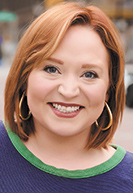 Still, those figures aren't enough to change the minds of some councilors.

Republican Jeff Coats, the District 5 representative through the end of the year (he chose not to seek re-election), told IBJ his decision not to support the pay raise won't be swayed by what councilors in other cities make. For him, it's a matter of principle, he said.
"This is a leadership position given to you by your constituents," he said. "It's not a job. I've always considered it a volunteer opportunity that happened to have a stipend or paycheck attached to it."
Coats called it self-serving for any group—whether it be legislators, city councilors or a company board of directors—to give themselves a pay raise "at the expense of others."
Several city councils across the country leave councilor salary recommendations up to outside boards rather than determining the amounts themselves. In Columbus, for example, the city's Commission on Elected Official Compensation last year recommended a 25% increase in council pay by 2025. And in Jacksonville, salaries for city councilors are determined by the Florida Legislature's Office of Economic and Demographic Research each year.
A living wage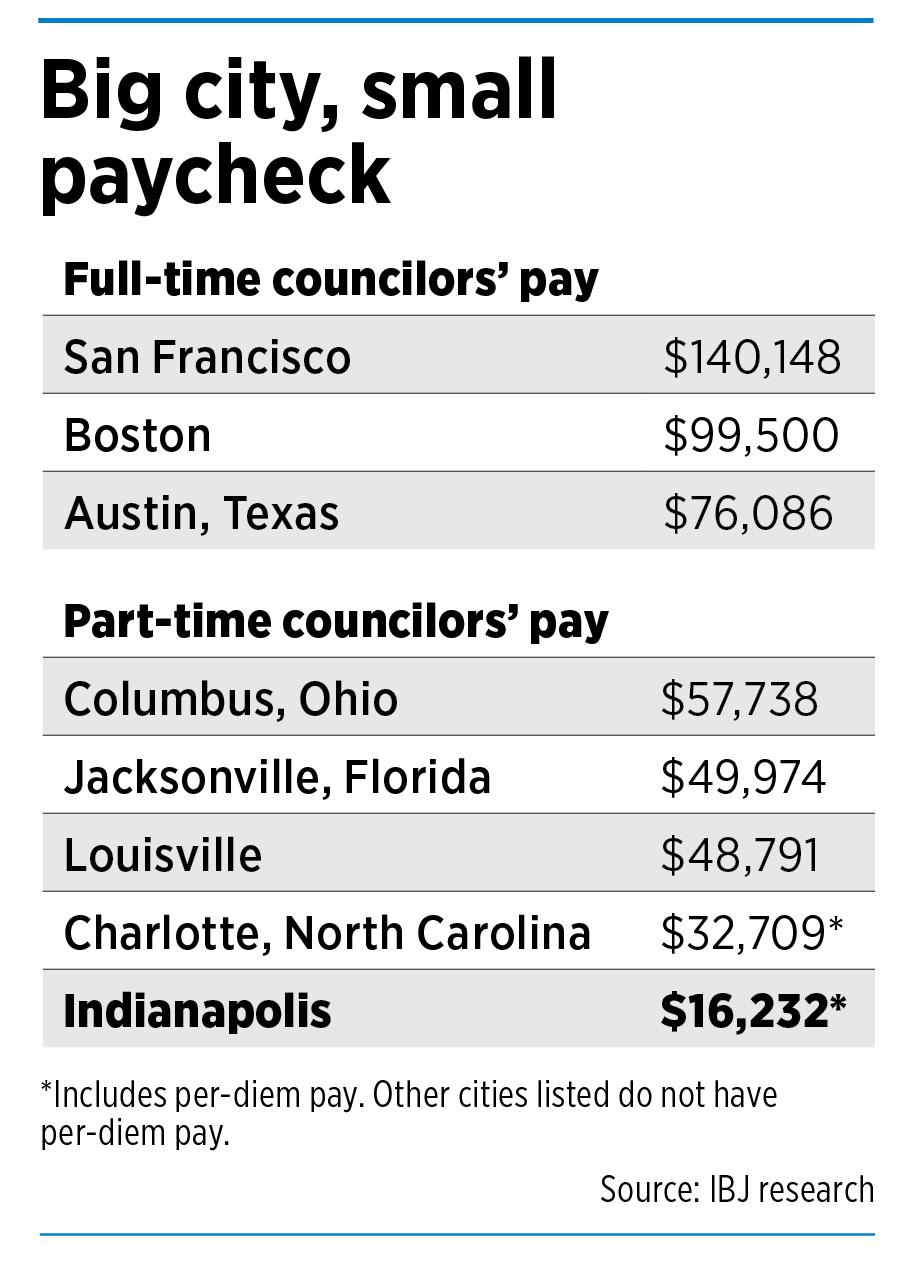 Nancy Holle, president of the Indianapolis Worker Justice Center, which lobbies for low-wage workers, said Indianapolis councilors deserve to be paid what she calls a living wage. Holle, who testified in favor of the pay hike during a committee hearing, noted that the same body has previously voted to ensure municipal workers are paid fairly.
Two years ago, the Indianapolis City-County Council passed a measure that set the city's minimum wage at $13 an hour, almost $6 higher than the federal minimum wage of $7.25.
Then, earlier this year, the Hogsett administration announced it would tie economic development incentives to higher-than-average pay. Starting Jan. 1, Develop Indy, the city's economic development office, will change the way it awards millions of dollars in tax abatements and training grants. Only businesses that agree to pay workers at least $18 an hour and give them access to health care benefits will be eligible.
Now, Holle said, it's time for city councilors to ensure they and others who follow in their footsteps are compensated justly, especially compared with councils in other consolidated cities, where the groups essentially do the work of both city and county councils.
"I totally understand that people should be in it for the right reasons," Holle told IBJ. "Serving the people is one thing; being slaves is something else. They deserve to make a living wage that is fair. Even with the increase proposed, it certainly doesn't put them in the realm of being overpaid."
Data presented to councilors by a city official showed that, even with the proposed increase, Indianapolis councilors would still earn less per capita than the national median of 72 cents per year per taxpayer. It was unclear whether that median included both full-time and part-time councils.
City Policy Director Brandon Herget told Indianapolis councilors that data shows they currently earn 30 cents per taxpayer. At $25,000 per year, the salary would rise to 66 cents per taxpayer.
Service-minded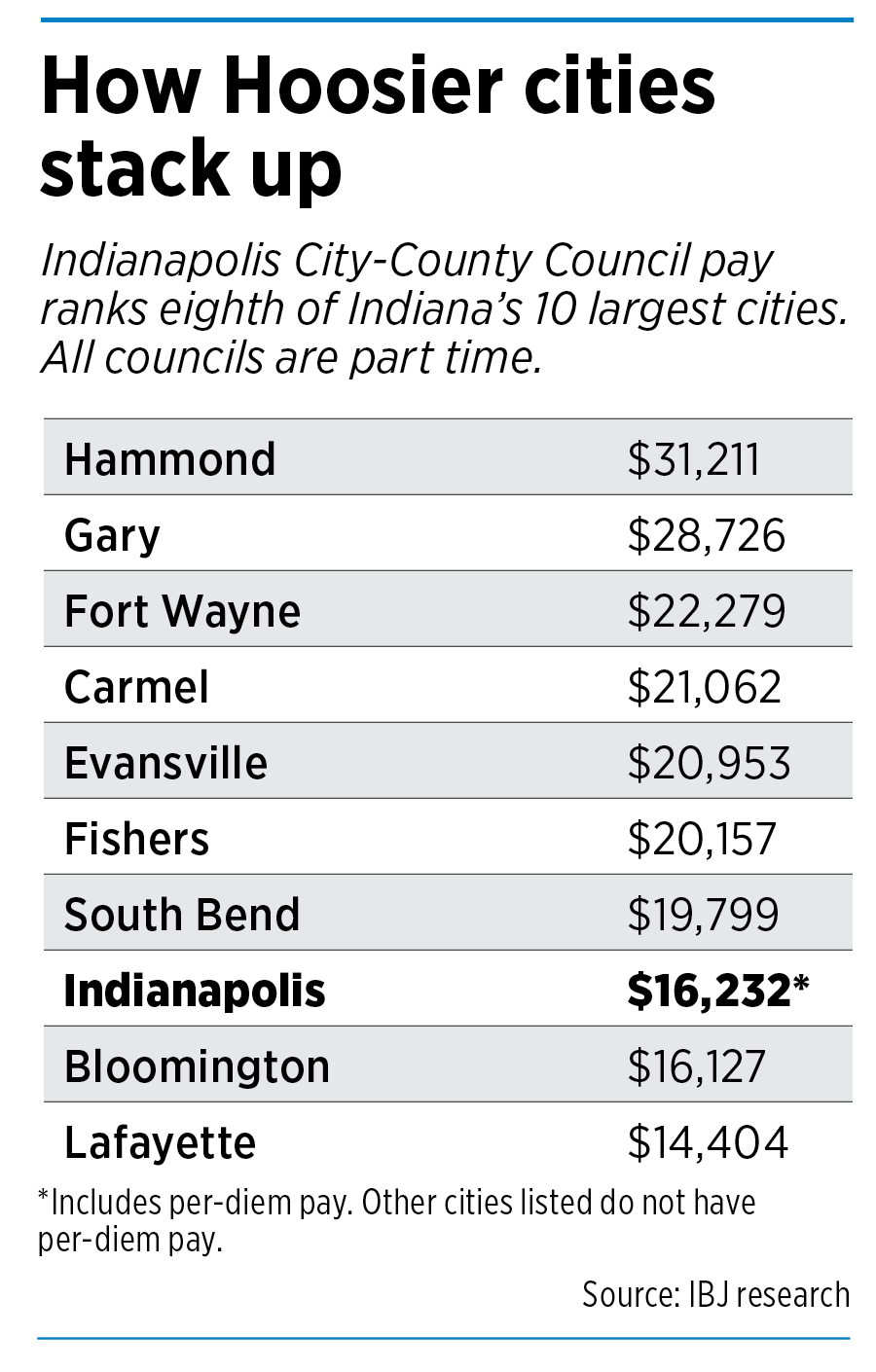 Some councilors have long argued that the low pay keeps qualified candidates from seeking office. They say that, while the council is a part-time gig, it often requires full-time hours. Besides full council and committee meetings, which can last several hours, councilors also attend neighborhood meetings and other events, putting in far more than 20 hours a week.
It's an argument Coats disagrees with.
"When it becomes more about the money than the service you can provide to your constituents in your community, I think that's wrong-minded," he said. "I don't buy the argument that money was or should be a driving factor when pursuing office. It should be an opportunity to contribute, not get paid."
If approved, the first pay increase would take place in April and would cost the city $270,000 in the current fiscal year. Proponents say that money can be found in the budget they approved.
When fully implemented, the pay increase would cost about $360,000 annually.
For Hogsett, the problem with the pay increase is not the money but the proposal itself—especially coming just weeks after its sponsors were re-elected.
"While Mayor Hogsett remains open to discussions about how future modification of elected official salaries could be appropriately enacted, he is unable to support this current proposal given concerns with its timing and structure," spokeswoman Taylor Schaffer said in an email to IBJ.
Still, Democrats could get their way. Even before new councilors are seated, Democrats have a 14-11 majority, making it likely they have the votes to pass the pay increase.
And even if Hogsett vetoes it, the incoming council—with its 20-5 Democratic majority—can overturn the veto in early 2020 with a two-thirds vote.•
Please enable JavaScript to view this content.