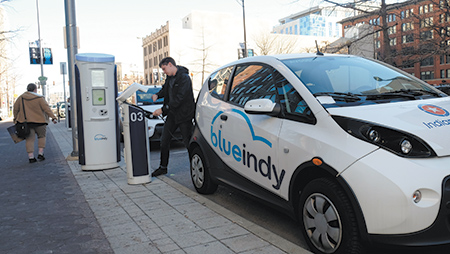 The city of Indianapolis has launched a survey to measure public support for several ideas submitted to repurpose the existing underground power connections at former BlueIndy sites.
In June, the city issued a request for ideas about how the sites could be repurposed, emphasizing responses that were responsive to community needs, innovative, equitable and enhanced commercial activity. The ideas the city received fell into four broad categories: public charging for e-bikes and scooters, public charging for electric vehicles, shared transit services and placemaking.
BlueIndy ceased operations in Indianapolis in May after failing to reach membership goals needed to remain profitable. As part of BlueIndy's contract with the city, the city had an option to purchase some of the BlueIndy assets, which it waived after the RFI process.
The city received 21 responses to its RFI, and only one suggested reusing the existing chargers. After performing an infrastructure analysis, the city said it found that the existing charging stations "perform at a level below what is considered viable for reuse" and that the "established connections to power offer numerous possibilities for reuse of the locations on a case-by-case basis."
The city said it would embark on a public engagement process to gauge public interest for reusing the established power connections. The process, now called Reimagining the Curb, has begun.
The short survey is available at indy.gov/curbs. The intent of the effort is to encourage non-traditional, non-gas powered reuses.
Additionally, posters will be placed at sites by the end of the month with Text to Vote and QR code features to allow passersby to express their opinion about the best reuse option at that particular site.
Following the period of public engagement, the city expects to develop plans for each public site and issue requests for proposals for specific concepts in the first quarter of 2021.
Mayor's Neighborhood Advocates have already begun outreach to neighborhood associations and community groups to engage residents about ideas to reuse the underground connections  at sites in their areas. Property owners adjacent to former BlueIndy sites will also be engaged to ensure they are aware of opportunities to provide ideas and feedback.
"This engagement is an opportunity for neighborhoods to provide direct input on sustainable reuse that improves quality of life," Mayor Joe Hogsett said in written comments. "I encourage all residents to participate and shape the future of these sites."
Please enable JavaScript to view this content.