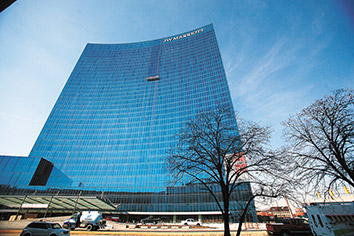 The owners of the city's two largest hotels are considering closing them amid drastic decreases in business caused by the COVID-19 outbreak.

Bruce White, chairman of White Lodging, said the 1,005-room JW Marriott Indianapolis downtown might shut down temporarily amid record-low occupancy, but he noted a decision has not been reached.
All of the Merrillville-based firm's hotels throughout the United States—including the JW and the downtown Fairfield Inn & Suites and SpringHill Suites—have occupancy rates in the low single digits, he said.
"I think when you have occupancies of less than 5%, [closing] is certainly something that any owner would need to consider," he said. "We have not made any decisions to close down assets, but we wouldn't preclude the option of doing so."
Meanwhile, the 650-room Indianapolis Marriott Downtown also is considering closing temporarily amid a stunning drop in demand for rooms.

Mike Wells, president of REI Investments, which co-owns the hotel with White Lodging, said he believes downtown's hotels are experiencing occupancy in the single digits across the board. It's a situation that is unlikely to change until the government again encourages citizens to move freely. He said he thinks other hotels also are considering closing.
"It is one of the options that is on the table," said Wells. "If no one wants to go to your hotel, you have to look at all your options."
In fact, most hotels across the city and state are in a similar situation, with few exceeding 20% occupancy, industry sources told IBJ.
One source said they wouldn't be surprised if some hotels temporarily shut down "yet this week."
Vincent Dora, president of Fishers-based Dora Hospitality, said he is weighing options for how to handle the situation. Dora Hospitality manages more than 20 hotels throughout central Indiana and elsewhere, under brands including Hilton, Hyatt and Marriott.
"We are doing everything we possibly can to avoid" closing hotels, he said. "Once you close a building, it's very hard to reopen both from a business standpoint and reputation-wise. These buildings need to be lived in to stay alive."
Some hotels outside the Indianapolis area already have decided to close.
French Lick Resort plans to shut down its hotel, spa and casino starting Thursday at 1 p.m. It plans to proceed with opening the Pete Dye Golf Course on March 27, as scheduled.
And two hotels in downtown Chicago—the 339-room Peninsula and 198-room Park Hyatt—closed Wednesday.

A study released Wednesday by federal health officials showed the pandemic, which already has killed thousands, could last in the United States for up to 18 months, over multiple waves of illness.
And with economists projecting about 10% hotel occupancy for the state through the rest of the year, a statewide lobbying group is pushing more drastic measures to protect the industry.
The Indiana Restaurant & Lodging Association on Wednesday sent a letter to Gov. Eric Holcomb and state legislative leaders asking them to consider deferring taxes on the restaurant and lodging industries for the next year.
Businesses still would be on the hook for taxes they owe they year but would be able to pay them one calendar year later interest-free. They would apply to personal and real property taxes, state and local sales taxes, and innkeeper's and food and beverage taxes.
The proposed real and personal property deferral would go into effect April 1, while the sales-related tax deferral would apply immediately. 
The measures are among several the group said might help soften the blow to tourism- and dining-focused businesses across the state—particularly in larger cities like Indianapolis.
Total spending nationally on transportation, retail, lodging and restaurants is expected to drop by $355 billion this year, or 31 percent, leading to the loss of 4.6 million jobs, according to the U.S. Travel Association.
Patrick Tamm, president of the Indiana Restaurant & Lodging Association, said that "it's going be really tough" for workers in those industries in the months ahead, particularly with no clear picture as to when the virus might subside enough to allow lives to get back to normal.
"We're a resilient group," he said. "So we'll see what what happens when we are able to be given the all-clear and move forward, but … it's going to be really painful."
In addition to seeking deferred taxes, the lobbying group proposed direct financial help for employees who could lose their jobs because of the virus, as well as their employers.
The letter stopped short of requesting a bailout for the industries or any state-based stimulus funding (federal officials are working on a bailout package for the airline industry), but it did suggest other mechanisms that could provide help for the industry and employees:
— Making unemployment insurance available for restaurant and hospitality workers who lose their jobs due to the spread of the virus, without a waiting period for benefits and work-search requirement;
— Making workers eligible for medical leave under the Family and Medical Leave Act if they are ordered or recommended to be quarantined by the State Department of Health or another medical professional;
— Protections against stockpiling and price gouging;
— Barring utilities from disconnecting services during the outbreak;
— Extending validity of existing licenses, registrations or permits requiring in-person renewals, along with server permits, alcohol permits, driver's licenses, vehicle registrations and professional licenses;
— A moratorium on evictions for residences and businesses directly affected by COVID-19 shutdowns;
— Guaranteed coverage for business losses claimed through business interruption insurance due to shutdowns mandated by the government. These claims are generally void because most insurers have clauses precluding coverage of pandemics.
The Indiana Restaurant & Lodging Association also implored state leaders to consider calling a special legislative session to deal with the crisis.
Drastic cutbacks in staffing and operations already have hit the restaurant and hospitality sectors sectors, following forced closures of dine-in restaurants and bars by state and local leaders, as well as recommendations from health officials that people avoid travel or gathering in large groups.
Multiple major hotel brands, including Marriott, have started to furlough and lay off workers across the country. Tamm said Indiana lost thousands of hospitality jobs this week. He expects many more losses in the days ahead.
About 14% of all working Hoosiers are employed in the dining or hospitality sectors, according to the Indiana Restaurant & Lodging Association. In Indianapolis, more than 83,000 people work in the hospitality industry.
According to a study released Wednesday by Oxford Economics, from 37,000 to 109,000 Indiana hospitality workers—or up to 37% of the state's total hospitality workforce—could lose jobs by the end of the year because of the virus.
Vincent Dora said he hasn't cut back on staffing at his hotels, but acknowledged he's considering it.
"I'm not ruling that out—as terrible as that sounds," he said. "But I'm a slave to occupancy, and that doesn't look promising."
White has a similar mindset.
"We haven't furloughed anybody yet, but based on the bottom falling out of our business … we're looking at the best way to balance the needs of our associates and the reality of the marketplace and the financial responsibilities we have to our lenders," White said. "Once we figure that out, we'll be doing something, but I can't tell you exactly what that is at present."
The situation has been magnified by the cancellation or postponement of almost every convention on the city's calendar through early June.
Those decisions are expected to cost central Indiana businesses at least $60 million in revenue. Another $440 million in economic impact is in flux, as city sports and tourism officials determine whether certain events—like the Indianapolis 500—can move forward as scheduled and if others can find new calendar dates.
The Capital Improvement Board of Marion County, which owns and manages the Indiana Convention Center and Lucas Oil Stadium, is likely to struggle financially in the months ahead—something that could be exacerbated if the state defers innkeeper's and food and beverage taxes into 2021.
"Until we know when conventions and events that have already had to cancel can be rescheduled and if others will need to rescheduled based on the coronavirus bell curve, it would be too speculative to guess what the economic impact could be," CIB Executive Director Andy Mallon said in an email Wednesday.
Mallon could not be reached later in the day after the Indiana Restaurant & Lodging Association issued its tax-deferral proposal.
The taxes in question are part of a larger taxpayer-backed funding pool that supports about two-thirds of the CIB's budget—this year about $143 million.
The innkeeper's tax was projected to bring about $40.4 million in revenue to the CIB this year, while the food and beverage tax was expected to raise about $25.7 million. Together, those taxes were slated to account for about 45% of the board's projected revenue for 2020. As of the end of 2017, the agency had $133.6 million in unrestricted cash reserves.
Other CIB revenue comes from operations and revenue from events held at the convention center and stadium. COVID-19 has effectively shut down those venues and much of the rest of the city. 
Tamm said taking away revenue from the CIB by deferring hotels and restaurant taxes would be "devastating" for the board's annual finances—if these were normal times.
But, he said, the CIB is poised to make only a fraction of what it had anticipated from those mechanisms through the rest of 2020, anyway. 
"There are a lot of things that are tied to the hospitality industry's tax revenue," he said. "But if we can't exist, the city's not going to have anything left to promote with."
Chris Gahl, vice president of Visit Indy, acknowledged the city has a "tourism crisis" on its hands, adding the group is committed to helping the hospitality industry survive.
"Visit Indy shares the same concern as the Indiana Restaurant & Lodging Association, that the hospitality industry as a whole survives this tourism crisis," Gahl said.
He said visitor spending on hotels and restaurants "generates valuable taxes to feed the state and city budgets, while generating paychecks for Indy residents."
Tamm said hoteliers and restaurant owners are trying to "find every penny" to make ends meet through the downturn, and having that extra revenue would go a long way toward making that happen.
Added Tamm: "They'd be arguing over things that will be so minuscule, it will not [help the CIB], but it would potentially help keep a restaurant, or a hotel, or a bed-and-breakfast open."
Please enable JavaScript to view this content.