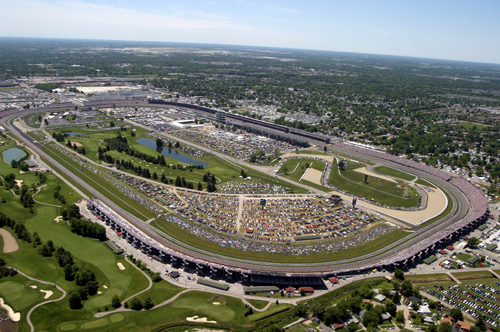 The IndyCar Series—and the city of Indianapolis—would take a devastating hit if the Indianapolis 500 was canceled this year.
That's why sources close to the series said Mark Miles, CEO of Penske Entertainment Group—which owns the Indianapolis Motor Speedway and IndyCar Series—and his lieutenants are looking at contingency plans for holding the race this summer or fall if the pandemic extends beyond May.
The Centers for Disease Control has recommended that no gatherings with more than 50 people take place for the next eight weeks. The Indy 500 falls two weeks outside of that time frame. And the first practices fall just outside of it, too. Indiana Gov. Eric Holcomb on Monday directed the state to follow those recommendations.
The GMR Grand Prix is set to run on the Speedway's road course May 9, which is inside that eight-week period.
"We are aware of the CDC's interim guidance suggesting the postponement of events involving more than 50 people over the next eight weeks," IMS and the IndyCar Series said in a statement issued Monday. "Our priority is to do our part in protecting the public health while still conducting the 104th Indianapolis 500 … as scheduled on May 24. This continues to be a dynamic situation which we are monitoring constantly in coordination with federal, state, local and public health officials. We are planning for all contingencies and will be prepared to run the GMR Grand Prix and Indy 500 as the COVID-19 situation permits."
Miles did not immediately return a phone call seeking comment.
The impact of the coronavirus situation can't be underestimated on the open-wheel race series.
"The cancellation of the Indianapolis 500 would probably put the smaller teams out of business," said Derek Daly, a former IndyCar racer and racing analyst, whose son, Conor, is racing full-time in the series this year.
"Teams like Penske, Ganassi, Andretti and Ed Carpenter Racing would survive, but the smaller teams depend so much on drivers bringing cash, and that would be off," said Daly, who talked to IBJ on Monday as he was driving back from St. Petersburg, Florida, where the IndyCar Series was supposed to race last weekend before the event was suddenly called off.
The IndyCar Series already has canceled all its races leading up to May.
"You have to realize, without the Indy 500, 90% of sponsors wouldn't be in the IndyCar Series. The Indianapolis 500 is that big and drives that much value," he added.
Daly isn't sure about his son's situation is, but noted that sponsors pay based on a number of events held and said some drivers will have their pay suspended immediately. "If there are no events, there's no sponsor payment, and no built-in profit that goes with that."
Conservative estimates put the economic impact of the race at north of $200 million.
"Mark Miles has to be thinking about an alternative date for the Indy 500," Daly said. "I think the cities of Indianapolis and Speedway will do whatever it takes to try to re-schedule the race if need be."
Re-scheduling the race, however, will be "a substantial challenge," said Ken Ungar, the former Speedway chief of staff and IndyCar executive who now runs local sports market firm Charge.
"There are so many moving parts to the biggest single-day sporting event in the world, it would be very tricky and challenging to re-schedule this event," Ungar told IBJ. "You can't just up and move it. Of course, it can be done, but wouldn't be easy from various standpoints and for numerous parties involved."
And it wouldn't be wise, sources said, to think just because the event is outdoors it would be safer, noting the sudden cancellation of PGA golf events, Daytona Bike Week in Florida this past week as well as the closures of Disney's two outdoor theme parks in California and Florida.
"There are just so many unknowns right now," Ungar said. "I'm sure every sports organization is making contingency plans, but those are really just academic exercises, because we just don't know."
Dave Moroknek, CEO of Indianapolis-based MainGate—which is handling merchandising for the Indianapolis 500, said we're in unchartered territory.
"I don't think anybody knows right now what the impact of all this is going to be," Moroknek said. "This is a fluid situation. No one has ever gone through this. We just have to take it day-by-day and do what's best for the greater good."
When asked how this has affected MainGate, which handles merchandise for an array of sports and other events, Moroknek said: "We're in the events merchandising business, and there are no events right now. It's having a huge impact."
For now, MainGate remains open.
"We are following the government guidelines and doing everything we can to practice social distancing," Moroknek said. "It's a very fluid situation and we will make adjustments as needed."
Any re-scheduling would have to be done in careful consideration of the schedule of the Indianapolis Colts and other events at the Indiana Convention Center. Running the race during the NFL season is less than ideal, but it's surely better than not having the race at all in 2020.
Including ticket, hospitality, concession, merchandise and television revenue, the Indianapolis 500 brings in north of $50 million for the Speedway and has long been considered the one life vest keeping the otherwise struggling IndyCar Series afloat. More than half of all sponsorship dollars flowing to teams is paid for exposure during the month of May at Indianapolis.
"We are actively looking to shift meetings and events happening in March and April to later in 2020," said Chris Gahl, senior vice president with Visit Indy. "We are staying optimistic about May as a whole. We feel the Indy 500 will be safe and sound, with tourism rebounding by the time of this iconic event."
The revenue loss of the entire month of May could easily be more than $60 million for Penske Entertainment Group, which bought the track this off-season from Hulman & Co.
A cancellation would come at a particularly bad time for the Indianapolis 500.
The race, which attracts nearly 300,000 live spectators, was picking up some needed momentum with its TV viewership in its first year of a new deal with NBC.
The perennially top-performing Indianapolis 500 had an audience of nearly 5.5 million TV viewers of its first year on NBC, up 11% over the TV-only viewership for last year's race on ABC. Last year's Indy 500 had more than five times as many viewers as the IndyCar Series' second most watched race.
The IndyCar Series last week already announced it has canceled the first four events leading up to the month of May in Indianapolis. Since those events are only marginally profitable for the series, the impact of not having those events is likely much bigger for teams than the series itself.
The loss of the Indy 500 will be equally painful to the teams and series.
It's unclear what would happen to Indy 500 ticket buyers if the event was canceled.
The promoters behind the IndyCar Series' Grand Prix of St. Petersburg defended their decision to issue credits, but not refunds, to those who bought tickets to last weekend's canceled race.
In a statement issued Sunday, Green Savoree Racing Promotions said the credit offer extends "beyond the policy" that ticket-holders "accepted and agreed to at the time of purchase." That policy, the statement said, is that sales are final and there will be no refunds. The statement included language lifted from the back of each ticket, which makes clear ticket-holders are not entitled to refunds even if the race is canceled.
Daly said IndyCar Series officials will need to be careful with that issue.
"The last thing they want to do right now," he said, "is build any bad will."
Please enable JavaScript to view this content.