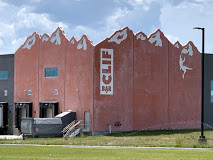 Energy bar giant Clif Bar & Co. has completed a $10 million renovation and expansion of its commercial bakery in Indianapolis, the company announced this week.
Clif Bar, based in Emeryville, California (near Oakland) said it added 24,000 square feet to the 185,000-square-foot building at 7575 Georgetown Road on the city's northwest side.
The project doubled the size of the office space in the building and added employee break rooms, lounge areas, a fitness area, mother's room, wellness room and bike storage. Car-charging stations were added to an expanded parking lot.
The new space features a biophilic design, which involves incorporating natural outdoor elements into an indoor space. The facility is LEED, or Leadership in Energy and Environmental Design, certified.
About 430 people work at the bakery, which Clif opened in 2012. The company took full ownership of the facility in 2016.
Clif Bar was founded Gary Erickson, a baker, avid biker and former mountain guide, in the early 1990s. It is now considered to be the biggest player in the energy bar market. The private company does not disclose its revenue, but sales are estimated to be between $500 million and $1 billion annually. The company also make Luna Bars.
Please enable JavaScript to view this content.