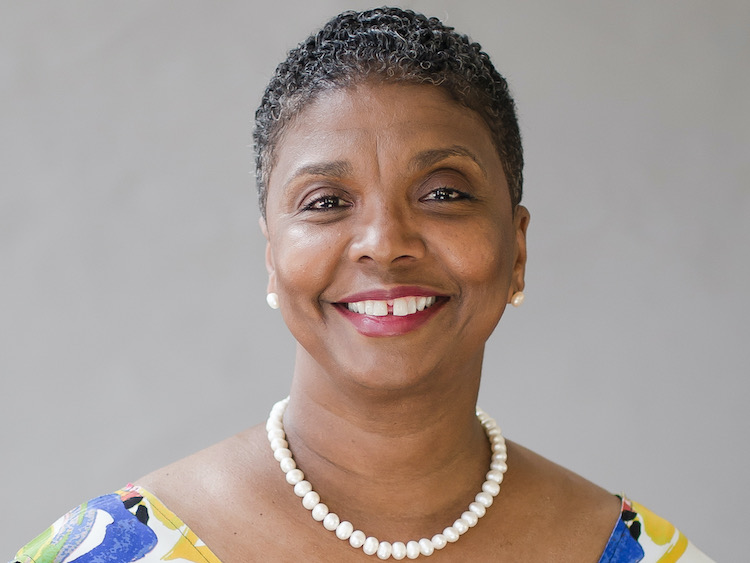 A special guest upstaged the announcement of two highly anticipated exhibitions during Wednesday's annual meeting at Newfields art museum and gardens.
Colette Pierce Burnette traveled from Austin, Texas, to Indianapolis one day after being announced as the new president and CEO of Newfields.
Greeted by a standing ovation at the museum's Toby Theater, Burnette said she's eager to do "heart" work involving art, nature, history and education once she starts her new job on Aug. 1.
"I consider it a gift and a blessing when your personal passions and your professional passions intersect," said Burnette, who will retire from her role as president of Huston-Tillotson University next month. "That's what attracted me to Newfields."
Meanwhile, the meeting for the organization's board of trustees, board of governors and VIP supporters unveiled a pair of noteworthy exhibitions:
"Monet & Friends Alive" will follow the immersive Van Gogh presentation that set attendance records at Newfields' digital galleries known as the Lume. The Van Gogh attraction will close May 30 and "Monet & Friends Alive" will open on July 3. Projections of paintings by French impressionist Claude Monet will be accompanied by projections of works by fellow artists Camille Pissarro, Pierre-Auguste Renoir and Paul Cezanne.
"We. The Culture: Works by the Eighteen Art Collective" will be displayed for one year beginning Sept. 23. This exhibition finally will bring the artists who painted the 2020 #BlackLivesMatter mural on Indiana Avenue to Newfields after a previously planned show was abandoned in protest of former Newfields leader Charles Venable. ​​
Organized by cultural development firm GangGang, the "Drip: Indy's #BlackLivesMatter Street Mural" exhibition didn't materialize in wake of a race-related controversy that led to Venable's resignation. More than 85 Newfields employees and affiliates signed a letter calling for Venable's ouster after the museum posted a job listing that referenced the need to maintain "the museum's traditional, core, white art audience" while attempting to attract guests from all backgrounds.
In contrast to the collaborative mural concept of "Drip," "We. The Culture" will spotlight individual works by the 18 artists. GangGang founders Malina Simone Jeffers and Alan Bacon are the curators of "We. The Culture."
As president and CEO, Burnette will hire someone to fill the director role initially sought in the controversial job listing. The Newfields board of trustees established a new executive structure before Venable's exit, creating the position of president and charging the president to appoint a director of the Indianapolis Museum of Art at Newfields and a director of The Garden and Fairbanks Park.
Venable was named president, Jonathan Wright was named director of The Garden and Fairbanks Park and the IMA job was not filled.
Chief Financial Officer Jerry Wise has served as the interim president since the departure of Venable.
When Newfields posted the job description for Venable's successor, applicants were informed that "rebuilding trust and stronger relationships with the people of Indianapolis is a top priority and the organization recognizes that this will take time."
In an interview following the annual meeting, Burnette said the task of building relationships echoes her work at historically Black college Huston-Tillotson.
"When I first got there, the university was not recognized or really embraced by the city of Austin," Burnette said. "It's a very prosperous city, and there's a long history of race challenges in Austin, Texas."
Burnette said she aspires to Martin Luther King Jr.'s concept of "the beloved community," in which poverty and discrimination would not be tolerated because of a prevalence of human decency.
She was named the 2021 Austinite of the Year by the city's Chamber of Commerce, which cited Burnette's commitment to education and her work as co-chair for the Mayor's Task Force on Institutional Racism and Systemic Inequities.
"I did not go (to Huston-Tillotson) to do that work, but I realized the school was a jewel in the community that wasn't being embraced by the community," she said. "It was a passion of mine."
Burnette will be the first Black top executive at Newfields, an organization initially founded as Art Association of Indianapolis in 1883. Burnette also will be the first woman hired for the role. From 1926 to 1929, artist and curator Anna Hasselman served as interim director.
Burnette is married to retired Air Force Lieutenant Colonel Daarel Burnette, who accompanied her on Wednesday's visit to Indianapolis. They are the parents of one son, Daarel Burnette II, and one daughter, Daana Burnette.
When recapping the past year at Newfields during the meeting, Wise said the Van Gogh attraction at the Lume has been seen by 235,000 attendees—an all-time record for an exhibition at 4000 Michigan Road. The 2021 edition of Winterlights set an attendance record for an outdoor presentation at Newfields: 157,000.
Overall ticket sales and memberships generated more than $10 million in revenue.
Please enable JavaScript to view this content.