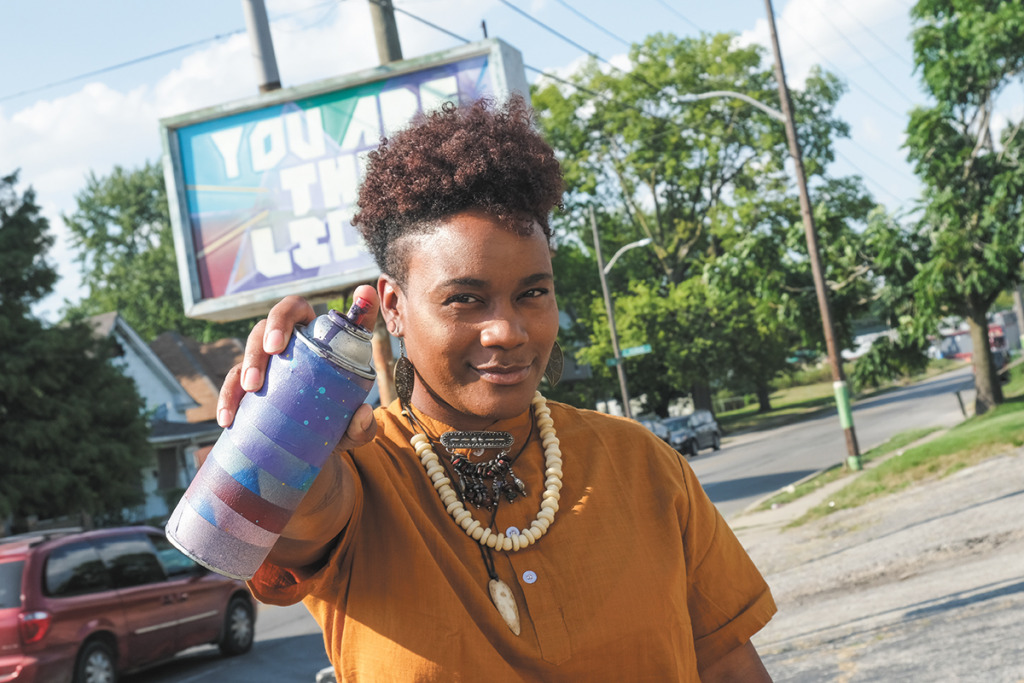 Keep your eyes open for something beautiful, amusing or thought-provoking. Keep Indianapolis Beautiful and the Arts Council of Indianapolis have teamed up with 72 local artists for Indy Art & Seek, a project that has put 107 pieces of art on temporary display all over town.
Some pieces are can't-miss-them murals; others take a bit of searching to find. And performances and musical compositions can be discovered using an app called Otocast, which also can help you match the locations with more information about the artists.
The dots on our map below represent the locations of the works—and we've provided more details about a handful of them. We also asked five artists about their artwork and what they want it to convey. The stars on our map correspond with those featured artists, below.
---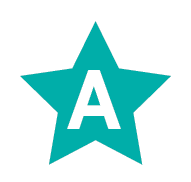 Artist: Koda Witsken, 27, of Fortville
Artwork: "Art is the Honey of the Human Soul," a mobile mural that Witsken describes as a "bee rest stop," complete with vases of real and artificial flowers that neighbors can take or add to. The intent, Witsken said, is to create in viewers a sense of positivity while also highlighting the importance of pollinators.
Location: 4108 Kalmar Drive, in the Eagledale neighborhood north of the Indianapolis Motor Speedway
Something extra: Witsken also created another nearby piece at 2219 Lafayette Road called "Lend Your Light." That piece, installed on a utility pole, depicts plaster casts of hands holding jars filled with tiny lights.
More murals: Witsken, along with Israel Solomon, is part of the Mobile Mural Project. Funded in part by the city of Fishers, the project arose from the social justice protests that took place locally and nationwide this spring. The project will honor notable Black Hoosiers, and the first of the traveling murals will depict the late Indianapolis jazz musician Wes Montgomery. "I think we have a duty to use the tools we have to tell the stories we can," Witsken said of the mural project.
---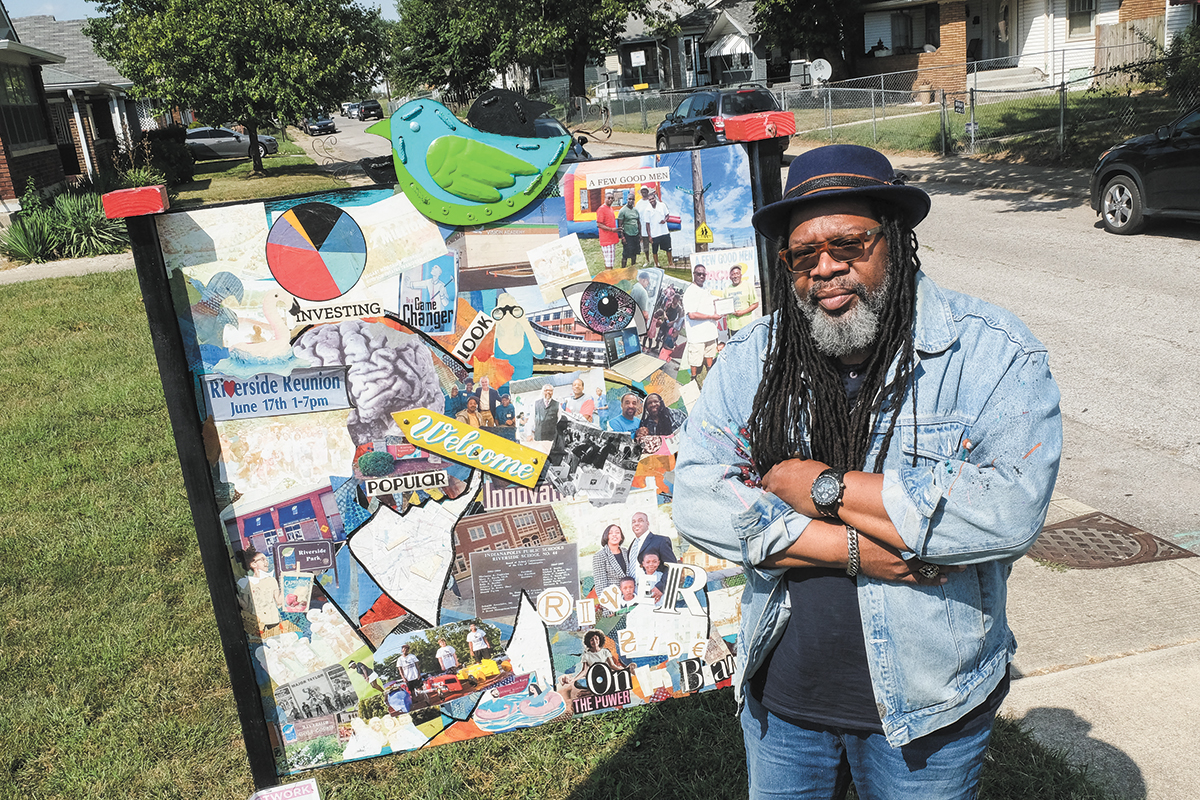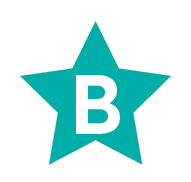 Artist: Chrystopher Burns, 57, of Indianapolis
Artwork: "Riverside on the Brain," a two-sided collage. One side contains images of the Riverside Park Burns remembers from growing up in that neighborhood. The other side represents the neighborhood as it is today. "I just tried to show how, over time, some things are still the same but in a way they're a lot different."
Location: 1804 Mansfield St., a block from Burns' childhood home
Neighborhood evolution: When Burns lived there, the neighborhood was home to Riverside Amusement Park, a formerly segregated attraction that closed in 1970. Today, Burns said, that site contains homes whose residents come from a variety of backgrounds. "I tried to exemplify there was hope for a better future in the area," Burns said of his piece.
Returning to his roots: Burns got interested in art as a child and had planned to pursue a career in art until a high-school guidance counselor advised him to do something more practical. After a series of jobs, Burns started teaching elementary school several years ago. He resumed his art as a way to unwind in the evening after teaching.
---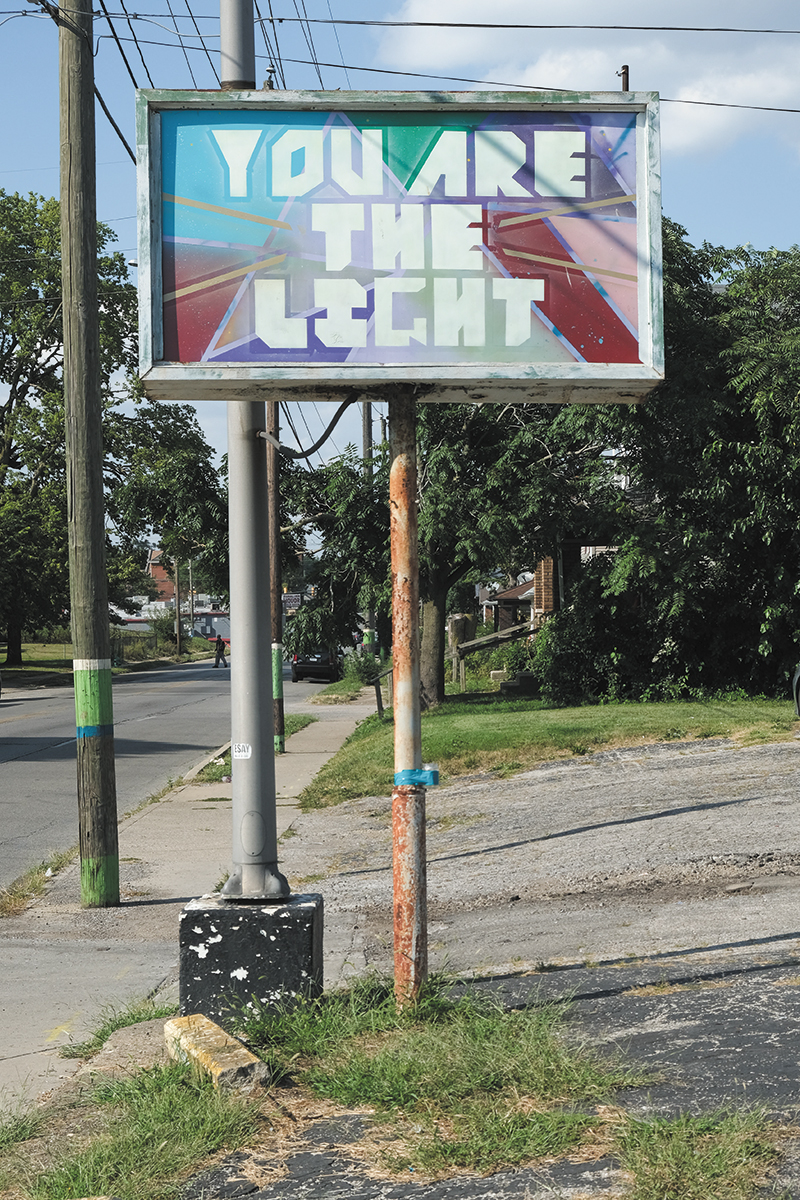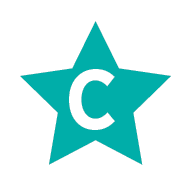 Artist: Sylvia Rivers, 40, of Indianapolis, who creates art under the name Ess McKee
Artwork: "Shining Light," a large street-side sign with a different message on each side: "You are the light" and "Shine." A basket at the foot of the sign contains free glow bracelets for passersby to take.
Location: on Rural Street just north of East New York Street
About the art: McKee used positive messages and glow-in-the-dark paint to create a piece she hopes will resonate with the people who live in, work in or pass through the neighborhood. "I wanted it to kind of convey the messages of safety and community and pride in that specific area."

Neighborhood connection: This spring, McKee was the inaugural fellow at the 10 East Arts Hub, a program of the John Boner Neighborhood Centers. As part of her fellowship, she created a series of eight weekly self-care videos focused on health and wellness topics, including yoga and sound healing.
---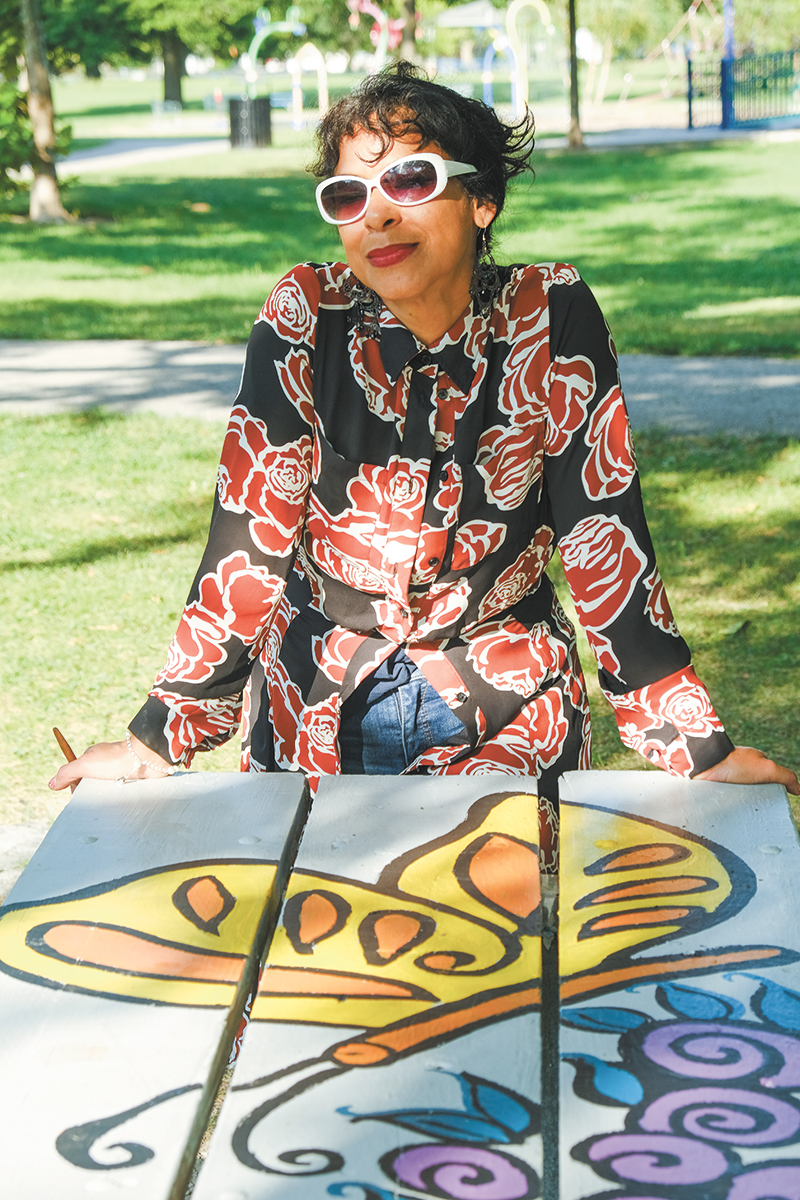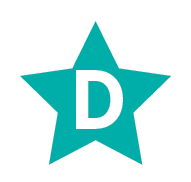 Artist: Beatriz Vasquez, 51, of Indianapolis
Artwork: "Immigrant Monarch." For the outdoor portion of the piece, Vasquez painted monarch butterflies on eight picnic tables in Christian Park. Inside the park's community center, she created a paper butterfly sculpture using a Mexican folk-art technique called papel picado.
Location: 4200 English Ave., just east of Sherman Drive
About the art: Vasquez said she chose to paint monarch butterflies because the creatures migrate between Mexico, the United States and Canada and are a well-known symbol of immigration in Latino and Chicano communities. She chose Christian Park because the neighborhood is home to many immigrant families. "I really do believe that there is a definite need to reach out to the community and make them feel welcome in public spaces."
About the artist: Vasquez was born in the United States to parents who were Mexican immigrants. She moved from Brownsville, Texas, to Indianapolis when she was a child, and grew up on the city's east side. She considers herself an "artivist"—someone who uses art as a form of social activism.
---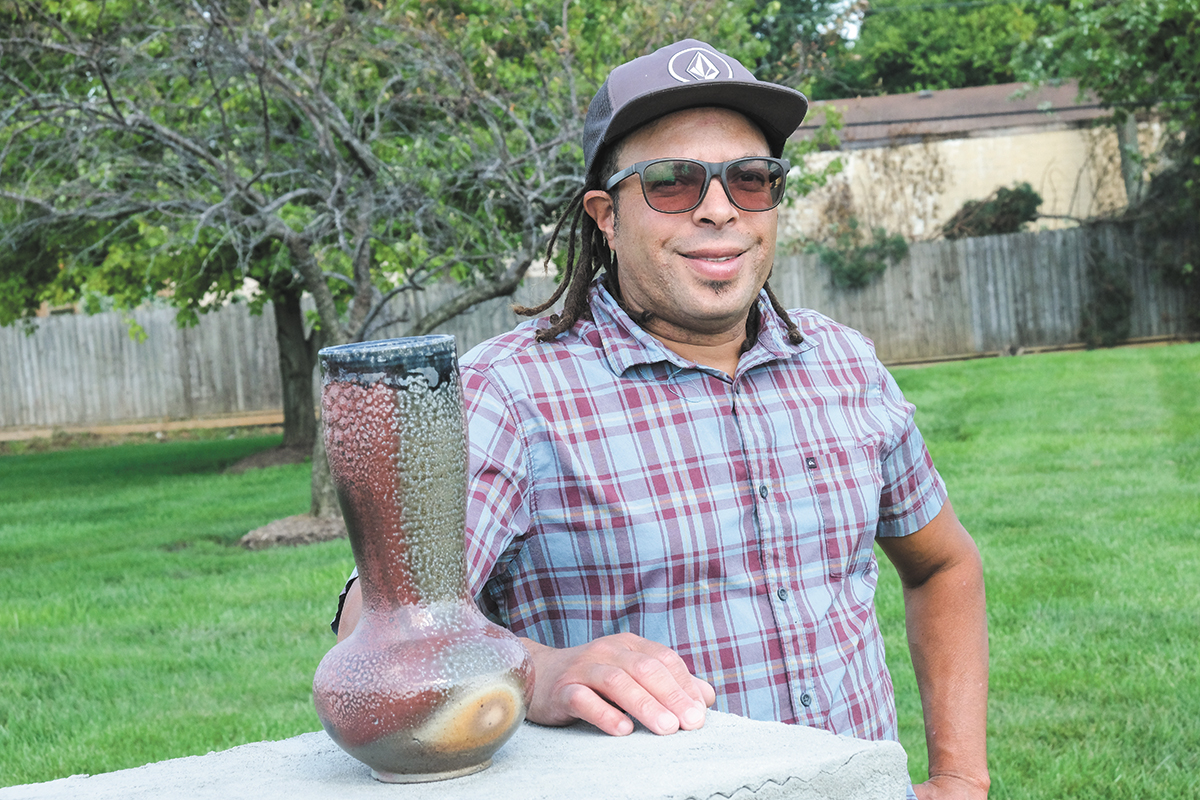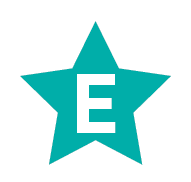 Artist: Corey Jefferson, 44, of Indianapolis
Artwork: "The Trading Post." Jefferson, a ceramicist and sculptor, made a concrete pedestal on which he displays a ceramics piece he also made. Jefferson intends for individuals to take his art and give something in return—either a physical object or something intangible like an act of service to someone who needs it.
Location: 5719 Massachusetts Ave.
About the art: Jefferson said the installation is meant to get people thinking about the concept of giving and receiving. "If you're getting something for free, what can you give back?" He said he plans to put out new pieces weekly to replenish those that have been taken.
The bigger picture: Jefferson called "The Trading Post" an example of social practice art, a longtime interest of his. By its nature, he said, making art can be a selfish and isolating experience. "The Trading Post," in contrast, "is a piece of art that's about more than just me."•
Please enable JavaScript to view this content.