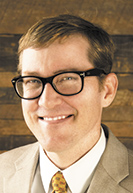 The Indianapolis office of the Local Initiatives Support Corp. is searching for a new executive director following the departure of Tedd Grain, who has moved to a new job at Eskenazi Health and its associated foundation.
Grain, 46, joined LISC in 2009 and became its executive director in 2018. His last day on the job at LISC was Dec. 4, and he started at Eskenazi on Monday.
Grain plays a dual role in his new job. At the Eskenazi Health Foundation, he's serving as the vice president of social determinants of health; and at Eskenazi Health, he's director of social determinants of health.
Social determinants of health are non-medical factors that affect a person's health and health outcomes, including things like access to food, housing and economic mobility.
"I'm super excited about the potential to take what I've learned from the 11 years I worked at LISC and just be part of a really strong team at Eskenazi, connecting the dots for health equity in Indianapolis," Grain told IBJ. "I see this as a really natural outgrowth of the work that we've done at LISC."
LISC is a community investment group that channels both private and government funding to revitalize urban neighborhoods.
Grain noted that 89% of Eskenazi Health's patients live in a neighborhood targeted by LISC, and that LISC and Eskenazi have teamed up on numerous projects over the years. As an example, LISC, Eskenazi and Flanner House worked together to open Cleo's Bodega & Cafe at 2424 Dr. Martin Luther King Jr. St. in 2019.
LISC's Indianapolis office is one of 35 local operations for the New York City-based organization.
LISC was founded nationally in 1979, and its Indianapolis office opened in 1992. Since its opening, the Indianapolis office has invested more than $266 million to leverage more than $1 billion in projects that have created more than 8,168 units of affordable housing and 7.28 million square feet of redeveloped commercial space.
LISC has hired EFL Associates, a Kansas City, Missouri-based search firm, to help it find a new executive director. In the meantime, LISC's national vice president of field operations, Jessica Guilfoy, will serve as interim director of the Indianapolis office.
Please enable JavaScript to view this content.