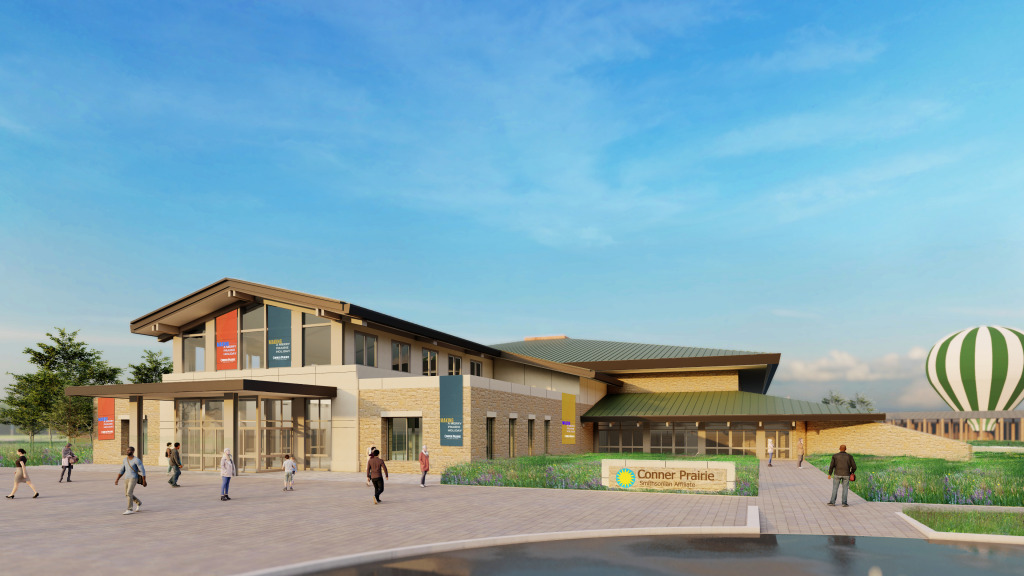 Conner Prairie unveiled plans on Friday for $24 million in new capital projects that museum officials said will provide a "more complete and more inclusive" look at history.
The projects will be funded in part with $15 million in private donations to the Prairie Pathways Campaign, according to a news release. The museum continues to seek donations and partnerships to cover the remainder of the campaign.
Plans call for an enhanced Museum Experience Center that would provide space to host hands-on exhibits, Smithsonian Institution speakers and learning opportunities, a diversified collection, a dedicated youth leadership institute space, and exhibits featuring local and global artists.
The museum also is planning a feature called the Outdoor Nature Experience, which includes 3.3 miles of the White River and more than 260 acres of prairie and woodland. Two trails would feature up to four education hubs that would provide information about the past, present and future role of the White River, along with lessons in environmental science education and visual art displays.
A building that will house Conner Prairie's Promised Land as Proving Ground exhibit will open in summer 2023, the museum said Friday. The permanent exhibit will address nearly 1,000 years of Black history from pre-colonial time periods to the present day.
The concept of Promised Land as Proving Ground took shape in December 2020, when Lilly Endowment's Religion and Cultural Institutions Initiative awarded a three-year grant of $500,000 to Conner Prairie.
The exhibit received high-profile support at the end of 2021, when Conner Prairie was selected, with eight other U.S. museums, to be part of a Smithsonian Institution cohort participating in the "Fostering Critical Conversations with our Communities" program.
"Conner Prairie is taking proactive steps toward telling a more complete and more inclusive story, both in person and virtually," Conner Prairie CEO Norman Burns said in written remarks. "These projects ensure that we'll be a place where the doors are always open to a diversity of voices and limitless experiences for generations to come."
Conner Prairie also will renovate its theater and create spaces where visitors can see historic artifacts from both its own collection and traveling exhibits.
Conner Prairie's Prairie Pathways Campaign received a $3.5 million gift from Jay and Nancy Ricker, along with commitments of $1 million or more from the Allen Whitehill Clowes Charitable Foundation, Steve and Sandy Hageman, the Nina Mason Pulliam Charitable Trust and an anonymous donor.
Please enable JavaScript to view this content.