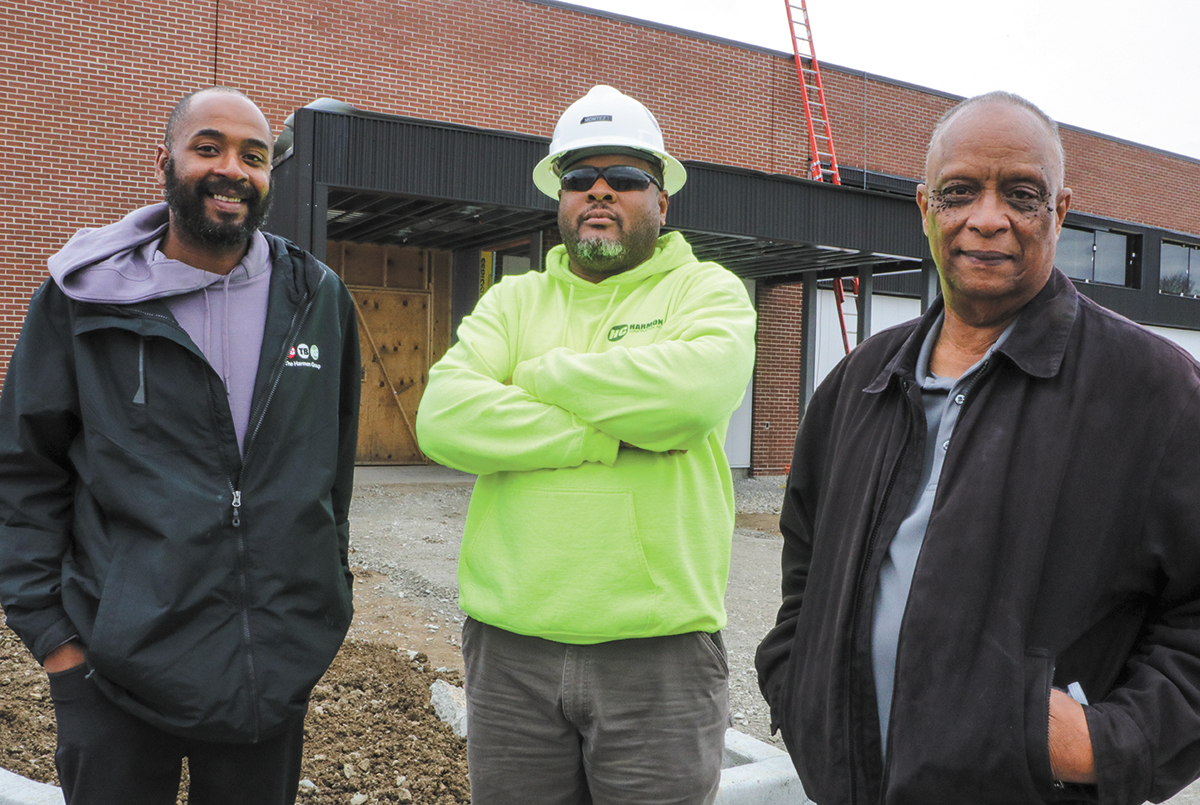 Doubt and disbelief hung over Cook Medical's lofty goal.
Hiring 100% diverse contractors to build a $15 million medical-device manufacturing facility was considered difficult, if not impossible, by many in the construction industry.
Sure, government projects routinely set goals to have 15% to 20% of their contractors be companies owned by people of color, women, veterans or people with disabilities. But Cook Medical wanted to do much, much more with the construction of its 40,000-square-foot plant at East 38th Street and North Sheridan Avenue in the Devington neighborhood—an area beset by high unemployment, poverty and disinvestment and where 86% of the population is people of color, predominantly African American.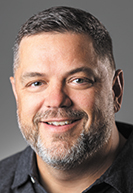 "We were told it wasn't possible," said Peter Yonkman, president of Bloomington-based Cook Medical and Cook Group. "This is our first time [striving for such a goal], and we were successful at it."
Akilah Darden, whose The Darden Group consulting firm was hired by Cook in December 2020 to help recruit minority-owned contractors, believes it's the first time such a threshold has been reached for a major construction project in Indiana.
"There are not many corporations that have a strong commitment to be bold enough to do something like this," said Carolyn Mosby, president and CEO of the Mid-States Minority Supplier Development Council. "It's just not the norm."
The 100% minority-owned contractor goal was created, Yonkman said, at the urging of neighborhood community leaders and residents with whom he met. He said it was achieved through Cook's strong commitment and the hard work of the Darden Group and of Harmon Construction Co., a minority-owned company Cook hired as general contractor.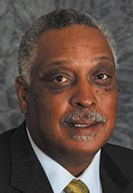 "In all my years in construction, this is the first time I've been asked to do this—hire 100% minority-owned subcontractors," said William A. Harmon, CEO of the third-generation company he owns with his son, William B. Harmon, and his brother, Thomas Harmon. He's been in the business about 40 years.
Harmon hired 23 minority- and woman-owned subcontractors to build the clean-room plant that broke ground in March. "This isn't going to be a one-and-done," Harmon said. "We're going to develop more relationships with these contractors. We're going to pass them along to other people and help them get other jobs."
All of his subcontractors are owned by some combination of minorities, women, veterans or people with disabilities. Most are from Indianapolis, while a few are from nearby counties.
John Sexson, owner of Sexson Mechanical Corp. in Greenwood and a minority subcontractor Harmon hired, said he's formed a great partnership with Harmon over many years. Sexson, who is Japanese, is installing plumbing and piping systems in the Cook facility.
"I started Sexson Mechanical in 1999, and this is my first project of 100% Minority Business Enterprise contractors," he said. Cook Medical deserves credit for its "unprecedented spirit" of minority inclusion for this project, Sexson said.
Adam Young, Harmon's senior project manager, said most major corporations and state projects include bid specification goals asking for 15% minority-owned, 7% women-owned and 3% veteran-owned subcontractors. Some companies set goals in the 20% to 30% range.
But Harmon said national racial and civil unrest, brought on partly by incidents such as the police killing of George Floyd in 2020 in Minneapolis, have led firms to think more about minority hiring.
"After that, some companies have stepped up and are trying to do better by hiring more minorities and minority contractors," he said. His company is also getting calls from firms that haven't contacted it before.
Yet Harmon acknowledged that the construction industry is still a "very good-ol'-boys business" that is hard to break into and includes few minority contractors.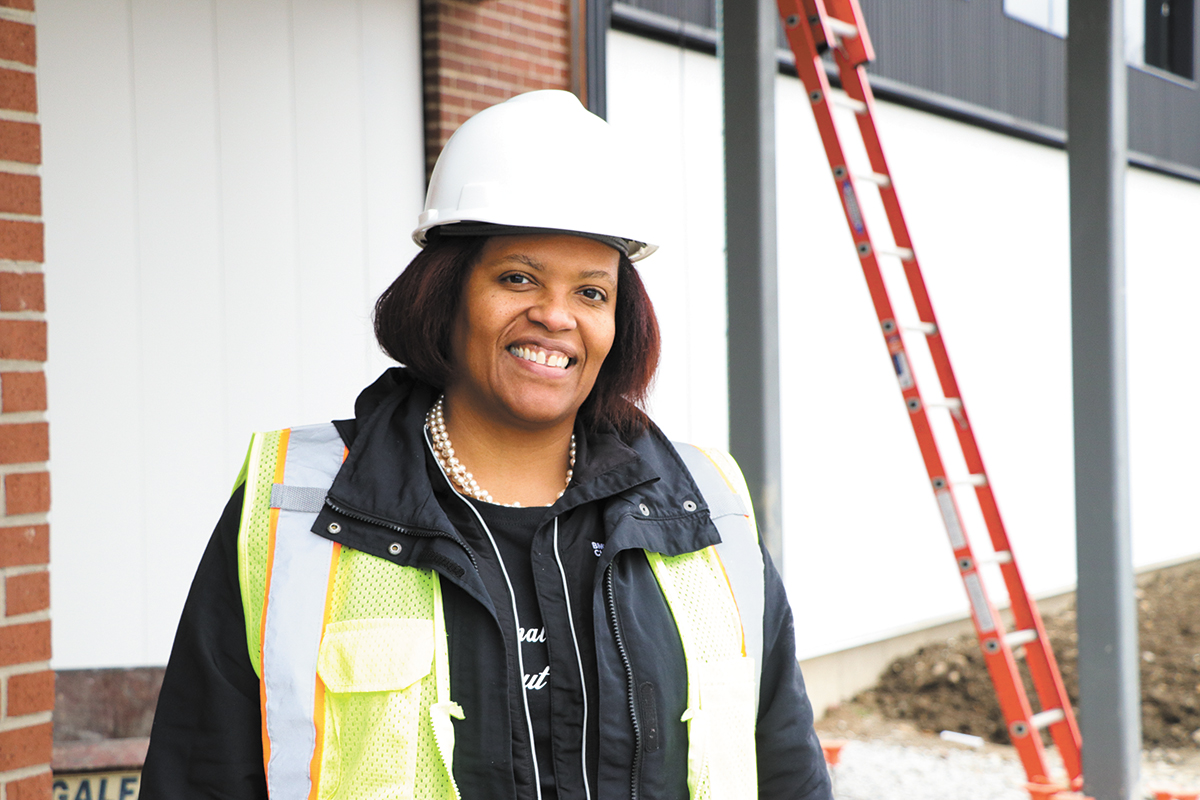 Doing the impossible
Darden helped convince Yonkman the 100% goal was reachable.
"They told me they wanted 100%. They said, 'Do you think you can do it?' I said, 'Absolutely,'" Darden recalled. "I am very passionate about diversity, equity, inclusion, with acceptance and belonging." Quoting late South African President Nelson Mandela, she said, "It always seems impossible until it's done."
Darden—whose background is in architecture, engineering and construction—created her consultancy in January 2020 when she saw the number of minority businesses in construction were decreasing. She thought she could work with corporate and business owners to find minority vendors to "bridge the gap."
Initially, she called together minority-owned general contractors who could meet Cook's timetable. She gave them names of hundreds of minority subcontractors from city and state government listings to use in the bidding process, which culminated in Cook's hiring Harmon Construction Co.
"I literally called hundreds of minority contractors to tell them about the project. I had to convince them this was a project that was set aside for them. That was difficult," she said.
Darden said she had to repeatedly assure contractors the 100% goal was serious, that they would be welcomed on the building site, and that she would provide any help needed during construction. Those are all promises minority contractors are sometimes skeptical of, she said, because of their experience with such pledges being broken.
She said Yonkman was instrumental in publicly stressing Cook was committed to the goal. He came into the community, listened to people and received feedback about ways to make a positive impact before creating an economic development plan, Darden said.
On those visits, Yonkman said, he repeatedly heard that community members wanted to see business owners and people on job sites who were people of color.
Harmon said it has been important for him that his subcontractors have had a workforce on the job site that is at least 50% minority.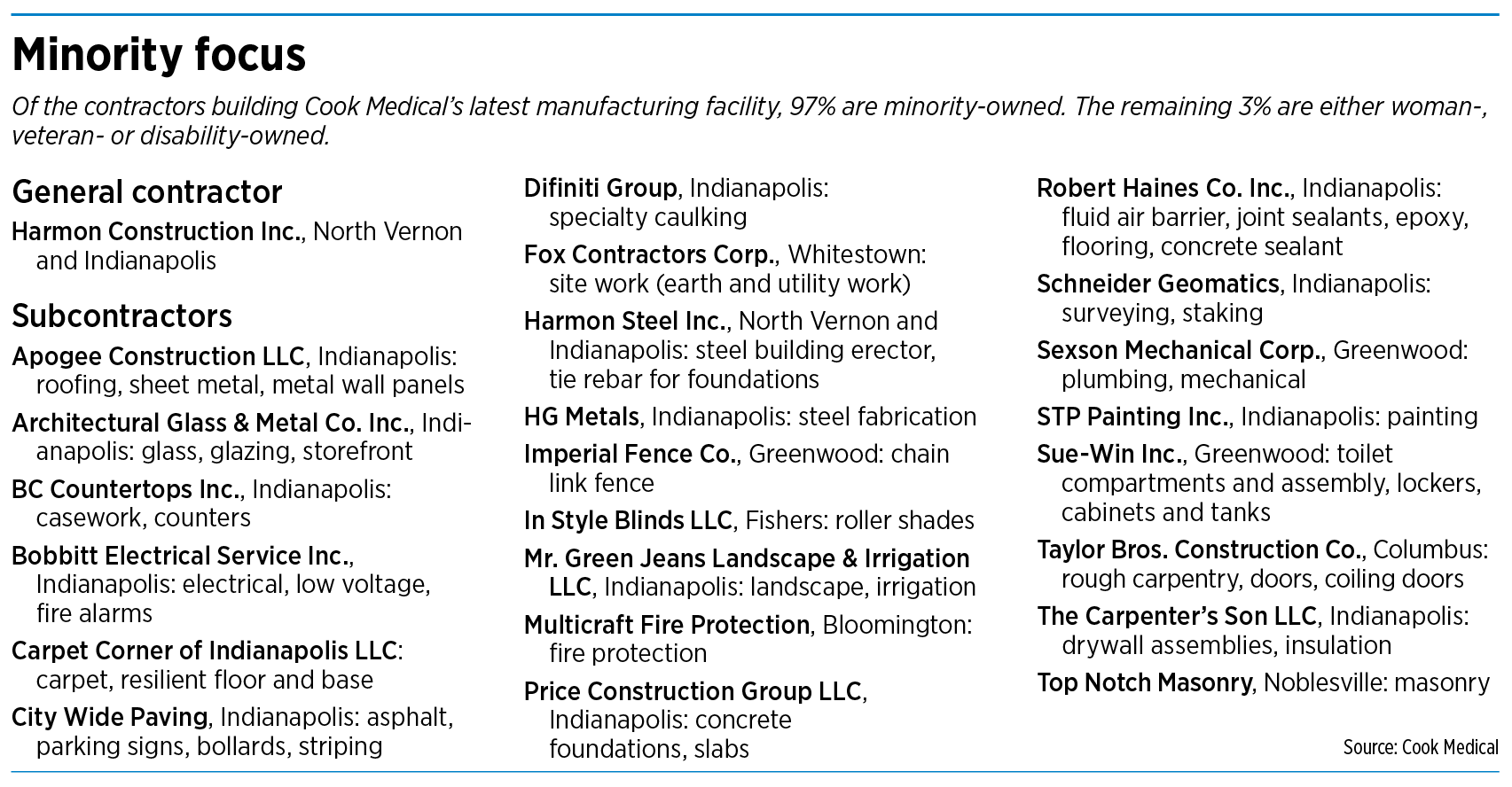 Hyper-local hiring
Yonkman said the next step is to make sure the factory hires people who live in the community.
Goodwill Commercial Services, a contract manufacturing division of Goodwill of Central and Southern Indiana, is leasing the building, operating the plant and hiring about 100 employees to make the devices, including drainage catheters, needles, sheaths and introducers. They will be hired in 20-person groups to allow time for training.
Already, several plant leaders have been hired and are working at Goodwill's west-side facility to develop processes for the facility, which will sit along the proposed route of the future IndyGo Purple Line.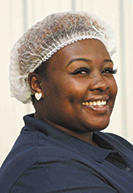 One of them, Riana Dozier, 25, was hired in January as a manufacturing engineer for Goodwill Commercial Services and has been working to help create a plant layout floor and operational flow. Dozier attended Charles A. Tindley Accelerated School near the plant site, and her grandparents live at East 38th Street and Emerson Avenue, so she's familiar with the challenges there.
"I'm very much excited for the plant to offer the job opportunities and educational opportunities Cook will provide," Dozier said. "I think this brings hope for the community to see the growth. The minority contractors also bring a different type of hope to see someone like yourself working in these positions and being able to afford to live on their own."
Yonkman expects the facility's first products to be out the door in the first quarter of 2022 and for the plant to be fully operational by year's end. Besides Cook's $7 million investment in the project, an additional $4 million comes through IMPACT Central Indiana, a multimember limited liability company created by Central Indiana Community Foundation, the Indianapolis Foundation and Hamilton County Community Foundation. New-markets tax credits will provide another $4 million.
Workers will be able to take advantage of Cook's education benefit, which pays for employees' education from a high school diploma to a master's degree. Workers will have access to wraparound services, such as soft-skills training, as well as mental and physical health and transportation support services provided by Goodwill.
Kent Kramer, CEO of Goodwill of Central and Southern Indiana, said assistance could include counseling, finding child care, and changing work days to adjust to bus schedules. Average hourly starting pay will be $16.
"Cook really appreciates our holistic approach to our employees," Kramer said.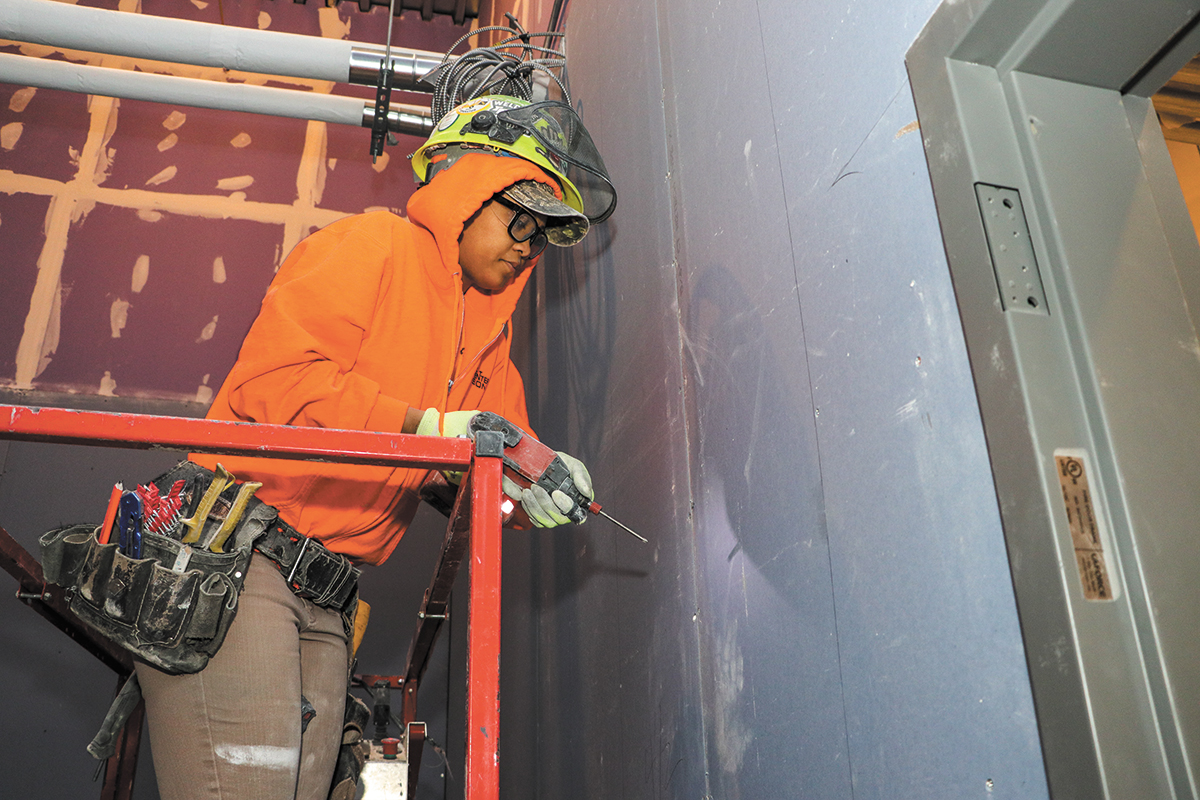 Neighborhood-building
He said Goodwill wants to hire and retain people in good positions. In the long run, Kramer said, he hopes efforts will build job experience and wealth in the area, increase assets and home ownership, and help residents contribute to the economy. Now, he said, one out of four adults lives below the federal poverty level.
"We'd love to see that neighborhood have a resurgence," he said. "We feel very confident we'll be able to find people to train and who will stay here. I really hope this is the spark that starts the fire for this neighborhood."
After years of seeing the area overlooked and losing investments, community leader Ashley Gurvitz is more confident about the future due to this project and to Cook's and Goodwill's willingness to listen.
She praised Cook Medical's plans to build Indy Fresh Market, supported by a neighborhood, corporate and not-for-profit collaboration and built by all minority-owned contractors. It's expected to open near the plant by the middle of next year.
"I finally felt like we were heard as a community," said Gurvitz, CEO and executive director of the United Northeast Community Development Corp. and the Alliance for Northeast Unification. "We have something positive now that we all align with."
Expectations about the plant are growing, she said. "I've talked to my neighbors and others who say they are going to apply. Many are ready to apply—young, old and some looking for a second chance."
Yonkman said he hopes other corporations will make investments in similar communities and realize that increasing the hiring of minority-owned firms is good business.
"We'll be much more intentional about who we hire in the future, too," he said. "Whenever we're doing a project in the future, we will consider more, 'How do we hire as many local companies and people as possible?'"•
Please enable JavaScript to view this content.