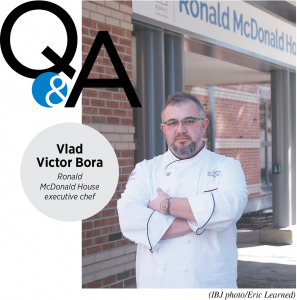 Chef Vlad Victor Bora classically trained in French cuisine, has cooked in corporate settings, on a cruise ship and in hotels. But Bora, who was born in Romania, says his newest gig as executive chef at the Ronald McDonald House in Indianapolis is more like Food Network's "Chopped," which requires contestants to cook a meal in 30 minutes using unexpected ingredients.
"Imagine that on steroids," said Bora, 38, who came to Ronald McDonald House Charities of Central Indiana in December. "That's what cooking in the not-for-profit world looks like."
A limited budget and partnerships with Piazza Produce, Goose the Market and more means he works with the food that's available in any given week.
Why did you join the Ronald McDonald House?
I recently became a father. And I think that the work that's done here at the house is absolutely vital in supporting the families that have children receiving care at area hospitals. Also, being the first-ever executive chef that was hired for the house brings the opportunity to create this meal program from scratch.
Do you have a staff?
I am a staff of one currently. I typically have two volunteers with me. I started an honorary sous chef program. If you volunteer six or more times in a calendar year with me present at that event, you will become an honorary sous chef. Last week, I got my first honorary sous chef.
Are the volunteers experienced cooks or trying to learn?
The majority are based in the second category—they're trying to learn.
How do you plan meals?
Offering nutritious, comforting meals is a big part of what we do. Just like a team of doctors, nurses and staff [care for the children], we have to make sure that the parents and the guests receive the same kind of care and that their needs are met.
It's easy for a parent to get into a habit of living off a vending machine while they wait patiently in the hospital. So, I just wanted to turn that around and offer them better food options. In every meal, we try to make sure that there's a protein in there, a starch, a green vegetable. And then I'm always trying to make a salad available.
Is there a favorite meal you've made?
A roasted pork loin with mashed potatoes and broccoli with a lemon compound butter. We made 52 meals that night. And the kitchen that I cook in is a higher-end residential type of kitchen … in an open space. When I cook something that has a lot of fragrance to it, it just spreads throughout the whole house. The morning that I made [the sauce] for the pork with garlic and fresh thyme and paprika and then slowly roasting the pork, it just created this aroma that everybody was enticed by.
What do you like to cook?
I enjoy cooking and eating seafood. You have to be really careful to enhance those flavors and not to overwhelm them. The sauces and the ingredients that you use with seafood typically are very complex and they have a story.
What would you suggest for an NCAA tournament game-time snack?
I'm going to go back to seafood. There is a product called a smoked salmon pastrami. It's a smoked salmon that is covered in peppercorns. I think a wafer cracker with a little bit of piping of some cream cheese that's infused with some aromatics, such as fresh dill, some awesome shallots in there, and then topping it off with this beautiful salmon pairs really well with beer, pairs really well with wine.•
Please enable JavaScript to view this content.