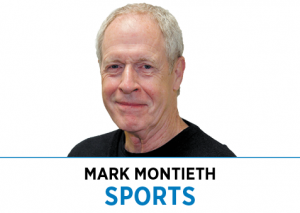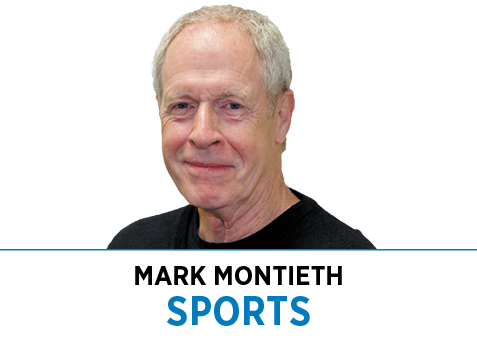 After the buzzer sounded on Baylor's 86-70 victory over Gonzaga Monday night, Randy Fishman reached for his phone and texted his wife, Ester.
"I survived unscathed," he wrote.
Fishman ran the clock for the NCAA championship game at Lucas Oil Stadium, the 21st game he had worked in the tournament that played out entirely in the state of Indiana and mostly in Indianapolis. For him surviving unscathed meant no mistakes, which meant starting and stopping the clock at the exact time that was appropriate. He believes he did that throughout the tournament, which would have been good reason to go home, stay up for a few hours and enjoy a personal celebration.
Except for one thing. He had to be back downtown by 9:40 this morning to undergo COVID testing in advance of tonight's Pacers game at Bankers Life Fieldhouse. He settled for a look at the One Shining Moment tournament highlight video and went to bed.
There will be time to reflect on one of his career highlights as a clock operator later, but for now, Fishman is in the midst of a grueling run of games that has demanded his attendance, focus and quick reaction. He not only ran the clock for 21 NCAA tournament games, he worked the men's Big Ten tournament at Bankers Life Fieldhouse in addition to his regular job at Pacers games.
That entailed working 13 games in one five-day stretch, including four each on two consecutive days.
"I just love it," he said. "It's fun; it really is."

It would have to be to put up with all the annoyances that go along with the job, especially in this COVID era of precautions. Fishman, like all stat crew members and other game personnel, has to be tested for the virus with nostril and cheek swabs the day before and day of each Pacers home game. He's made so many trips downtown this season that he's counted the stoplights he passes through from his home in Carmel: 42, if you're scoring at home. The virus test lasts but a few minutes, but the drive there and back takes about 1 hour and 15 minutes out of his day. He made it in 1:14 on Monday, just three minutes off his personal best.
Hey, a guy has to do something to beat back the boredom of a monotonous drive.
Monday was his longest day of the season, perhaps of his entire career as a stat crew member since joining the Pacers' staff 43 years ago. He returned home at about 11 a.m. from his NBA-mandated virus test at St. Vincent Center across from Bankers Life Fieldhouse, then was back on the road at 4:45 to drive to Lucas Oil Stadium to be tested and prepare for the 9:20 tipoff. All eight stat crew members have had to drive separately to games to reduce the odds of one passing the virus to another.
Fishman had the best seat in the house, located courtside and smack dab in the middle. Friends watching the game on television would have seen him just above the black line running across midcourt. He had to wear a face shield and mask per NCAA regulations. The tournament committee passed out official NCAA-branded masks to crew members, but Fishman received permission to wear one of superior quality that he had purchased.
Monday's game, like all the other tournament games, went smoothly for Fishman and the other crew members. The only hiccup came when 1.5 seconds had to be put back on the clock because a referee had blown his whistle too late.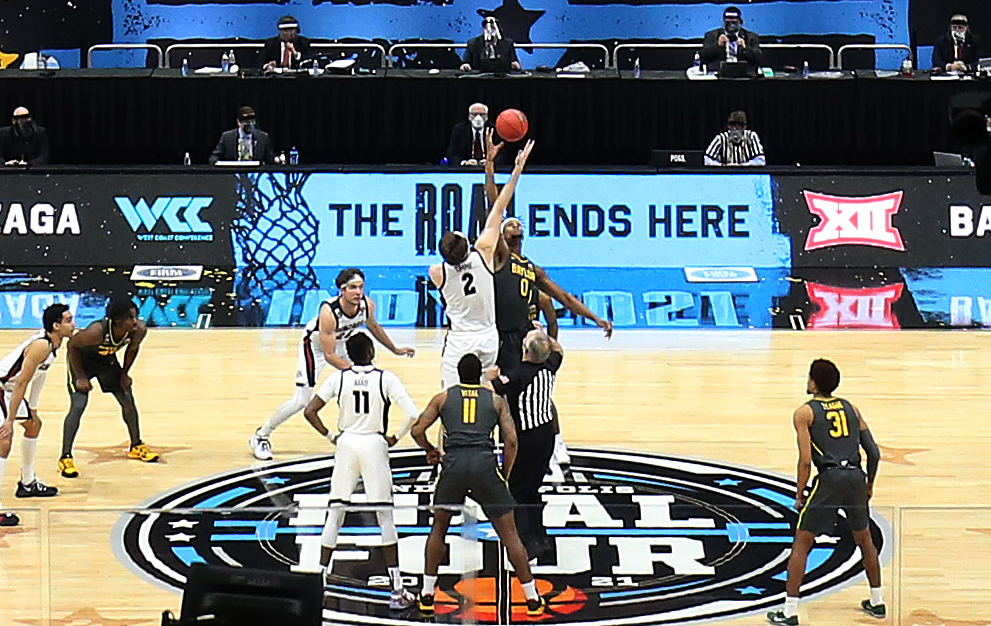 'I need good chops'
The job, however, isn't as simple as you might think. Unlike NBA games when referees sometimes start and stop the clock with a switch attached to their belts, the NCAA relies on timekeepers. That means he has to be able to hear their whistles. Some of the referees wore masks, which muffled the sound. It didn't help that the noise piped into the games to simulate crowd noise was often louder than human fans make.
"I tell the officials before the game, 'I need good chops, especially when you're down in the corner,'" Fishman said. "I need to see an arm up in the air [to signal when the ball is about to be inbounded], too.'
"They were very good about that."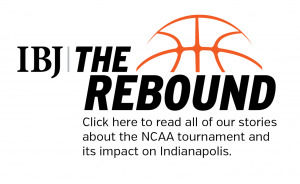 Fishman received compliments from the referees and other tournament officials for his work. For NBA games, however, evaluations are more exact. A computer program measures the difference between the time a whistle blows and a button is pushed to stop the clock. Fishman has been told he ranks in the top three in the league.
"They can tell if you're within one-one hundredth of a second of the next person," he said. "And they know if your reaction time has changed."
Fishman, a graduate of North Central High School and Indiana University, hesitated to call Monday's game the highlight of his career as a stat crew member. He also worked two games of the NBA Finals in in Cleveland in 2015 when the Cavaliers played Golden State. The NBA does not allow a participating team's stat crew to work games in the finals to avoid a biased performance.
Which has been known to happen. Pacers coach Slick Leonard once grabbed San Antonio's timekeeper by the lapels and lifted him out of his seat during a Pacers' playoff game against the Spurs in 1975. Leonard thought the man had intentionally started the clock too soon to make it more difficult for the Pacers to get off a shot on a crucial possession late in the game. And Fishman remembers one NBA timekeeper getting fired because he consistently shaved time off games by stopping the clock a few tenths of a second late and starting it a few tenths early.
A few tenths of a second can alter the outcome of a close game. Imagine if the clock had been started a few tenths of a second early when Gonzaga inbounded the ball before Jalen Suggs hit the game-winning shot in Saturday's semifinal game against UCLA. Fishman, by the way, didn't run the clock for that game, having contracted stomach flu from his grandson the previous day. He opted out, believing the job was too important not to be feeling 100% for it. Crew member David George took his place and performed flawlessly according to Fishman, who watched the closing seconds on replay several times to be sure, even freeze-framing the action to pick up every detail.
The timekeeper's job description changes slightly between college and NBA games. In the NBA, the clock is to be stopped as soon as the operator believes the ball is far enough through the rim that it won't pop out. In college, the ball must clear the net before the clock is stopped.
Staying on the clock
Fishman has been working the clock for the Pacers games and other major events for the past eight years. At 68, he has no thoughts of retiring soon. His work in the tournament solidified that plan.
"Coming through it unscathed is pretty big," he said. "In my small world, that's a confidence-builder. It tells me I'm still on my game, that I still have what it takes."
It's become a family affair for him, too. One son, Scott, has taken over as the crew chief. His other son, Matt, is the assistant volleyball coach at IU-Kokomo. Fishman volunteered to keep the book for those games, which led to him being asked to run the clock for the school's men's and women's basketball games. He's done that for five years now.
Like he said, it's fun. Even when he gets home at 12:37 a.m. after a championship game that left him with an adrenaline rush and has to be back downtown by 9:40 a.m. to have his nostrils swabbed again.
"I feel I'm giving something back to the community, but also being selfish because it gives me something to do and I can do it with my boys," he said.
"When I no longer look forward to working a game, I'll know I've had enough."
Notice he didn't say he'll stop when he no longer needs the money. Fishman is paid a modest hourly wage for Pacers games, along with free parking, a pre-game meal and two complementary tickets. He doesn't even know if or how much he'll be paid for those 21 NCAA tournament games.
"It doesn't matter," he said. "Had they told me at the beginning of the tournament I wasn't going to get paid, I would have done it anyway. It was an opportunity and I feel so fortunate to have the ability and wherewithal to work the entire tournament."•
__________
Montieth, an Indianapolis native, is a longtime newspaper reporter and freelance writer. He is the author of three books: "Passion Play: Coach Gene Keady and the Purdue Boilermakers," "Reborn: The Pacers and the Return of Pro Basketball to Indianapolis," and "Extra Innings: My Life in Baseball," with former Indianapolis Indians president Max Schumacher.
Please enable JavaScript to view this content.