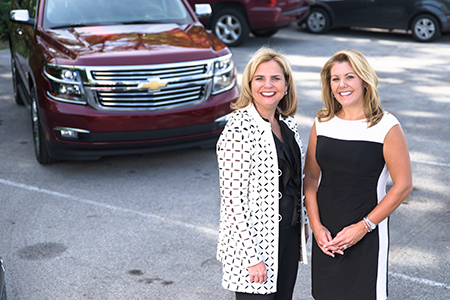 Courtney Cole, one half of Hare Chevrolet's "Sisters of Savings" who owned the dealership and were renowned locally for their radio ad campaigns, died on Sunday afternoon due to complications related to lung cancer. She was 48.
"She was a true warrior and champion at everything she did in life, including fight this horrible cancer," according to a post on the Facebook page Team Courtney Strong. "She was surrounded by family and loved ones when she passed."
In 2014, Cole was diagnosed with stage 3 lung cancer at just 42 years old, despite no history of smoking. It advanced to stage 4 in 2016, spreading to her bones.
Hare Chevrolet in Noblesville had been owned by the same family for 170 years—initially dealing in wagons and buggies—when it was sold in 2017 to Georgia-based Asbury Automotive Group Inc.
Cole and sister Monica Peck, who took over the business in 2008 from their parents, Dave and Jackie (Hare) Cox, represented the sixth generation of family ownership.
In ubiquitous radio commercials, Cole and Peck called themselves the "sisters of savings," reveling in snappy patter. Cole was primarily responsible for the advertising strategy, which helped double sales in a short period of time.
"I can remember when I first got in the business, if we sold 140 cars—new and used—in a month, that was a good month," Cole told IBJ in 2016. "Obviously, when we changed our advertising and put ourselves out there, that was a big change. We put our crazy advertising out there in 2010 and that got us rockin' and rollin'.
"Now, we sell more than 500 a month. We've seen a lot of growth in this area and we've done a lot of studying on advertising that has pushed us into the limelight."
Cole's ongoing fight with cancer was among the reasons she and her sister decided to sell the dealership.
"When you have stage 4 lung cancer, you have to look at things differently than you did before," she told IBJ in 2017.
Cole and Peck agreed to continue doing the radio ads for five years after the acquisition.
In an interview with IBJ in 2016, Cole was asked how she stayed focused on the business.
"At times, it's difficult," she said. "When you go through treatment, you're just in survival mode. It can be hard and you get depressed. When times are good, you couldn't be more thankful, and when times are bad, you just hang on tight. It beats the alternative—being dead, right?"
Asked what she had learned from the experience with cancer, she said, "To be thankful—to smell the roses a little bit more."
Please enable JavaScript to view this content.