Last September, Nicole Chase pulled on her red Eli Lilly and Co. T-shirt and spent a day spreading mulch and cleaning up the grounds at Daystar, a day care and after-school center on the east side. The year before, she spent a day planting trees on Michigan Road.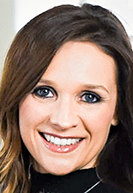 But this year, as the Indianapolis-based drugmaker gears up for its 13th annual Global Day of Service on Sept. 24, in the midst of the pandemic, Chase and thousands of other Lilly employees will be taking part in a whole new way.
Instead of about 8,000 red-shirted employees fanned out across Indianapolis in groups of a dozen or so to plant trees or paint murals, Lilly employees will work on individual projects, many of them from home—projects like sewing face masks, developing science lessons for high school students and encouraging people to donate blood.
Chase, a 13-year Lilly employee who works in the company's global health team, has already ordered a handheld sewing machine, and now has a box of face-mask kits waiting for her to stitch up. Dozens of other Lilly employees are also getting involved as part of an effort to make 15,000 masks for Eskenazi Health, Goodwill of Central and Southern Indiana, local veterans groups and child care centers.
"It will be different this year, but I think this is the most responsible way we can keep ourselves and others healthy and safe," Chase said. "And I'm thrilled that we were able to find enough projects to keep our employees busy and being able to contribute."
Around town, other projects are also getting overhauled, the latest reminder that the pandemic is causing a major shift in every facet of life, even volunteerism.
Indy Do Day, which typically attracts 15,000 volunteers over three days in September to spruce up the Indianapolis Cultural Trail or plant flowers in neighborhood parks, is opting for smaller projects, such as accepting non-perishable foods for agencies that help the homeless and taking donations to a variety of not-for-profits.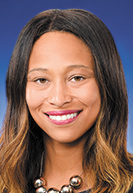 It's a big pivot for organizations that traditionally create high-visibility fall projects to call attention to volunteerism and community service. In the process, they help dozens of neighborhood groups and scores of not-for-profits, from the United Way of Central Indiana to Keep Indianapolis Beautiful.
Across America, companies, schools and churches are going back to the drawing board to come up with new plans. The Ford Motor Co., for example, which typically sends thousands of employees into communities during September to plant gardens or clean homeless shelters, is focusing on two alternatives this year: doing small "acts of kindness," such as checking in on someone who lives alone or donating blood, and nominating a not-for-profit for a grant of up to $5,000.
This year's watchwords are helping safely and acting responsibly.
"We never doubted that we were going to do a global day of service this year," said Tiffany Benjamin, Lilly's senior director of corporate responsibility and president of the Lilly Foundation. "But we knew we had to do it in a way that was safe for the community and safe for employees."
Whole new game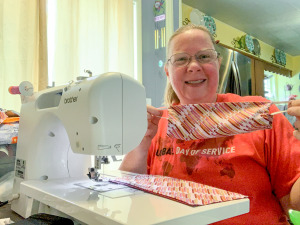 It's a watershed moment for the volunteer groups, which sometimes try to get national attention for their projects. In one memorable outing in 2017, hundreds of volunteers from Lilly and Keep Indianapolis Beautiful set a Guinness World Record for creating the largest chalk pavement art display, a 4,000-foot-long mural along the Fountain Square segment of the Indianapolis Cultural Trail that called for residents to clean up and care for their city. The chalk art was made up of 811 drawings.
But now, after months of pandemic restrictions, Indianapolis volunteer groups are ripping up their game plans and looking for other ways to make an impact.
IndyHub, an organization focused on getting 20- and 30-somethings connected to the city, recently scrapped its summer volunteer fair, known as IndyVolved. The event traditionally attracts thousands of people to the Indianapolis Central Library for a volunteer mixer with not-for-profit and volunteer groups, from food banks to performing arts groups.
This year, "we shifted everything to the whole month of September," said IndyHub President Blake Johnson.
Instead of bringing the groups together physically, IndyHub is doing it virtually. The organization is using social media and its website to promote more than 100 Indianapolis-area not-for-profits, and is also hosting a series of "digital conversations" on Tuesdays and Thursdays throughout the month that focus on a particular issue, such as neighborhood upkeep or mental health.

Johnson said the not-for profits can't afford to just skip the outreach and service efforts, because they are a way to keep pushing during a difficult time. Theaters and musical groups, for example, have seen revenue plummet as shows are canceled. Youth sports leagues and educational groups have delayed or scaled back activities and laid off staff. The groups are looking everywhere for volunteer help to keep their programs afloat.
"So they're very, very pleased to be showcased and to have their missions highlighted," Johnson said, "especially for a younger cohort that is able to more safely volunteer right now."
Lilly's Global Day of Service is perhaps the best-known corporate service effort in Indiana. Despite the pandemic, this year's volunteers, even those working from home, will still wear their red T-shirts to remind themselves of the day's importance, Benjamin said.
Dozens of Lilly volunteers, including some company executives, are taking up needle and thread for the face-mask project, in partnership with the American Red Cross. Benjamin said she is not an accomplished seamstress, "but I'm going to give it a go."
Lilly's other programs include small-scale, in-person efforts, such as helping with blood drives, and promoting racial justice through a number of projects, such as helping to archive African-American publications as part of a history project.
Do-over
One of the largest volunteer efforts in central Indiana, Indy Do Day, is a case study in how a program is being retooled in the middle of a health crisis. The annual program was created in 2012, when Lilly officials approached the Rotary Club of Indianapolis, which organizes community projects and helps professionals with networking and volunteering outlets, to help them spread the mission of community service projects across the region.
Lilly's companywide Global Day of Service was 5 years old, and the drugmaker wanted to expand the volunteerism beyond its own workforce. Lilly executives wanted more businesses involved and more opportunities for not-for-profits to be served. The two organizations held meetings and talked about how to plan volunteer projects.
Out of those discussions, the Rotary quickly organized what has grown into a three-day annual service project each September, with thousands of community volunteers cleaning up neighborhoods, building science kits for students or stocking shelves at food pantries.
With a surge in COVID-19 cases this spring and summer, Rotary officials and their partners decided they had to retool the program. The Rotary also wanted to shed some of the laborious matchmaking work it had taken on to connect volunteers and not-for-profits.
"We really wanted to build out a technology that would allow that matchmaking to happen a little bit more naturally," said Nick Reich, Rotary Club of Indianapolis president.
So about two months ago, Rotary officials started a conversation with Selfless.ly, an Indianapolis-based tech startup. The result: Selfless.ly built a website, beselflessindy.org, that works as a virtual marketplace for volunteers and not-for-profits seeking help. The website lists dozens of opportunities for service groups, including assembling activity kits for low-income families, contributing linens and non-perishable foods for agencies that help the homeless, and making financial donations to a variety of not-for-profits.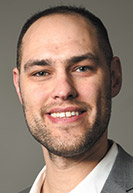 It's also stretching the traditional three-day program into a year-long event, during which people can find volunteer opportunities at their convenience, instead of just a few days in September. The program is free for both the volunteers and the not-for-profits.
At the same time, Indy Do Day will continue to focus on one weekend a year for large-scale events.
"We're a local Indiana company, and we feel like we need to be trying to help this community however we can, since we don't build ventilators or that kind of stuff," said Josh Driver, co-founder of Selfless.ly. "This is our way of supporting the effort."
Do even more
In the meantime, other organizations are reaching out to volunteers to get them to do even more. Leadership Indianapolis, a not-for-profit that helps people learn about community issues and prepare them for volunteer leadership roles, is amping up its efforts to reach people. The group's fall event, Get On Board, is a job fair for volunteer leadership opportunities that's been held every year since 2003.
Normally, the group would put about 100 not-for-profits in a room together. Then it would invite people to come and learn about the groups and how they might be able to help them. Most years, about 800 people attended.
"Obviously, with the way the world is in 2020, we didn't really think it was a good idea to put about 1,000 people together in the same room for close, face-to-face conversations," said Rebecca Hutton, president and CEO of Leadership Indianapolis. "So we've kind of shifted, like a lot of organizations, the way that we're approaching it."
The new approach: a series of online skill workshops for people who have never served on a not-for-profit board "but really want to step up during this time," Hutton said.
It's too early to say whether the service programs will return to their traditional formats in coming years. That depends, in part, on whether a vaccine is available for widespread use and whether not-for-profits and volunteers still want to operate virtually.
But officials, such as Driver at Selfless.ly, say they will keep their programs up and running, helping the not-for-profits, until they don't need them anymore.
"Hopefully, we can get through some of the COVID stuff and get people back to do in-person stuff," Driver said. "But until then, we're just going to keep supporting it."•
Please enable JavaScript to view this content.