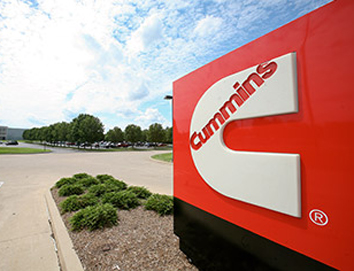 Columbus-based Cummins Inc. exceeded Wall Street analysts' performance expectations during the second quarter, even though the engine-maker saw a historic plunge in revenue.
The company on Tuesday reported a quarterly profit of $276 million, or $1.86 per share, compared with $675 million, or $4.27 per share, during the same period a year ago.
Quarterly revenue was $3.9 billion, down 38% from a year ago—the biggest quarterly drop in Cummins' history—which the company attributed to the impact of COVID-19. Sales dropped 48% in North America and by 22% elsewhere.
A consensus of analysts had expected a profit of 91 cents per share and revenue of $3.69 billion.
During a conference call with analysts, Chairman and CEO Tom Linebarger described the results as "reasonable profitability given the magnitude of the sales decline."
Shares of Cummins jumped 6% in morning trading Tuesday, to $202.97 each, amid a slight overall market downturn.
"While customer demand did improve in some regions as the quarter progressed, significant uncertainty around the pace of recovery in our markets remains, requiring a continued strong focus on managing expenses and cash flow," Linebarger said in a written statement.
Linebarger thanked employees for their flexibility in responding to the "unprecedented disruptions" caused by the pandemic.
Beginning in February in China and in March in the United States, Cummins temporarily halted production at many of its plants and furloughed thousands of employees. U.S. plants resumed production in May. The company also instituted temporary salary reductions, reduced executive salaries and reduced its capital expenditures by more than 25%.
The company said it expects its third-quarter revenue to improve, although COVID-19 is still causing significant uncertainty. Because of the health crisis, Cummins is not providing full-year revenue or profitability guidance.
Please enable JavaScript to view this content.