Cummins Inc. President and Chief Operating Officer Rich Freeland, 62, will retire next month, ending a 40-year career at the Indiana-based engine maker, the company announced Wednesday.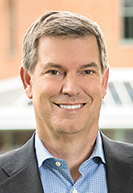 Cummins said it plans to promote Distribution President Tony Satterthwaite as Freeland's successor, which in turn will trigger several other executive-level promotions at the company.
Freeland's last day at Cummins has not yet been set, the company said, though the four other promotions will take effect Oct. 15.
Freeland joined Cummins in 1979 immediately after graduating from Purdue University with a degree in industrial management. His first job was as a second-shift foreman at Cummins' Columbus parts distribution center.
Over the years, he held a variety of roles within the company, including plant manager of facilities in Columbus and Memphis, Tennessee; president of the company's distribution business; president of its components business and president of its engine business.
Freeland has held his current position since 2014, and he joined Cummins' board of directors in 2017. He will be leaving the board effective Oct. 15.
In a written statement, Cummins Chairman and CEO Tom Linebarger described Freeland as "one of the most effective leaders in Cummins history because of his ability to connect with customers, develop our employees, and his deep understanding of nearly every element of our business. Equally impressive to me is that Rich has accomplished these things in an unassuming, humble manner."
Satterthwaite, Freeland's successor, joined Cummins in 1988. He has been in his current role as distribution business president since 2015. Before that, he led Cummins' power generation business unit from 2008 to 2015.
Tracy Embree, who now leads the company's components business, will succeed Satterthwaite as president of the company's distribution business. She joined Cummins in 2000.
Jennifer Rumsey, chief technical officer, will succeed Embree as president of the company's components business. Rumsey joined Cummins in 2000.
Jim Fier, who has been with Cummins for more than 30 years, will succeed Rumsey as chief technical officer.
Cummins employs about 62,600 people around the world. In 2018, the company earned $2.1 billion on sales of $23.8 billion.
Please enable JavaScript to view this content.