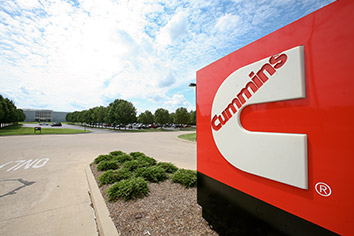 Indiana-based Cummins Inc. is contributing $8 million to launch a new program, Cummins Water Works, that aims to improve access to safe water around the world.
The engine-maker announced the program on Wednesday, saying it will focus the effort on the United States, Mexico, Brazil, India and South Africa, with the aim of giving 20 million people access to fresh water by 2025. The project will also work to produce net water benefits that exceed Cummins' annual water use in all of the communities in which the company operates by 2050.
The $8 million represents Cummins' initial funding of the project. Company spokeswoman Katie Zarich said Cummins intends to make an "ongoing, sustained commitment" to funding Cummins Water Works.
Cummins Water Works will operate in partnership with two global not-for-profit organizations. The Nature Conservancy will help with projects focused on improving, repairing, and strengthening primary water sources in the U.S., Brazil, and India. Another organization, Water.org, will help with projects focused on improving water cost, quality and availability in Mexico, Brazil, and India.
The Water Works effort is part of Planet 2050, an environmental sustainability strategy that Cummins unveiled in 2019. Planet 2050 aims to reduce the company's water consumption by 30% by 2030 and achieve carbon neutrality and near-zero pollution by 2050, among other goals.
Cummins stock was down about 1% in early-afternoon trading, to $239.07 per share.
Please enable JavaScript to view this content.