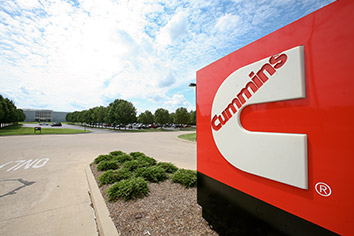 Columbus-based Cummins Inc. saw revenue decline sharply late last year, and it expects sales to fall even further this year, the company announced Tuesday.
The engine maker reported fourth-quarter revenue of $5.6 billion, down 9% from the same period a year earlier. North American sales for the quarter were down 8%, while international sales declined 10%.
Full-year revenue totaled $23.6 billion, down 1% from 2018.
The company said it expects its full-year 2020 revenue to decline between 8% and 12%, mostly because of lower truck production in North America, Europe, China and India; and lower expected demand in off-highway markets.
"After a strong start to 2019, demand declined across most geographies and end markets in the second half of the year," President and Chief Operating Officer Tony Satterthwaite said in a written statement.
In November, responding to slowing sales, Cummins announced it planned to reduce its annual expenses by $250 million to $300 million, while cutting about 2,000 employees worldwide, or 3.2% of its workforce.
The cost-cutting measures resulted in a $119 million expense during the fourth quarter.
Cummins' fourth-quarter profit totaled $300 million, or $1.97 per share, compared with $579 million, or $3.63 per share, during the same period in 2018.
Full-year profit totaled $2.26 billion, up from $2.14 billion in 2018.
During a conference call with analysts Tuesday morning, the company also said it expects some supply-chain impact from the emerging coronavirus, which was first identified in the Chinese city of Wuhan.
"We have significant operations in Hubei province, where Wuhan is located," Chairman and CEO Tom Linebarger said during the call.
Shares in Cummins were up less than 1% early Tuesday after, to $164.49 each, while major U.S. indexes rose more than 1.7%.
Please enable JavaScript to view this content.