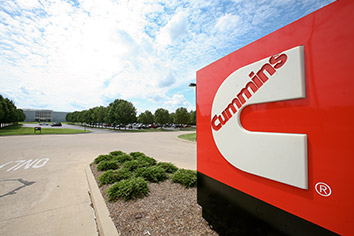 Cummins Inc. on Tuesday reported first-quarter revenue and profit that exceeded Wall Street expectations despite a decrease in business during the beginning of the COVID-19 pandemic.
But the Indiana-based engine manufacturer warned that the second quarter will be much more difficult, with production and demand largely sidelined by the pandemic.
Cummins shares jumped more than 9% in early-morning trading, to $165.12 each.
The company said it turned a profit of $511 million, or $3.41 per share, in the January-March period, compared with $663 million, or $4.20 per share, in the first quarter of 2019.
Earnings, adjusted for pretax gains, were $3.18 per share, exceeded the estimate of $2.18 per share by eight analysts surveyed by Zacks Investment Research.
Revenue for the quarter was $5 billion, down 17% from a year ago.
Zacks analysts expected revenue of $4.91 billion.
"We delivered strong profitability in the first quarter, supported by the commitment of our employees to serve our customers and the benefit of cost-reduction actions we initiated in the second half of 2019," Cummins CEO Tom Linebarger said in written comments.
Cummins said restructuring actions announced in November were completed in the quarter and are expected to yield annual cost savings of $250 million to $300 million this year. The restructuring involved a workforce reduction of about 3.2%, or 2,000 employees.
Lower truck production in North America and weaker demand in global construction, mining, and power generation markets were responsible for most of the revenue decrease in the first quarter. Sales in North America declined 16 percent and international revenue decreased 17 percent.
Beginning in late March, Cummins halted production at many of its plants and furloughed thousands of employees until at least May because of the pandemic. It also reduced executive salaries and lowered targeted capital expenditures by more than 25%.
"While customer operations have begun to resume activity, the company does expect a significant impact to its second quarter results due to disruptions across customer and supplier operations and lower end-market demand," Cummins said. "For now, the company is planning for weak demand levels to persist for some time."
The company is not providing revenue or profitability guidance for 2020 because of the health crisis.
"Given the significant impact the pandemic will have on demand across our industry in the second quarter and beyond, we are continuing to take actions to reduce cost and boost our already strong liquidity," Linebarger said. "During our 100-year history, we have encountered several unforeseen crises, and I am confident we will successfully navigate this one as we have done before, to emerge stronger."
Please enable JavaScript to view this content.