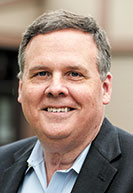 David Horth, who has led the Humane Society of Indianapolis for more than three years, is no longer CEO, the animal welfare organization's board of directors announced late Friday.
The not-for-profit, which operates as IndyHumane, said Chief Financial Officer Jennifer Bedsole was named interim CEO as of Friday. It did not provide a reason for the change or say if Horth had resigned or was fired.
Horth was named interim CEO in mid-2018 and CEO later that year. He had previously served in various volunteer roles for the group for nearly 17 years and was chairman of its board of directors from 2007 to 2008.
"We thank David for his contribution to and leadership of IndyHumane as CEO for the last three years," said Bonnie Gallivan, board chair, in a written statement. "David has served IndyHumane in various capacities for nearly 20 years, and we are grateful for the impact he made not only at IndyHumane but on animal welfare in central Indiana. We wish him well in his future endeavors."
Horth did not respond to voice message left Friday seeking comment.
Horth is the second straight IndyHumane chief executive to depart under mysterious circumstances. His predecessor, Steve Stolen, was in the position for just over a year before losing his job in July 2018. IndyHumane also did not offer a reason for his departure, but Stolen told IBJ at the time that he had been terminated.
IndyHumane provides shelter for homeless dogs and cats, as well as adoption, fostering services and behavioral training. It also provides low-cost health care services for pets, including vaccines and spay and neuter services.
Before taking the leadership job at IndyHumane, Horth operated Quest Commercial Real Estate, a real estate agency he founded in 2008.
According to the latest figures available, IndyHumane had revenue of $9.23 million in 2020 and expenses of $7.4 million. Horth made $152,635 in compensation that year.
Horth implemented an organizational restructuring in 2019 that led to the termination of five employees with decades of combined experience at IndyHumane, including the chief operating officer and director of animal behavior.
Please enable JavaScript to view this content.