The expansive estate of late Indianapolis businesswoman and philanthropist Christel DeHaan could undergo some sweeping changes, based on filings submitted by a holding company that has the property under contract.
Linden House Indiana Holdings LLC is asking the Department of Metropolitan Development Hearing Examiner to allow the zoning to be updated to C-S, or special commercial, designation. The company plans to purchase the site for an undisclosed price, pending rezoning approval.
Listed earlier this year for $14 million, the property known as Linden House could receive a new entrance and an updated list of potential uses in line with a more commercial-focused operation. The 41,762-square-foot mansion sits on 152 acres along Michigan Road, just north and west of the White River.
City filings don't offer exact plans for the home or the surrounding land. However, a development statement indicates the request will allow for "flexibility to address the unique nature of this property and to allow special consideration of the components of the property that are of social and architectural significance," along with environmental and landscape features.
A zoning change would open the door for a number of new uses on the site while retaining the necessary zoning for it to remain a single-family residence. New uses could allow a museum, library or art gallery; a restaurant; home furnishing sales; interior design services; and a banquet hall or event center. Additions could also include a boat house, a boat or canoe launch station, or maintenance buildings.
"The provisions of this development statement are intended to allow compatible uses of the Linden House while, to the extent possible, preserving the current improvements, architecture and environmentally sensitive areas," the statement said.
Timothy Ochs, a partner with the Indianapolis office of Ice Miller who represents the holding company, said the group isn't planning any physical changes to the property, including the landscaping. He also declined to share details on individuals involved in the limited liability company that wants to purchase the property.
"It's such a beautiful piece of property—they recognize that," said Ochs of the would-be owners. "They plan on keeping it pretty much as-is, in terms of their use."
The project is set for consideration during an April 14 session before the Metropolitan Development Commissioner's hearing examiner.
However, Greg Ullrich, president of the Highland-Kessler Civic League, said the neighborhood group plans to ask for a continuance to have more time to learn about the plans.
He said the group is not necessarily opposed to uses of the property aside from residential, but indicated neighbors would like a say for any commercial uses.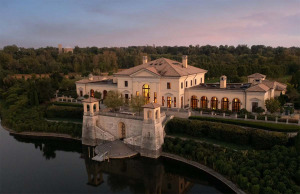 He said the neighborhood plans to ask for noise and hour limitations if it were to be used as a banquet center, as well as request more information about tree preservation, waste disposal, alcohol use and sewer usage.
As part of its development plan, the holding company agreed to maintain landscaping and trees, as well as existing minimal signage, with the city having approval over any substantive changes to those components.
The Michigan Road home was completed in 2007. The property name is derived from a popular German tree—some of which she planted on the estate.
DeHaan died in June 2020 at age 77, with her home going on the market in early January through the Carmel office of Sotheby's International Realty, which specializes in high-end properties. The home was marketed as a private residence through a national marketing campaign led by Sotheby's broker Mike Johnson.
The lakeside home is unique in Indianapolis, with 61 rooms, five fireplaces, terraced patios, indoor and outdoor pools, acres of gardens and other amenities. Half of the home was designed to serve as DeHaan's private residence and the other half is set up to accommodate events and gatherings.
While the furnishings are not included in the asking price, a purchaser would be able to buy them for an additional amount, Johnson said.
Additionally, a buyer would have the option of acquiring an adjacent 18-acre parcel that is not part of the 151-acre estate, on the north side of the lake. It is not clear whether the land now under contract includes that property.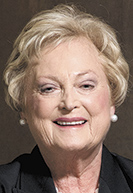 Proceeds from the sale—and the estate's other assets that are sold—are expected to be used to establish an endowment to support Christel House. Christel House serves 6,688 students at nine schools: four in Indianapolis, two in India and one each in Jamaica, Mexico and South Africa. The organization also provides students with five years of post-graduation support in the form of financial, academic and career assistance through its Christel House College and Careers program.
"We have a rare opportunity … to expand what this organization does," Christel House CEO Bart Peterson told IBJ when the listing went public. "There's such great need everywhere in the world. We're pretty enthusiastic about what we can do for the kids around the world that Christel devoted her life to."
DeHaan's wish was that her estate and other assets be used to create an endowment to fund Christel House's work after her death, Peterson said. He said the organization's expansion plans are still being determined.
DeHaan cofounded a timeshare exchange company called Resort Condominiums International in 1974. She sold the company in 1996 for $825 million, and in 1998 she established the not-for-profit organization Christel House International.
Correction: An earlier version of this story incorrectly identified Christel DeHaan as the designer of Linden House. 
Please enable JavaScript to view this content.