The last year has been tough for sports ticket brokers thanks to the pandemic, but the NCAA Men's Basketball Tournament is providing a welcome surge in business.
"This is so good for our business," said Renny Harrison, owner of Carmel-based FanFare Tickets. "This event has been absolutely great for us. It helps our biz in terms of revenue and just reconnecting with customers so much to have these events in town."
The tournament, which is being played entirely in Indiana and primarily in Indianapolis, has been both unusual in format and in the inconsistent demand that's been seen from game to game for tickets on the secondary market.
Harrison told IBJ that his team is really gearing up for the Sweet Sixteen, which kicks off in Indianapolis on Friday.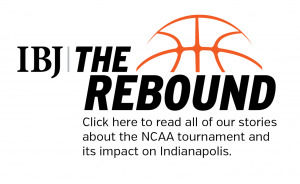 "In the first two rounds," Harrison said, "there were some games that had extraordinary demand: The Purdue [University] game and really all the Big Ten [Conference] games. The Wisconsin games had great demand. The teams with great basketball traditions were strong drawing cards for tickets on the secondary market."
The second round matchup between the University of Illinois and Loyola of Chicago at Bankers Life Fieldhouse was one of the hottest tickets of the first two rounds, ticket brokers said. "That one had some serious out-of-state appeal," Harrison said.
But there was a flip side, Harrison added.
"There were a lot of games that people just weren't that into," Harrison said. "There was some demand from people that just wanted to be a part of the tournament action, but most of the demand came from people familiar or affiliated with the teams playing."
All First Four, first-round and second-round games played at Bankers Life Fieldhouse, Hinkle Fieldhouse, Farmers Coliseum in Indianapolis, Assembly Hall in Bloomington and Mackey Arena in West Lafayette sold out of tickets, according to the NCAA.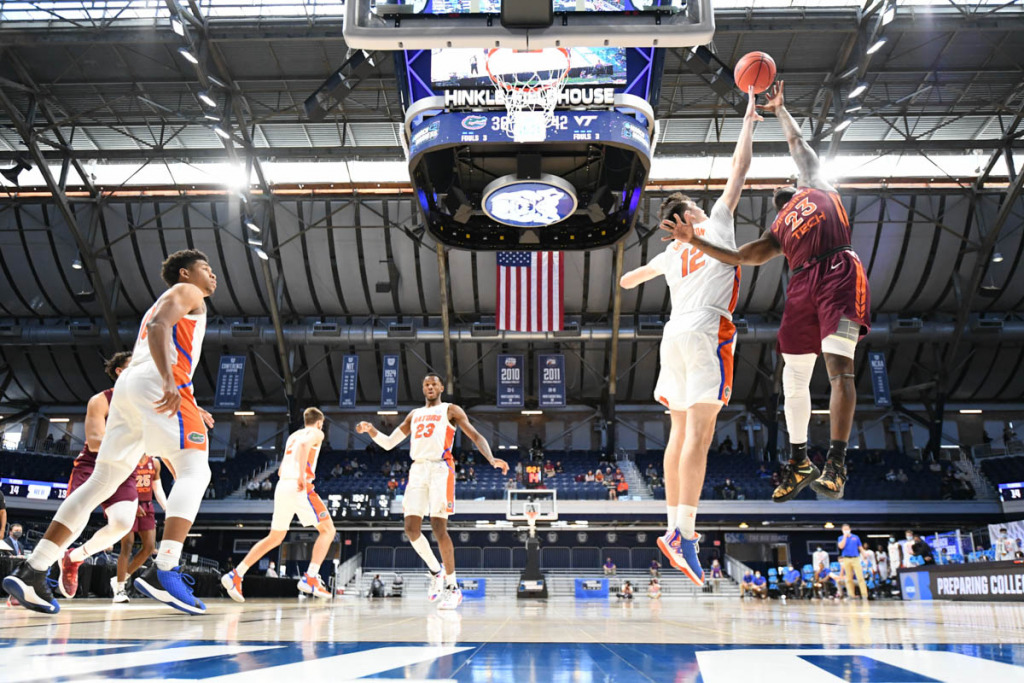 Games at the two courts inside Lucas Oil Stadium were sold out or near sellouts. All venues were were required to severely limit crowd sizes because of the pandemic.
Harrison said box-office ticket sales for the early rounds received a boost when tickets went on on sale before matchups were announced.
"There was some speculative purchasing at the box office and some hopeful buyers who were hoping they would get tickets to see the teams they wanted," Harrison explained.
But that didn't always happen. And when it didn't, tickets for games featuring schools without big fan bases sold on the secondary market for as little as $5 each, ticket brokers told IBJ.
So while the vast majority of the early games were sold out, there were plenty of no-shows.
A total of 111,200 spectators attended the 51 games in the opening rounds, IBJ reported Wednesday.
There was heavy demand for certain games featuring marquee teams.
"Some of the very best games had tickets on the low-end range at $250 and on the high end at $500," Harrison said. "The extreme range in pricing was something that did surprise me."
There was a wildcard in the deck that caught ticket brokers off guard.
"The games played at Hinkle Fieldhouse were really hot," said Kiros Sistevaris, partner at Indianapolis-based Circle City Tickets. "It was difficult to get tickets for those games and they were selling for a premium. People, whether from in town or out of town, seemed to want to see an NCAA tournament game inside that historic venue, and it didn't seem to matter who was playing."
"It was amazing how people flocked to those games at Hinkle," Harrison added.
It wasn't uncommon for people to pay well over $150 for a ticket on the secondary market for an early-round game at Hinkle, ticket brokers said.
The value of the games at Hinkle also were likely pushed upward by the lack of supply. Hinkle is only seating 1,250 people for tournament games. Bankers Life Fieldhouse by contrast is seating 3,800 and Lucas Oil Stadium games have a capacity between 6,900 and 8,500.
Secondary-market demand for tickets to games played at Lucas Oil Stadium was on the low side.
"I think the demand for games at Lucas Oil Stadium was down because the sightlines aren't as good as the other venues," Sistevaris said.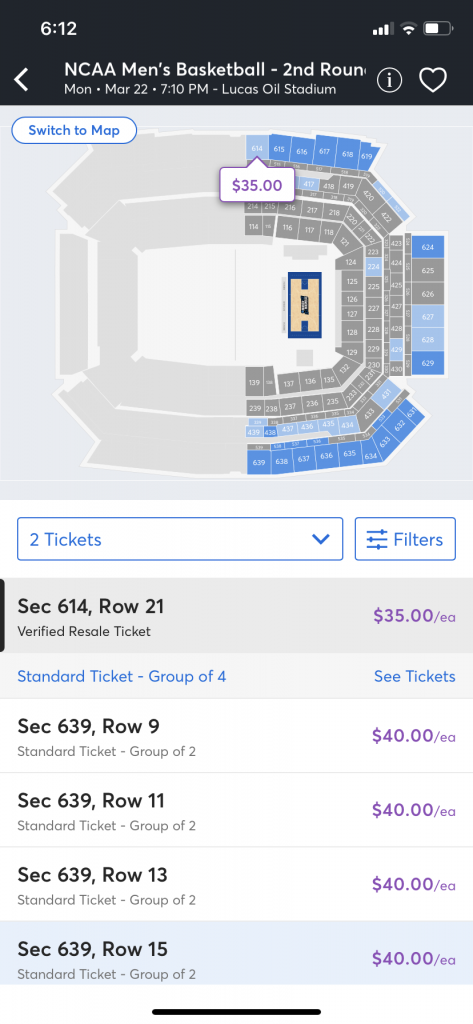 Not even marque matchups like the second-round game pitting high-flying University of Michigan, a No. 1 seed, against Louisiana State University—which featured two players with Indiana University connections—had the drawing power of games at other venues, especially Hinkle.
Eric Smallwood drove down from Ann Arbor to watch Michigan's second round game with his son and had no problem scooping up two mid-level tickets from StubHub.
"We bought them just under 24 hours before tipoff and got them for $69 each," Smallwood said. "At that point, there were still some tickets available at the box office."
Smallwood had no complaints about his experience.
"They did a good job of getting you in and out of the venue and keeping you safe," he said. "We paid $10 to park a block-and-a-half away from the stadium. So we got in and out quickly."
The crowd was predominantly made up of Michigan fans, he said, and while the atmosphere was good, he did think the piped-in crowd noise was unusual.
"They were piping in crowd noise when they came back from TV commercials after timeouts," Smallwood said. "For those of us at the game, it seemed strange. It almost sounded like the electrical buzz of a speaker, but you could tell it was people. The noise was general crowd noise. It was not cheering or booing, but it was definitely coming from the speakers."
Ticket brokers are looking for even better demand for the eight Sweet Sixteen games and four Elite Eight games.
Box office tickets for the Sweet 16 games at Bankers Life and Hinkle are sold out, as are the Elite Eight games at the two courts in Lucas Oil Stadium, according to the NCAA.
"The good news is for the Sweet 16 games, I think the weekend dates and the smaller venues are really creating some fantastic demand for tickets," Harrison said. "I think the games are more meaningful now. The demand is very, very good for this weekend's games. I would call it extraordinary."
Many tickets for games in Bankers Life Fieldhouse are going for at least twice face value, at $200 or more.
"For the games at Hinkle, fans are going to have to pay at least $300 just to get in the door," Harrison said.
Some tickets, local brokers said, for Sweet 16 games will sell for more than $500—or at least five times face value.
In addition to the Michigan game, tickets for the Gonzaga vs. Creighton game at Hinkle Fieldhouse on Sunday afternoon also are creating big demand—in the $300 range, ticket brokers said.
Currently, tickets for Elite Eight games can be bought off the secondary market for $125 and up, but Circle City Tickets' Sistevaris thinks those prices will go up considerably once the matchups are set.
"In the Elite Eight, I expect all the games will be in demand. Once you start whittling the field down, the games just hold so much meaning," Sistevaris said. "And, of course, we expect the same for the Final Four and national championship game in Lucas Oil Stadium."
The Final Four games and national championship game will be played on the south court in Lucas Oil Stadium, which has capacity of 8,500. Those tickets have not yet gone on sale at the box office.
"We're used to seeing the national championship game played in a venue with 50,000-plus seats," Harrison said. "So demand this year, with such a limited amount of tickets available, could be extreme."
Ticket brokers agree having either Michigan or Gonzaga in the final game would be good for business.
"Michigan has such a strong, traveling fan base, they draw a lot of interest," Harrison said. "And Gonzaga is chasing an undefeated season, so a championship game with them in it will really draw a lot of interest."
A championship game for IU fans could be especially interesting because the Hoosiers completed the last undefeated season in 1976.
The three ticket brokers who talked to IBJ for this story said the NCAA tournament will be profitable for them.
"This last two weeks has certainly been better than we've done in the last 12 months," Sistevaris said. "It's a great shot in the arm not just for us, but for the entire downtown and for Indianapolis. Everyone from the restaurants to the Uber drivers are doing great downtown, and that's fantastic to see.
"One restaurant owner told me it's like having three mini-Super Bowls back-to-back-to-back. Another downtown bar owner told me last weekend was the best weekend he'd ever had. Coming out of the year we've experienced with this pandemic, that is just tremendous to hear."
Please enable JavaScript to view this content.