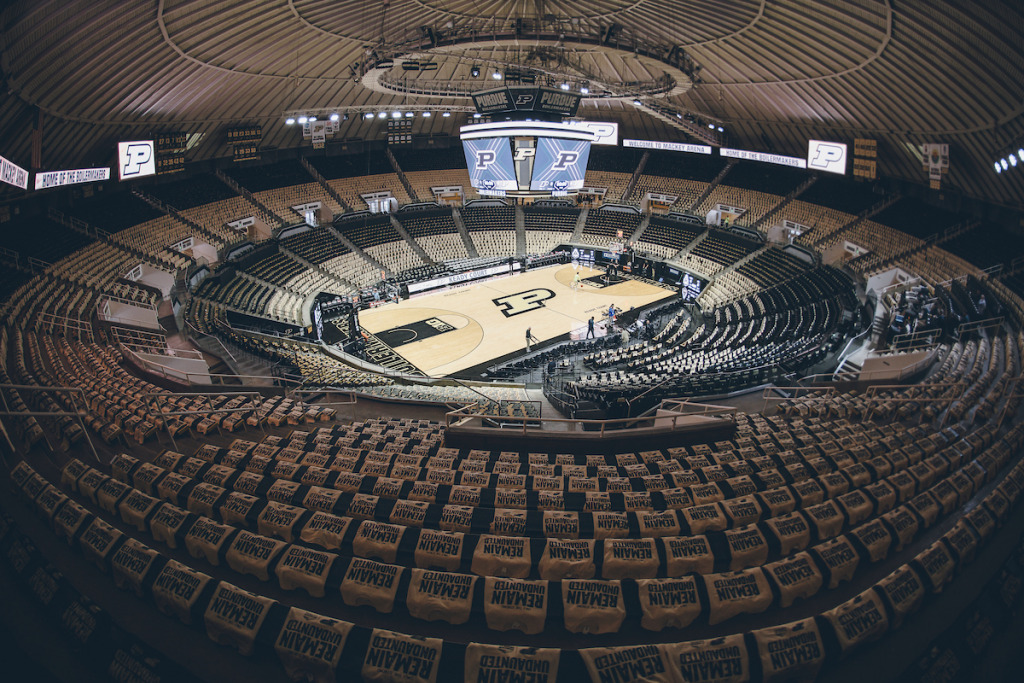 The demand for tickets for the men's NCAA basketball tournament being played this year entirely in Indiana is still a bit of an unknown, but local ticket brokers told IBJ on Friday that they're seeing some good signs.
"We're already starting to get some calls from interested fans and that's before any of the matchups are known," said Renny Harrison, owner of Carmel-based Fanfare Tickets. "I think after the selection show on Sunday, we'll see a big surge in the interest.
"This is the first opportunity for a lot of these college basketball fans to see their teams this season, so that's really great and driving a lot of interest," he added. "There's a built-up desire just to go and do something too, so we're getting a lot of inquiries."
The NCAA announced last month it would allow each of the six venues in Indiana hosting tournament games to welcome up to 25% fan capacity throughout the tournament, which tips off March 18 with First Four games at Mackey Arena in West Lafayette and Simon Skjodt Assembly Hall in Bloomington. Tournament games also will be played in Bankers Life Fieldhouse, Lucas Oil Stadium, Hinkle Fieldhouse and Indiana Farmers Coliseum.
Only tickets for the First Four—which are being played in Bloomington and West Lafayette—and the first and second round tournament games are currently for sale.
Tickets for many of those early game have sold out, although there are still seats available for games at Lucas Oil Stadium, where capacity is the largest. For other venues, tickets on some of the bigger resale web sites were being advertised for more than $250. Most were less than that.
The face value of tickets for the early round games varies from $30 to $200 with many of them running below $100.
Tickets for the Sweet 16 and Elite Eight rounds are expected to go on sale next week and the Final Four after that.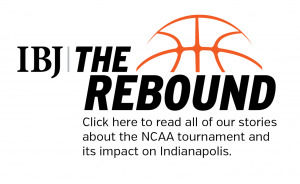 "We've gotten calls from people just wanting to go to an NCAA tournament game," said Kiros Sistevaris, partner at Indianapolis-based Circle City Tickets. "Of course we're fielding a number of calls from people who want to see who plays in what bracket, but some just want to go to an event. They're seeing a college basketball game at Bankers Life Fieldhouse on a Saturday and they think taking their kids to a game is a pretty good way to get out. We are hearing from a number of people who definitely want to do something."
While local ticket brokers are cautiously optimistic they can make a moderate profit from the tournament in Indiana, there are several limiting factors.
The first and biggest challenge is the limited number of tickets available overall and the extreme shortage of lower bowl tickets.
"There's a lot of areas that are walled off or tarped off," explained Harrison. "There's almost no club or lower level seats available anywhere. Some of my clients just aren't used to sitting way up high and others who won't pay the money to do that."
There's also a hesitancy for a number of people to attend a sporting event—even with reduced crowds. Travel is another big issue. Ticket brokers expect few fans from the West Coast and other far flung locals to make the flight to Indiana to watch the tournament live. Local ticket brokers have had few inquiries, for instance, from fans of Gonzaga University—located in the state of Washington—despite the fact that the team is undefeated and one of the favorites to win the tournament.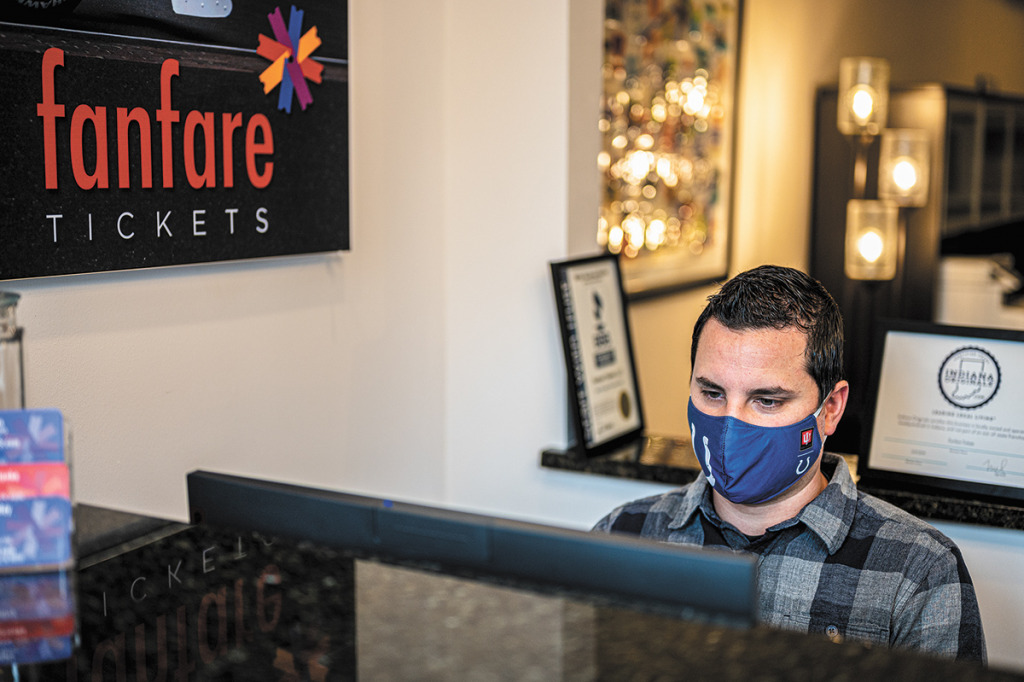 "Most of the inquiries we're getting are from the Midwest," Harrison said. "A lot of that stems from the fact that it's an easier trip and can be made by car. And there are a lot of great Midwest teams. Of course, we would be happier if IU and Kentucky were in the tournament. Not having either of those two teams is a big blow."
There are also going to be a number of games, ticket brokers said, featuring small, not-well-known schools, that are going to have a limited appeal to the ticket-buying audience. One ticket broker said more than two-thirds of the early round games will have "little to no interest in terms of ticket sales."
Ticket brokers admitted they'll have to be careful to make a profit on this tournament, which is being held for the first time in one state.
"I think when the matchups come out, we're going to see the realities of the demand," Harrison said. "When you have certain teams playing that not many people have strong ties to in the middle of the day in the middle of the week, those games lose their appeal pretty quickly."
Then, Circle City Tickets' Sistevaris said, "Once we get deeper into the tournament and teams are making their runs, we will see a second wave of ticket demand."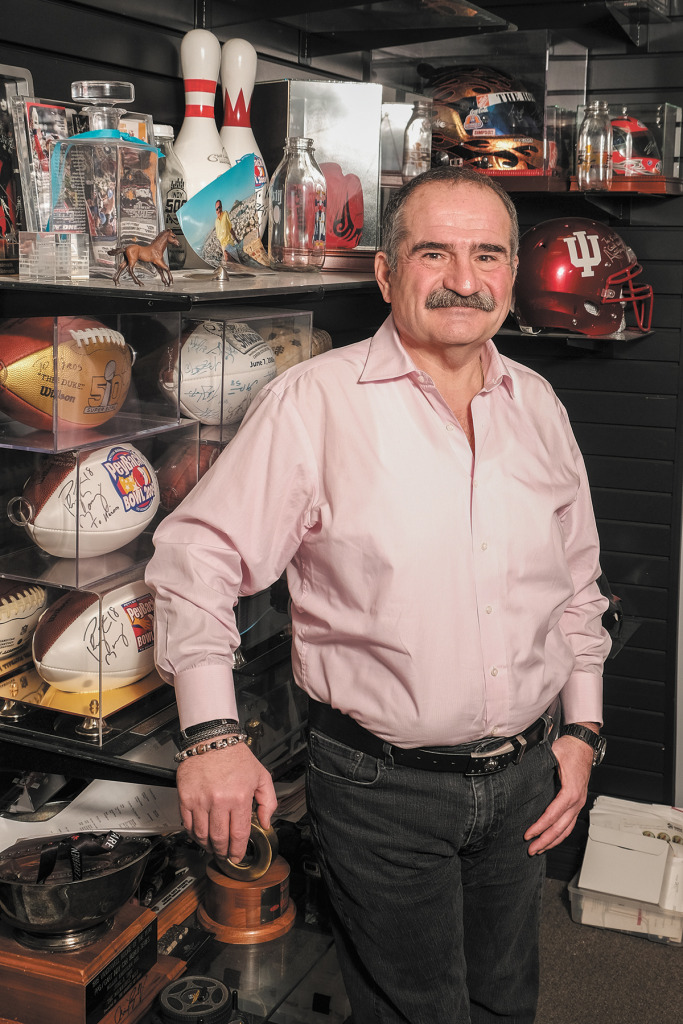 While Sistevaris thinks fears over the pandemic could challenge demand, he's still hopeful it will be strong.
"I've been to [Indiana] Pacers and Big Ten tournament games, and the processes and safety procedures they have in place are fantastic," Sistevaris said. "I think the venue operators here have created a very safe environment to watch a game. But there are still two trains of thought, and there are still people hesitant to go out because of COVID."
Harrison expects the NCAA tournament to be profitable for his firm, but added, "It's on a different scale. It isn't what it was before, but we'll take it. We're very happy to have this in our backyard.
"This is a great opportunity for our business and a great opportunity for us to reconnect with our customers," he added. "This has given us a really good way to get dialed back in with our customers, corporate and otherwise."
While demand for tickets for this year's Final Four at Lucas Oil Stadium will be driven largely by the teams and their fan bases, the three ticket brokers interviewed for this story think the games will be sold out and demand on the secondary market will be significant.
This year's tournament couldn't come soon enough, said Harrison, whose company has shrunk from eight to five full-time employees due to the pandemic.
"Last year was really tough," he said. "We had done really well in the years leading up to 2020. So we were able to weather it OK financially. The toughest thing was coming to work every day trying to figure out ways to give people their money back. Providing refunds was all we did for months."
But that financial gut-check, Harrison said, is helping his firm rebound.
"I think the one thing that will really help us in the future is that we refunded every dollar for every ticket we sold for every event that was cancelled," he said. "I think our customers will remember that the next time it comes to buy tickets. Hopefully some of that starts this month."
Please enable JavaScript to view this content.