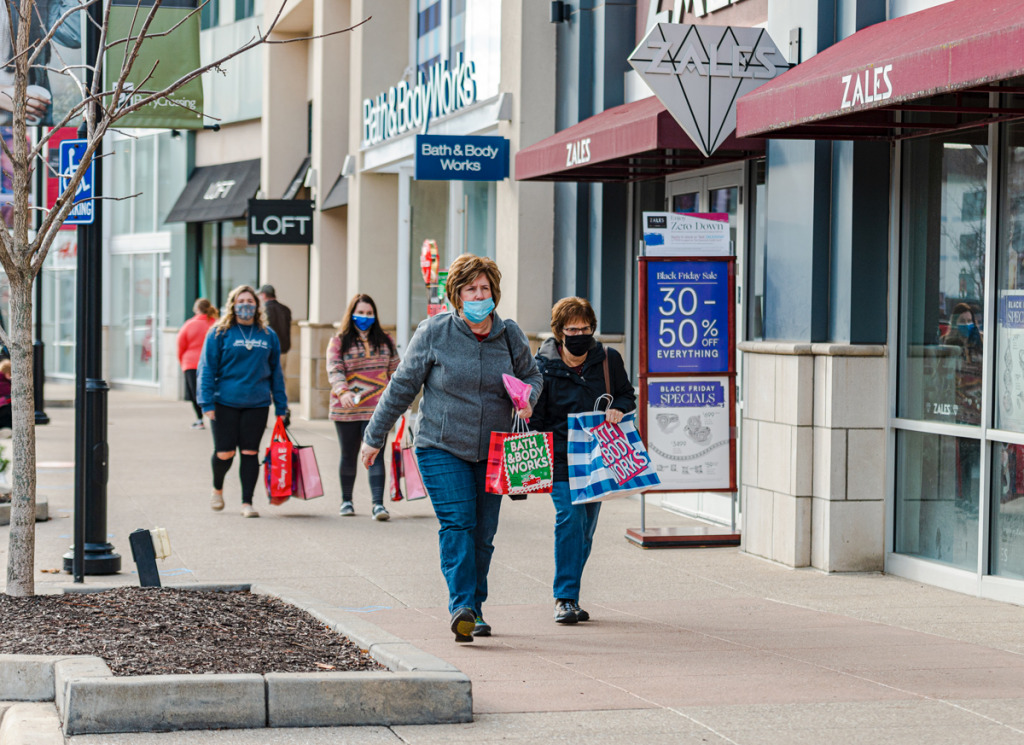 The Shops at Perry Crossing in Plainfield has been plagued by a string of ownership challenges since it opened in 2005, but experts say a second foreclosure—brought on in part by the pandemic—probably won't burden the property long term.
The shopping center—the 10th-largest in the Indianapolis area, at 600,200 square feet—was repossessed by its lender in October, after Memphis-based owner Poag Shopping Centers LLC defaulted on a $29.9 million loan balance in June.
The default is the second for the property, after its original developer, Premier Properties USA Inc., began drowning in debt in 2008.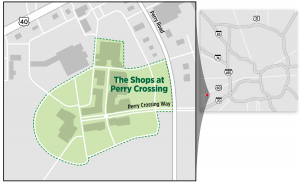 Poag and its partner, Chicago firm Blue Vista Capital Management LLC, which together acquired Perry Crossing in 2014, put the property up for sale in the fall of 2019, after spending more than $11.1 million to upgrade the shopping center and rebrand it from Metropolis Lifestyle Center.
But COVID-19 stymied the groups' efforts to offload the property, Poag CEO Josh Poag told IBJ in August.
"We were calling for offers in March, and obviously … that was at the beginning of the COVID crisis, so that derailed all our plans to sell the property," he said at the time. He did not return multiple messages requesting comment for this story.
Poag had attempted to work with its lender, Pacific Western Bank, to extend the maturity date on the loan, but the sides "couldn't work out a deal," its CEO said. The stalled talks led the bank to move ahead with the foreclosure process, filing its claim for the property in Hendricks Superior Court 2 on June 4.
But the foreclosure isn't a sign that The Shops at Perry Crossing doesn't have a bright future.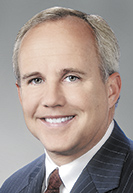 It's not unusual for shopping centers to go into foreclosure, particularly after an owner takes on significant debt to pursue improvements, said Bill French, executive director and retail broker for Chicago-based Cushman & Wakefield's Indianapolis office.
The pandemic only exacerbated the situation. Most larger centers typically come out the other side with little scathing, he said, and such should be the case with the Plainfield shopping center.
"In my estimation, The Shops at Perry Crossing got caught in a temporary liquidity trap," French said. "Everything was hitting on all cylinders, but … they had to take on a pretty good amount of debt in order to make all those improvements. Then they start leasing up tenants, and COVID hits—tenants go bankrupt, shopping declines, and now, all of a sudden, they've got more overhead and less rent."
Until a new owner is secured, the property is being managed by Syracuse, New York-based Spinoso Real Estate Group after the court appointed the company as the receiver—despite efforts from Poag to continue managing the property in the interim.
Calls to Spinoso requesting comment for this story were unreturned and a representative for the town of Plainfield declined to comment.
The history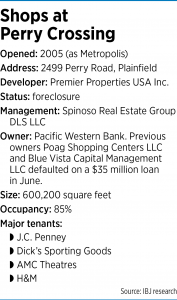 When the 68-acre property was acquired by Poag, the firm spent a lot of time considering how to move Perry Crossing forward. Those plans included two new hotels, including a Courtyard by Marriott and another still in the works, as well as the complete rebranding of the property.
"We look at properties that we can help grow and add our development touch to help them flourish," Josh Poag told IBJ in August. "That's what we did with Perry Crossing. It finally got to the point where our partners came to us and said, 'You know, we've done a great job, let's go ahead and sell it and pass it on to the next partner.' And we were looking [at doing that], but obviously it never came to fruition."
Some industry sources said they think the rebrand, while well-intentioned, might have hurt the effort.
"I think one of the big mistakes that [Poag] made was, they changed the name from Metropolis," one real estate source told IBJ, speaking on condition of anonymity because they weren't authorized to speak publicly. "The Shops at Perry Crossing sounds like a 15,000-square-foot shopping center along 86th Street. It just doesn't sound like a name that fits that type of big lifestyle center."
The source said the name might create challenges as the shopping center continues pushing to draw more visitors from across the metro area.
But the property has faced challenges before.
Indianapolis-based Premier Properties spent $160 million to develop Metropolis, but the firm had a series of severe financial losses and legal troubles that led to its dissolution more than a decade ago. Its founder, Christopher P. White, was sentenced to one year on home detention and three years of probation for writing a bad $500,000 check while trying to save the struggling real estate development firm.
And efforts to sell the shopping center to two Israel-based firms were skewered in 2010.
Still, French said it's unlikely the property will face significant headwinds as it goes back on the selling block, because it's a prime property in a key Indianapolis-area market. The improvements and the property's layout also make it a good candidate for a real estate hold, he said.
"Once the events of COVID pass and shoppers come back out and people come back to the restaurants, Perry Crossing is going to be headed to much higher heights moving forward," French said.
Staying the course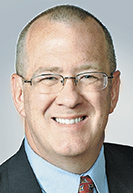 Meanwhile, shoppers and stores are likely to see little difference in how the center is operated, said Ball State University professor Michael Hicks. Generally, receivers are required to submit a budget to the lender for how the property will be operated. An initial budget was approved for the Shops at Perry Crossing in November, according to court filings, although the document was not made public.
"Even if you're a frequent shopper, you won't really notice a difference in the operations of the facility," said Hicks, the university's George and Frances Ball distinguished professor of economics and the director of the Center for Business and Economic Research. "Certainly, in the long run, the challenge is if they make enough money to sustain [operations] … but that's the problem with every mall, given the environment we're in."
John Talbott, the director for the Center for Education and Research in Retail at Indiana University's Kelley School of Business, agreed.
He said it's likely Spinoso will take an active role in recruiting new tenants, along with maintaining existing leases.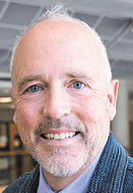 "They know that their team has work to do in order to either get the current tenants to re-up their leases or find a replacement tenant to go into those spaces or repurpose them in some way," Talbott said.
"For the bank, what they want to be sure of is that somebody is managing their asset well, so at the end of this they have something they can offload," he said. "In these sorts of situations, the job of somebody like Spinoso is to protect the interest of the holder of the bankruptcy claim."
Josh Poag told IBJ ahead of the foreclosure that he didn't anticipate the proceedings would affect shoppers, since most stores were retained during the pandemic, resulting in about 85% occupancy. Most tenants were open on Black Friday, too, except for the Claddagh Irish Pub, which closed in March when the pandemic hit and has not reopened.
Hicks said it's likely that lifestyle malls like Perry Crossing will continue to do well in the post-coronavirus shopping environment, but the continued transition to online shopping is likely to hurt all brick-and-mortar operations over the next several years.
"I think it's important to disentangle the COVID effect … from the long-term challenge," which is determining the best place for retail into the future, he said. That is likely to be urban centers, he added.
"It's going to be enclosed malls and strip malls in small towns and midsize towns that have the most challenges," Hicks said. "The upscale malls and properties with a lot of things going on are going to be around for a long time."
Predictions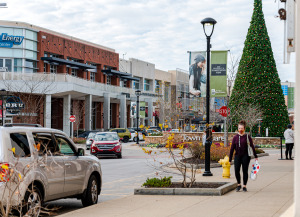 Talbott said many property managers are making decisions about how to best cope with those shifts, including how online sales from their tenants might affect rent collection.
He said one challenge for The Shops at Perry Crossing could be what comes of the J.C. Penney store, which is one of its biggest anchors alongside Dick's Sporting Goods and AMC. While sources told IBJ the store is considered a well-performing location for the brand, some believe the acquisition of the department store chain by Simon Property Group and Brookfield could have an impact.
"They're probably going to have to do something with that space, because I would kind of doubt that Simon would keep that open," said Talbott. "I would guess that, unless that store's performing really well, you could see that close. But maybe they can find something else to go in there."
He said the same can be said of AMC, given that movie theaters are on the cusp of a dramatic sea change, with the pandemic speeding up a shift to streaming models. But while the theater is open—with a series of precautions in place—the focus is less on rent and more on the space the chain is occupying.
"AMC, for the size of the space they have, probably isn't paying a ton of rent," he said. "So, from a cash-flow standpoint, it's probably not going to completely kill the situation there at [Perry Crossing], until we are able to sit in theaters comfortably again, and feel safe."
Talbott said he expects that, regardless of the property's ultimate buyer, there's likely an opportunity for the shopping center to fare well in the post-COVID environment.
"There's quite a bit of density around this area, so I think it's a place that's probably going to continue to stick around," he said.•
Please enable JavaScript to view this content.