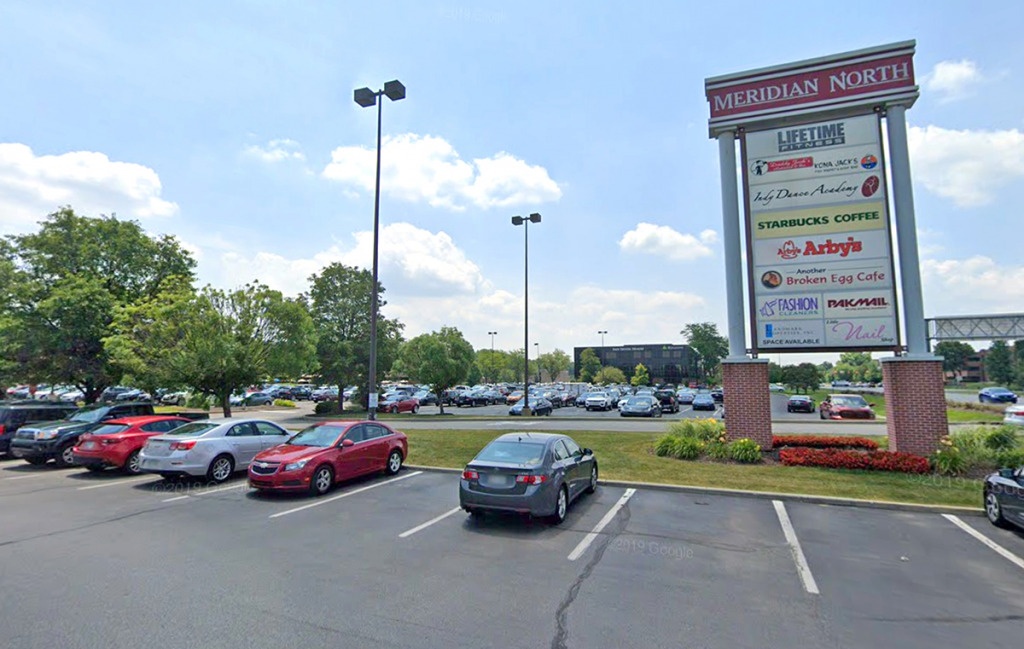 An Indianapolis-based developer is considering a massive, $150 million project that could result in hundreds of apartments, a new hotel and thousands of square feet of commercial space being built at a major north-side intersection.
Indianapolis-based Landmark Properties Inc. is in the early stages of a redeveloping the Meridian North retail and office center at the southeast corner of North Meridian and East 96th streets.
The firm is proposing major additions to the 17.8 acre property, including as many as 600 market-rate apartment units in two eight-story buildings, 145,000 square feet of commercial space, more than 1,300 parking spaces and an 86-room hotel for the unnamed project. The information comes from public filings Landmark has submitted to the city for an upcoming approval process.
The project is expected to be built in phases over the next several years.
"This is a big redevelopment project—we know that," said J. Murray Clark, an attorney representing Landmark through the Indianapolis office of law firm Faegre Drinker Biddle & Reath LLP. "It's bold and it's a huge capital investment in this community … but it's a [long] process. Everybody will have a chance to weigh in."
Clark spoke on behalf of Landmark president Brian Pahud, who was unavailable to speak about the project Wednesday night.
The existing center, which has 89,000 square feet of retail space and 71,000 square feet of office space, was built in 1978 with Kroger as an anchor. The grocer departed in 2007, leaving Landmark—which has owned the property since 1993—to find alternatives. Life Time Fitness has been in the 44,000-square-foot end-cap space for more than 10 years, but will leave after its lease expires in October.
Clark said the decision to redevelop the center follows extensive, unsuccessful efforts to find new tenants for various vacancies on the property, including the end-cap. Indianapolis firm Veritas Realty has been marketing the Life Time space for several months, but Clark said it's unlikely a single user would be able to take the entire floor plate.
"Having a center where the anchor tenant spot is vacant isn't good for anybody, and I think it's [Landmark's] desire to address that vacancy on the front end," he said.
The project is expected to kick off with the construction of the first of two eight-story apartment buildings: a 66,000-square-foot building with 279 residential units, 305 podium-supported parking spaces and about 7,600 square feet of first-floor retail space.
The other apartment building—directly south of the first—would be larger, at about 77,500 square feet, including 4,300 of retail. The structure would include 321 units and a 365-space garage.
The project is expected to retain at least two commercial buildings, at 9311 and 9333 N. Meridian St., and a utility building, largely on the south portion of the acreage.
Two new three-story buildings with 38,200 and 27,800 square feet of commercial space, respectively, are planned for the western part of the site, fronting Meridian. The hotel would sit at the northern portion of the site, east of a Shell gasoline station that is not owned by Landmark.
Clark said Landmark doesn't plan to cancel any leases to jumpstart the project, with several extending out to 2027 or beyond. As a result, the project is expected to take anywhere from five to 10 years to develop. Current occupants of the shopping center include a dry cleaner, two restaurants, a nail shop and a dance academy.
The redevelopment is intended to act as a "commercial gateway" for the north side of Indianapolis, Clark said, given the site nearly straddles the Marion County-Hamilton County line. It's also directly across 96th Street from a Drury Inn & Suites, along with the 1.5 million-square-foot Parkwood Crossing office park that extends to College Avenue.
The development would include more than 640 surface parking spaces and roundabout near its middle. The parking would largely be used by retail shoppers and office workers, since the apartments would have their own dedicated garages.
Clark said planning is still in its infancy (it was first discussed in February). Several steps are still necessary to move it ahead, including meetings with city planners and utility groups, additional discussions with the neighborhood and a slate of legislative approvals.
The project generally hinges on rezoning the land from its current classifications as C-1 and C-3 commercial districts to the DP, planned development, designation. A hearing before the city's Board of Zoning Appeals is not yet scheduled. After that, it would require approval from the Metropolitan Development Commission and City-County Council 
City-County Councilor Keith Potts, D-District 2, said he plans to meet with the developer Thursday to discuss the project. The developer iss not expected to pursue city incentives—at least for the apartment component. 
Potts said there could be considerations for infrastructure needs, but noted the matter had not yet been formally discussed.
He said he's "inclined to support" the Landmark project because the shopping center is a location prime for redevelopment.
"When somebody is willing to invest millions and millions of dollars into District 2 to build more housing and more retail space—looking forward to the next 50 years—I'm absolutely open and supportive of that idea," Potts said. "I just want to make sure the community comes together around it, too."
But already, some nearby residents have reservations about the project—citing traffic flow and the size of the apartment buildings, in particular.
Jon Hogge, president of the College Commons neighborhood that abuts the property's eastern edge, said residents he's talked to would like to see the plan modified to feature townhouses rather than apartments.
Such a switch, he said, would reduce the influx of people to the neighborhood during heavy traffic hours—something residents there already struggle with because drivers cut through the neighborhood to avoid backups on Meridian Street.
College Commons is comprised of about 340 single-family homes, most of which were built before the 1970s.
Sally Page, president of the Belle Meade subdivision at 96th Street and Spring Mill Road, said she has also told Landmark's leadership team she would like the project to be downsized.
"It's going to have a negative effect, as far as I'm concerned, looking at those two big elephants just sticking out" from the neighborhood," she said, referring to the apartment buildings.
"Those of us who have to every day fight the traffic at 96th and Meridian … we really want to be good neighbors. We think it needs to be redeveloped, but we think that this is on steroids—it's too much, too dense, for our area."
Page and Hogge said they understand it's unlikely their complaints about the project won't move the needle much with the developer, but they said they will continue to share their concerns.
The project is expected to be discussed by the Nora-Northside Community Council during an upcoming meeting. Page said she knows many residents in the Nora area as a whole are concerned about the project and the effects it could have on traffic.
Clark, the attorney, said meetings with neighbors and city officials are likely to include "some discussion" about modifications to the project, but it's unknown what form those could take.
"It's not our intent to develop in a way that [residents] think harms them—rather, Brian [Pahud] is trying to do this in a way that helps the community," Clark said. "He's reinvesting dollars into the community to make this center a thriving area for years to come."
Indianapolis-based firm CSO Architects has been enlisted for the project.
Please enable JavaScript to view this content.