A Westfield developer's plans for 68 acres next to Grand Park include a major planetarium and space science center, laser tag venue, jump park, meeting space, bowling alley, indoor/outdoor go-kart track and driving school.
Birch Dalton, managing director of EdgeRock Development LLC, outlined his vision this week to the Westfield City Council for the undeveloped farmland on both sides of Tomlinson Road, between 186th and 191st streets.
After building a nearly $15 million, 180,000-square-foot, multi-tenant community entertainment center, he said, EdgeRock will set the stage for Grand Universe, a $32 million space-science center operated by Martinsville-based Link Observatory.
Link, a not-for-profit that promotes STEM-focused education related to space, is still raising capital to fund the construction of 105,000 square feet of planned facilities on more than 55 acres.
"They just needed a developer to get in there, secure the dirt, get it zoned and give them the time to raise their money," Dalton said.
Link CEO Greg McCauley said Grand Universe will be anchored by the Astronaut David Wolf Observatory, a public observatory with twin 30-foot domes and research-grade telescopes available day and night. Wolf, an Indianapolis native and Purdue University graduate who spent 168 days in space, is chief science officer for Link.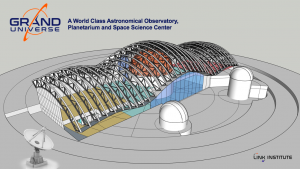 Plans also call for the space center to have a 70-foot-diameter digital planetarium that McCauley said will be capable of virtually hosting a Boy Scout camping trip to the moon, yoga classes on Mars or a black tie event in Paris.
McCauley also envisions nearly 55,000 square feet of exhibit space and another 25,000 square feet dedicated to a science, technology, engineering and math education center.
Early plans show a 650-space parking lot to accommodate the center's anticipated peak attendance. McCauley predicts Grand Universe initially will draw 250,000 visitors per year, eventually growing to more than a million. The center is expected to operate Tuesday through Sunday from 10 a.m. to 10 p.m.
McCauley said he's always approached his mission of enticing young people to pursue careers in science and technology with one question in mind: What would Walt Disney do?
"From there, your imagination goes crazy," McCauley said. "We want people to leave and say, 'I think I actually went to Mars.' With the technology we have today, you can simulate that so accurately that it's breathtaking."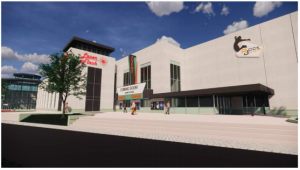 Construction could take from 18 to 24 months, meaning Grand Universe isn't likely open to until 2024—the same year NASA has planned its next moon landing.
"The timing couldn't be better because the next space race has begun," McCauley said. "We have traveled to major space science centers throughout the United States, and they have all had a very dramatic impact in the cities in which they're located. We plan for this to be the No. 1 school field trip destination in the state of Indiana."
Entertainment center
South of the observatory, EdgeRock plans to start construction on a multi-tenant community entertainment center in 2020.
Two of the center's planned tenants are transplants from another EdgeRock development.
In 2015, Laser Flash owner Peter Murphy considered moving his 12,000-square-foot entertainment business from its current location at 617 Third Ave. SW in Carmel to a new, larger facility in Fishers. In 2018, he switched course and announced his intent to take a 50,000-square-foot space in EdgeRock's planned entertainment facility at the southwest corner of State Road 32 and U.S. 31 in Westfield.
"We've been working on Laser Flash for three years," Dalton said. "We've moved it three times to lower the cost of development."
Now, Murphy plans to operate out of a 45,000-square-foot space in EdgeRock's new development. He's nixed the indoor ropes course, axe throwing and outdoor miniature golf he'd previously planned in favor of bowling and a new take on laser tag, with a restaurant and bar to boot.
Rather than the blacklight arenas of old, Murphy said he's planning a battlefield with internal, interactive LED lighting that reflects what's happening in the game. He said Laser Flash's 16 bowling lanes also will offer a new spin on an old favorite, with projected lights that give players points for skillful ricochets.
Murphy said the change will help Laser Flash focus on doing one or two things better than the competition, instead of spreading itself thin across multiple entertainment offerings.
Tom Holsworth, who was previously slated to open a trampoline jump park next to Murphy's Laser Flash, is also slated make the move next to Grand Park. Dalton said the jump park will operate out of a 27,000-square-foot space.
Dalton said the center's other tenant, IndyCar driver Jay Howard, will anchor the center with a 90,000-square-foot indoor/outdoor go-kart track and driving school.
Howard, a Carmel resident from Great Britain, plans to move his current driver development shop from 450 Enterprise Drive in Westfield to the new development, where drivers will be taught to race on multi-level tracks both inside and outside of a 90,000-square-foot facility.
"I wanted to do something that's state-of-the-art in a building specifically designed for this, so our current race team and driver development race shop would be next door to the indoor kart track and basically integrate the two companies," Howard said.
Community space
Those offerings will be rounded out with a developer-owned community space, Dalton said, one that dedicates nearly 20,000 square feet to movies, music performances and meeting space.
"I see a huge cross-pollination or synergistic effect as people field trip to the Link," Dalton said. "With today's digital tech, dropping in a couple small movie areas, we're trying to create a place where teens can come in between games (at Grand Park) and they can choose to be active or passive in their entertainment."
The planned unit development also includes rough outlines of a future 11-acre public park and hotel on the east side of Tomlinson Road, along the Monon Trail, and a future technology center near East 191st St.
Proposed changes to the planned development won't be considered for adoption until the council meets Jan. 13. Westfield's advisory plan commission will meet to review the plan Dec. 2.
Please enable JavaScript to view this content.