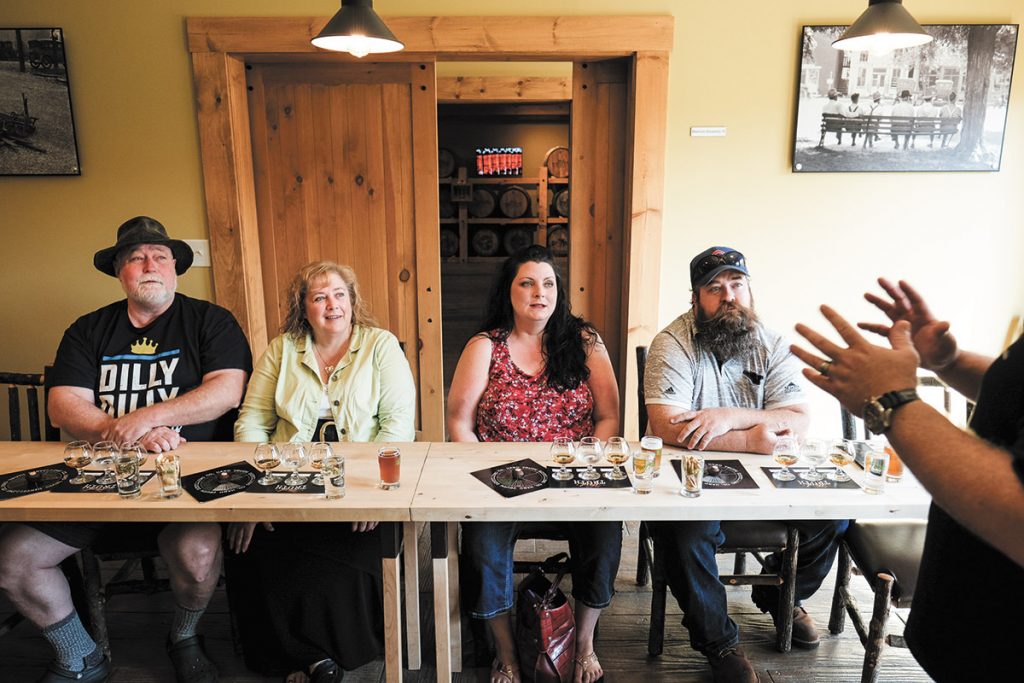 One of Brown County's newest tourist draws is also perhaps its most unusual.
Hard Truth Hills, a distillery/restaurant/entertainment complex on 325 wooded acres just east of Nashville, opened in July 2018. In its first 12 months, it attracted 267,000 visitors—everyone from fans of artisanal spirits to families looking for a place to relax and watch the leaves turn.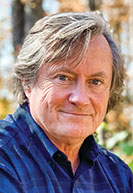 "It's like an adult Disneyland," said Jeff McCabe, executive chairman of Hard Truth Hills' umbrella company, BWQOHT Inc.
It's also one of the largest alcohol-themed entertainment complexes in the country. Long-standing distillers like Jim Beam and Jack Daniels evolved their properties into tourist experiences over the years, but a startup operation taking that route is perhaps unprecedented.
"We think we're kind of unique in terms of all the things we're doing," McCabe said. "You can find elements of what we're doing in other places, but we're trying to put it all together."
The company got into the alcoholic beverage business 10 years ago. At that time, the ownership team consisted of McCabe, Ed Ryan and Tim O'Bryan, McCabe's son in law. All three were in non-restaurant and non-brewery businesses before joining forces.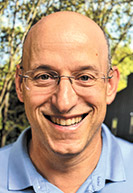 "We lamented the fact that there wasn't a craft brewery or brewpub in Nashville," McCabe said.
The trio corrected that shortcoming in 2009 when they took over an 800-square-foot Nashville property that formerly housed a restaurant called The Jug. After an extensive renovation, it reopened as a brewpub that November. Sporting its own house-brewed beers, it's now called The Original Big Woods.
"We got a chance to buy a little restaurant in a back alley in Nashville from a bank that had it in foreclosure," McCabe said. "We kind of built the first place ourselves. That's what really got us started."
Today, BWQOHT serves as an umbrella for three divisions:
◗ Big Woods, which oversees company-owned eateries in Nashville, Bloomington, Speedway and Franklin, as well as a Noblesville location set to open this winter.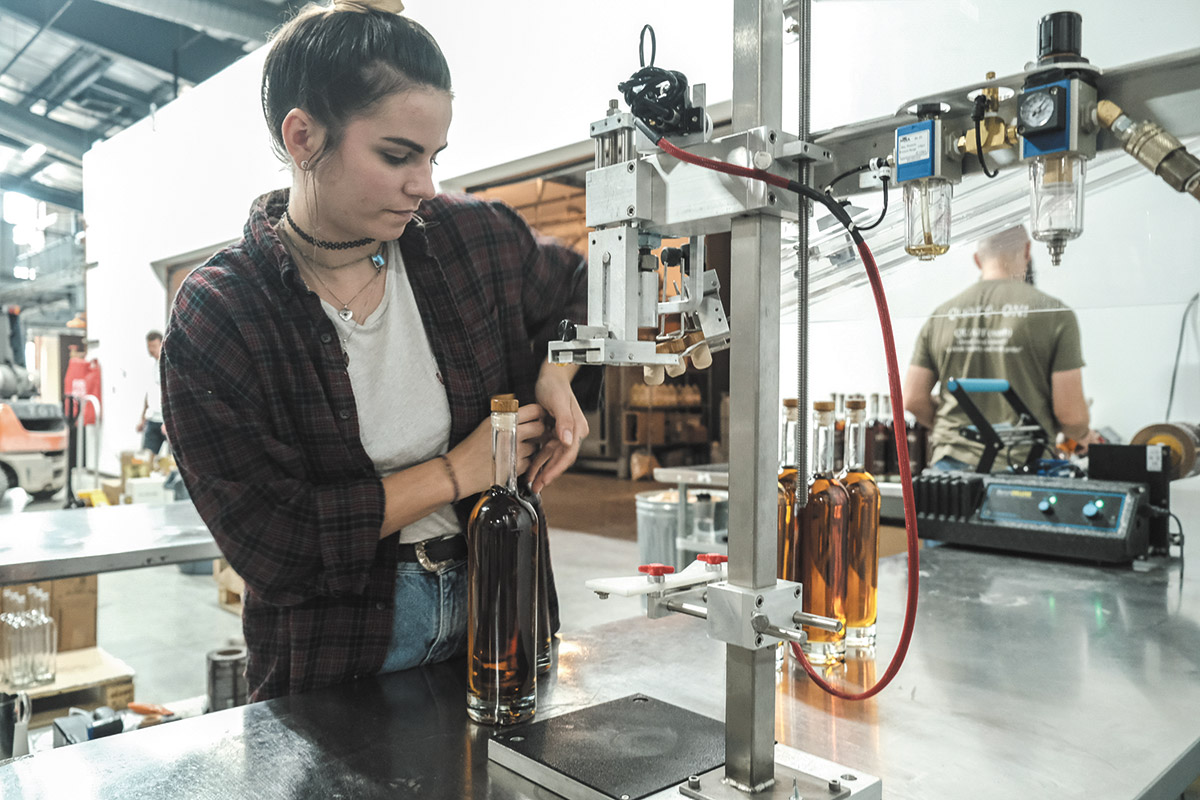 ◗ Quaff ON! Brewing Co., which brews some 10,000 barrels of beer annually, primarily for its eateries.
◗ Hard Truth Distilling Co., which runs Hard Truth Hills and creates hard spirits, including vodka, gin, whiskey and bourbon. Some of its top sellers include Cinnamon Vodka and Toasted Coconut Rum.
While the firm eased into craft brewing, it plunged into hard spirits as soon as the Legislature legalized craft distilling in 2014. The partners began by experimenting with small batches they made in the upstairs of one of their Nashville restaurants.
"We spent almost two years developing recipes and testing," McCabe said. While they tinkered with formulas, they started acquiring land for Hard Truth Hills. From day one, it was envisioned as both a large-scale production facility and a tourist stop.
The partners are coy about how much they plowed into land acquisition and development of Hard Truth Hills, though they acknowledge it was many millions of dollars.
"We knew we had an opportunity to get involved in craft spirits earlier in the business cycle than we did craft beer," McCabe said. "We knew we didn't want to invest incrementally. We wanted to go big in spirits, and we needed a place to do that."
Grand vision
What the partners created is the closest thing a visitor can get to an alcohol-themed amusement park, at least in Indiana.
The first structure someone sees upon entering the heavily wooded grounds is a large rack house with a 4,000-barrel capacity for aging bourbon and whiskey. Next comes the tasting and tour center, complete with a full bar.
After that comes the distillery building—a 50,000-square-foot structure that also houses the eatery Big Woods at Hard Truth Hills. The centerpiece of the distillery is a 14-inch-diameter, 30-foot-tall still, custom-built by Vendome Copper & Brass Works in Louisville—the largest distillation equipment maker in the United States.
O'Bryan said the still will make Hard Truth the state's largest craft distiller by production capacity.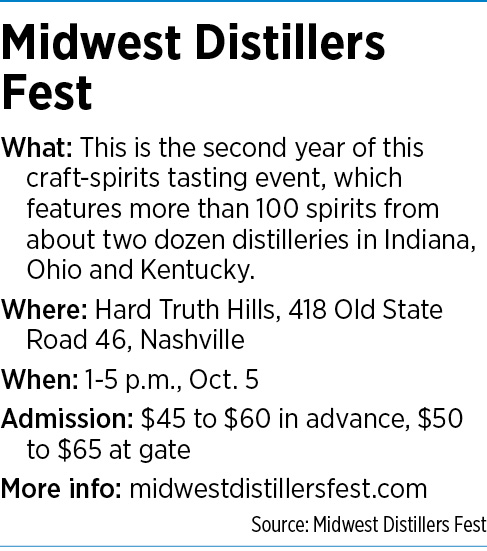 "We can make seven barrels of whiskey and bourbon a day," Ryan said. "We're not running it every day, but we do have 1,200 barrels aging in our rack house now. So we're cranking out some product."
The facility also was designed to facilitate tours, with catwalks offering aerial views of the still and fermenting tanks.
Hard Truth Hills also includes meeting spaces that get regular use for everything from corporate retreats to bachelorette parties. There's also an outdoor concert venue and a festival area for open-air functions.
That's on top of miles of trails, and ATV tours of the property. (Given that many visitors likely will have sampled Hard Truth's wares, the ATV rides are always chauffeured.)
Hard Truth Hills also offers classes in everything from the making of gin cocktails to something called the Moonshine Experience.
"It's an immersive Hard Truth Hills experience where you can make your own moonshine," Ryan said. "We've created a secluded hideaway down by Shiners Creek, where our distillers will work with you to distill a product, and actually put it in a custom-made bottle."
Multifaceted model
Hard Truth Hills' focus on classes and tastings helps build a loyal customer base while also helping the partners figure out what works and what doesn't.
Many distilleries, breweries and wineries draw from a similar playbook, though few operate on such a grand scale, said Brian Christensen, owner and editor of the national trade publication Artisan Spirit Magazine.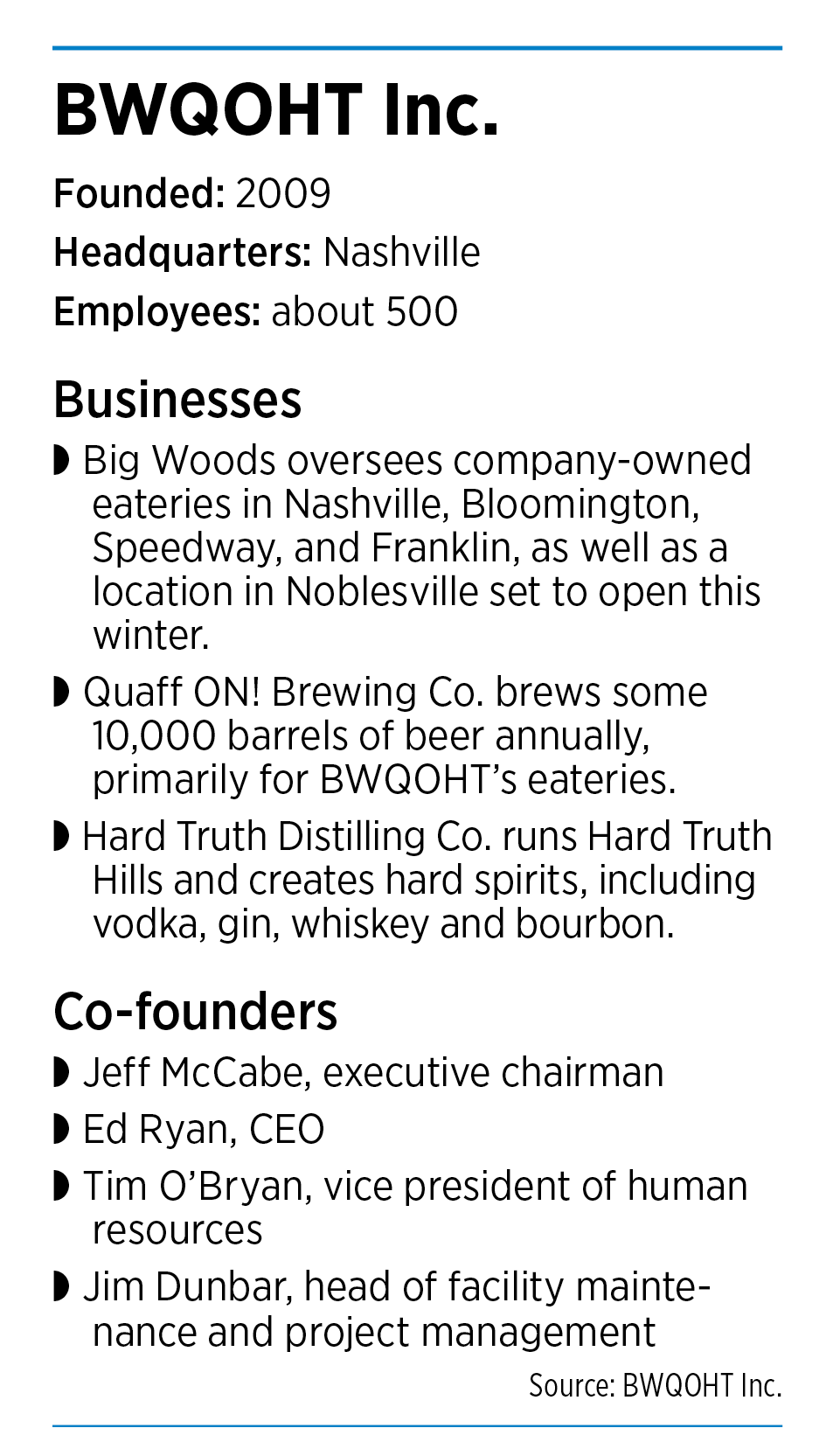 He said that's starting to change as the craft distilling field becomes more crowded, leading operators to look for ways to stand out.
"Over the last few years, we've seen mid-tier distilleries and even some of the smaller craft distillers start to follow the event-center-type business model, which makes a lot of sense because it draws a lot of customers," he said.
"These distillers are competing for retail shelf space for their product, so if they can bring people onsite and educate them, they can turn them from regular consumers into fans."
Making a name for yourself is more important than ever, because the number of U.S. craft distillers has ballooned from about 400 in 2010 to more than 1,500.
Amenities like event spaces and tasting rooms also can provide a much-needed revenue stream as startup distilleries ramp up.
It can take almost two years to get the local, state and federal licenses required to make spirits, then another four or five years to bring aged whiskeys and bourbons to market. In the meantime, distilleries can keep the registers ringing by selling "white" spirits like vodka and rum (which don't require aging).
Countywide support
Jane Ellis, executive director of the Brown County Convention and Visitors Bureau, said she has squired everyone from the lieutenant governor to tourism execs from across the country through Hard Truth Hills.
She said visitors are eager to learn about turning distilleries into tourist attractions.
"If you look at the large producers in Kentucky, those places weren't originally built to bring in the public and to educate and entertain. But Hard Truth Hills very much had visitors in mind. I think that's the difference," she said.
The county's visitors center offers regular weekend "Sippin' Trips" that shuttle visitors to County Heritage Winery (formerly Chateau Thomas Winery), Bear Wallow Distillery and Brown County Winery, as well as Hard Truth Hills.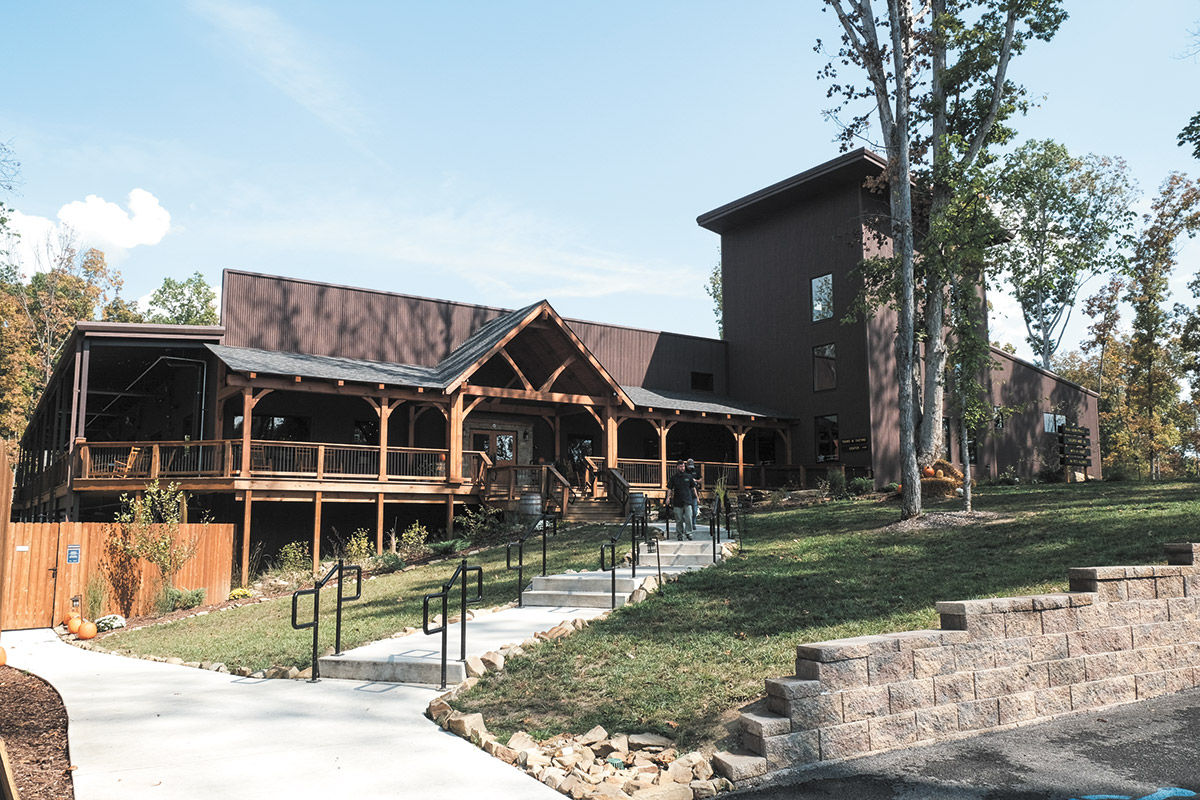 Ellis, who has spent more than a few evenings on the property, said Hard Truth Hills' visitors aren't just hardcore spirits fans, but families as well.
"We were up there one night on a work outing, and I couldn't believe the number of prom kids who were up there playing cornhole in the woods in their prom dresses," she said.
McCabe, for one, is big on the whole "family entertainment" angle. The place even sports a large play area where kids can amuse themselves.
About the only amenity he thinks it lacks is overnight accommodations. But that might change.
"We think we'll need some kind of lodging, though we're not sure what form it will take," he said. "Obviously, we've got room for it. I could imagine a lodge out there where people could spend the night or a corporate board could do a retreat."
During the next decade, the owners also hope to expand their roster of company-owned restaurants and distribute their bottled spirits nationally (currently, they're available in Indiana and Kentucky).
"Five years from now, we should have national representation for our spirits," McCabe said. "And we hope that Hard Truth Hills becomes a destination for folks from all over the world, because of the unique set of experiences we have to offer."•
Please enable JavaScript to view this content.