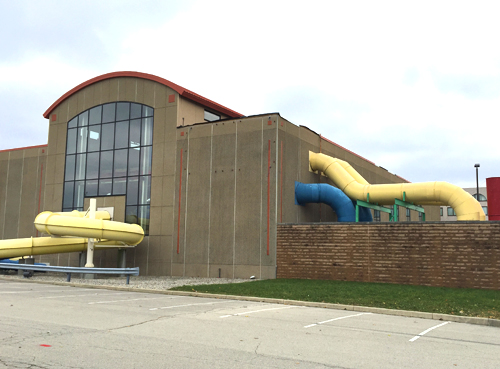 The Drury Hotels hospitality chain has scrapped plans to redevelop the former Caribbean Cove water park and hotel property on the northwest side, and will instead sell it and a neighboring hotel to another developer.
St. Louis-based Drury Development Corp. said in September 2018 it planned to spend about $13 million to build a 180-room hotel and additional buildings on the 10-acre Caribbean Cove property at 3850 DePauw Blvd.
But the property quietly went up for sale in July. It now is set to be acquired by another party that has undisclosed development plans. Also part of the sale is Drury's 109-room Pear Tree Inn on 2.3 acres at 9320 N. Michigan Road, directly across Michigan Road from the Cove parcel.
Robyn Swihart, managing broker at local real estate agency Equivis—which is representing both the buyer and seller in the transaction—confirmed the land is under contract. However, she declined to identify the buyer or share specifics about its plans, citing a confidentiality agreement.
"[The property] is under contract with a developer and the deal will close later this year," she said, adding the Pear Tree is part of the sale.
Swihart did not say why Drury is selling the property.
"I think it's a landmark site at a key I-465 Interchange," Swihart said of the Caribbean Cove site. "It's got great density and office traffic nearby, so it's no surprise to me all that it's a property that [has] received a lot of attention" from developers.
Drury bought Caribbean Cove in January 2018 for $4.7 million, about three months after the Caribbean Cove hotel shut its doors. The water park, which had been the main draw for the property for several years, shuttered several months prior.
Demolition on the property was completed around January 2019, with plans to construct a new seven-story hotel by the end of 2022. Also part of those plans was the development of up to three retail or office outlot buildings on the site.
The city awarded a nine-year property tax abatement for the new hotel shortly after it was announced, under which Drury would have saved about $2.8 million in taxes. It's not immediately clear whether the abatement will be transferred to the buyer or if Drury will be required to renegotiate its terms with city officials.
The project had been expected to create 30 jobs paying an average wage of $13.22 per hour.
Caribbean Cove was owned by local firm General Hotels Corp., which added the 50,000-square-foot water park in 2004 to boost its weekend occupancy. It sold the property to Houston Based Allied Hospitality Inc. in 2011 after business slipped.
St. Louis-based Drury has owned and operated the Pear Tree for more than 30 years, but spent about $400,000 to renovate the property in 2019 and rebrand it from the former Drury Inn name.
The hotelier is a family-owned chain with more than 150 hotels in 25 states. It's unclear whether Drury is still pursing plans to develop a hotel downtown at the former IBJ Media building.
A Drury representative did not return multiple calls from IBJ requesting comment Monday.
Please enable JavaScript to view this content.