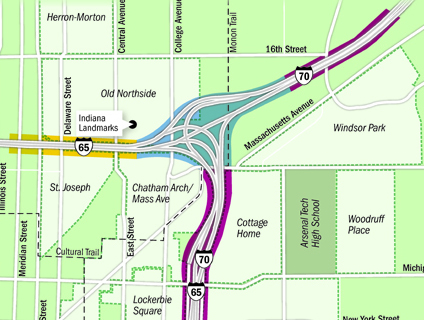 The Indiana Department of Transportation plans to reopen the eastbound lanes of Interstate 70 through the North Split in downtown Indianapolis this weekend, it announced Friday.
INDOT said the lanes should be open by the end of the weekend following an opening process that will include multiple short-term lane restrictions as crews move barrels.
The changes will allow motorists to travel on eastbound I-70 from the west, through the North Split interchange and continue onto eastbound I-70 to the east. I-70.
Westbound lanes of I-70 through the North Split aren't expected to reopen to motorists until the end of January, weather permitting.
I-70 has been closed in both directions through downtown since May 2021 to allow crews to work on the massive North Split reconstruction project.
Starting Friday at 9 p.m., access to Washington Street from I-65 northbound will close to allow crews to put down new pavement markings. Motorists will need to continue on I-70 WB until Saturday morning, weather permitting, INDOT said.
I-65 northbound traffic traveling through Indianapolis should continue using the detour along I-465 until the I-65 lanes are completely open in late spring of 2023, according to INDOT.
For more information on the North Split project and its impact on traffic, visit https://northsplit.com/
Please enable JavaScript to view this content.