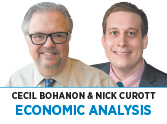 In their path-breaking book "Why Nations Fail," Harvard professors Daron Acemoglu and James Robinson report that, around 1583, Queen Elizabeth I mandated "her people should always wear a knitted cap." Anglican clergyman William Lee was distressed to see what an onerous burden knitting caps placed on his mother and sisters. One evening, watching them tediously knitting away, Reverend Lee had an insight: "If garments were made by two needles and one line of thread, why not several needles to take up the thread?" By 1589, Lee had invented a "stocking frame."
He took his invention to London to see the queen, in hopes of obtaining a monopoly patent. Upon viewing Lee's invention, Queen Elizabeth said, "Thou aimest high, Master Lee. Consider thou what the invention could do to my poor subjects. It would assuredly bring to them ruin by depriving them of employment, thus making them beggars." Elizabeth's successor, King James I, also refused on similar grounds to grant Lee a patent.
Fortunately for all of us, mechanized textile production eventually took hold in England. This is one component of the economic revolution of the last 2-1/2 centuries that gives us a standard of health and comfort unimaginable to Elizabeth I or James I or, more important, to the common folk of their time. Economic historian Deidre McCloskey estimates that the average resident of the British Isles has 30 times more goods and services than did his or her ancestors in 1600.
This is especially interesting today, as hourly wages for the lowest-paid workers—those in the leisure and hospitality sector—are rising at a record pace: 8.8% year-to-year, according to the latest data from the U.S. Bureau of Labor Statistics. Anecdotal reports indicate hotels are starting their kitchen help at $20 an hour.
However, as a consequence, many establishments are also introducing computer tablets and kiosks to streamline certain tasks. Some fear, like the 17th century British monarchs, that these technological innovations will lead to widespread unemployment.
We offer a different take. We suspect firms relying on $8-an-hour labor will soon find their business models unworkable. They will either die or adopt technological innovations that economize on scarce labor. The introduction of machinery reassigned cap-knitters to more interesting and productive tasks in the textile industry and supported higher wages in the industry.
We suspect we are witnessing a revolution in the leisure and hospitality sector that will mimic that outcome.•
__________
Bohanon and Curott are professors of economics at Ball State University. Send comments to ibjedit@ibj.com.
Please enable JavaScript to view this content.