Check our blog throughout the day and evening for election updates.
8:52 p.m. Turnout in Marion County up slightly
The Marion County Election Board on Tuesday evening said that 26.3% of registered voters cast a ballot in the 2023 Municipal Election, up from a turnout of 24.2% in the 2019 election—the last municipal election cycle in Indiana.
8:45 p.m.: Whitfield declares victory in Lawrence
Democrat Deb Whitfield has declared victory against Republican Dave Hofmann in the race to become mayor of Lawrence.
With 64% percent of vote centers reporting in Marion County, Whitfield had 52% of the vote to Hofmann's 48%.
She will be the first Black mayor of Lawrence, according to a release from the Marion County Democratic Party.
8:44 p.m.: Republicans win six of seven seats in Zionsville
 The Zionsville Town Council will have six Republicans and one Democrat next year.
With all precincts reporting, Democrat Tim McElderry (District 1) received 52% of the vote to Republican Bob Harris' 48%.
Republican incumbents Jason Plunkett (District 2), Craig Melton (District 3) and Brad Burk (District 5) won re-election, while Republicans Sarah Esterline Sampson (District 4), Joe Stein (at-large) and Evan Norris (at-large) will join the council.
8:40 p.m.: One Democrat wins in Fishers – but not one of the incumbents
Republicans will control all but one seat on the Fishers City Council.
Democrat Bill Stuart defeated Republican incumbent David Giffel in the Southwest District.
Democratic at-large incumbent Jocelyn Vare lost her seat on the council. And Democrat Crystal Neumann lost her seat to Republican John Delucia.
8:39 p.m.: Republicans win big in Westfield
Republicans will continue to hold all the seats on the Westfield City Council, which will have seven new members next year along with a new mayor, Republican Scott Willis, who ran unopposed in Tuesday's election..
8:33: p.m.: Democrats leading mayor's races in Beech Grove, Lawrence
With 64% of vote centers reporting, Democrat James Coffman, the Beech Grove city clerk treasurer, was leading with 57% of the vote over Republican Rick Skirvin, who has served for 17 years on the board of Beech Grove City Schools.
They are seeking to replace Democrat Mayor Dennis Buckley, Marion County's longest serving mayor, who announced last year that he would not seek a fourth term.
In Lawrence, Democrat Deborah Whitfield was leading with 52% of the vote over Dave Hofmann, a Republican and deputy mayor. Whitfield is an at-large city council member. They are battling to succeed Republican Mayor Steve Collier, who opted not to run for a third term.
In both races, it's impossible to tell what percentage of the votes cast in each race have been counted.
8:30 p.m.: Final result in Carmel—Finkam wins with 57%
Republican Sue Finkam nabbed 57% of the nearly 32,000 votes cast in the Carmel mayor's race, according to an unofficial report from the Hamilton County Clerk's Office. Democrat Miles Nelson had 42%.
Voter turnout in Hamilton County was 27%.
8:23 p.m.: Hogsett leads with 59% of the vote
Incumbent Mayor Joe Hogsett maintains a huge lead over Republican challenger Jefferson Shreve in Indianapolis with nearly two-thirds of vote centers reporting results.
Hogsett had 59% of the vote to Shreve's 41%.
About 64% of voters cast straight-ticket ballots, which were breaking heavily for Democrats.
8:16 p.m.: Democrats leading in key Indy council races
With just over 47% of vote centers in, Democrats appear ahead in hotly-contested Indianapolis City-County Council races.
In District 2, Democrat Brienne Delaney is leading Matt Hills, 66.8% to 33.2%.
District 4, which includes areas of Castleton and Geist, is still a close contest. Nick Roberts, a 23-year-old Democrat, currently has 52.4% of the vote to Republican Natalie Goodwin's 47.6%.
In the west-side District 17, margins are razor thin. Incumbent Democrat Jared Evans is leading at 50.6% of the vote while Republican Lisa Schmitz has garnered 49.3%. The pair are separated by 21 votes.
8:15 p.m.: Finkam wins in Carmel
Democrat Miles Nelson conceded the Carmel mayor's race to Republican Sue Finkam at roughly 8 p.m. She was preparing to take the stage at the Hamilton County GOP's victory party at 830 p.m.
7:58 p.m.: Finkam's lead grows with more votes counted
Republican Sue Finkam has seen her lead in the Carmel mayoral election expand to 54% to 45% over Democrat Miles Nelson.
The report from Hamilton County election officials doesn't specify how many Carmel precints have reported.
7:57 p.m.: A few Democratic councilors declare victory
Lesser-contested councilors declared victory at Joe Hogsett's election night event at 25% of vote centers reporting.
Ron Gibson, who was uncontested in the general election, spoke first. He was followed by downtown councilor Kristin Jones, who has nearly 82% of the vote against Libertarian candidate Mark A. Renholzberger.
Keith Graves, who represents the portions of the 38th Street corridor, declared victory with almost 80% of the vote against Republican Christopher James Moore.
7:51 p.m.: Straight-ticket ballots drive votes to Hogsett
With nearly 46% of vote centers reporting in Indianapolis, Democrat Joe Hogsett is leading with nearly 60% of the vote to Republican Jefferson Shreve's 40%.
The Marion County Election Board report shows that more than 54,000 of the 72,000 votes cast in the race were from voters choosing a straight ticket, meaning they were opting to vote for all the candidates in one party with the push of one button. The report shows straight-ticket voters were splitting 65% to 35% in favor of Democrats.
7:44 p.m.: Hogsett winning big with a quarter of votes reporting
With about a quarter of Indianapolis vote centers reporting, incumbent Mayor Joe Hogsett is leading Republican Jefferson Shreve with 61.4% of the vote.
The early report from the Marion County Election Board shows that of the more than 66,000 votes counted so far, 44,000 have come from straight-ticket voters.
Among those who cast a straight-ticket—meaning they voted for all the candidates in one party—66% voted for Democrats.
7:35 p.m.: McCormick is in the Hogsett house
Jennifer McCormick, a 2024 Democratic candidate for governor, just walked into Indianapolis Mayor Joe Hogsett's event at Kountry Kitchen.
7:33 p.m.: First precincts have Finkam leading
With the first batch of precincts reporting, Republican Sue Finkam has 52% of the vote to Democrat Miles Nelson's 47% in the Carmel mayoral race.
7:29 p.m.: Shreve arrives at election party
Jefferson Shreve has arrived at the Marion County Republican Party's watch party at The Heirloom at 230 W. McCarty St.
Lt. Gov. Suzanne Crouch made an appearance shortly after polls closed.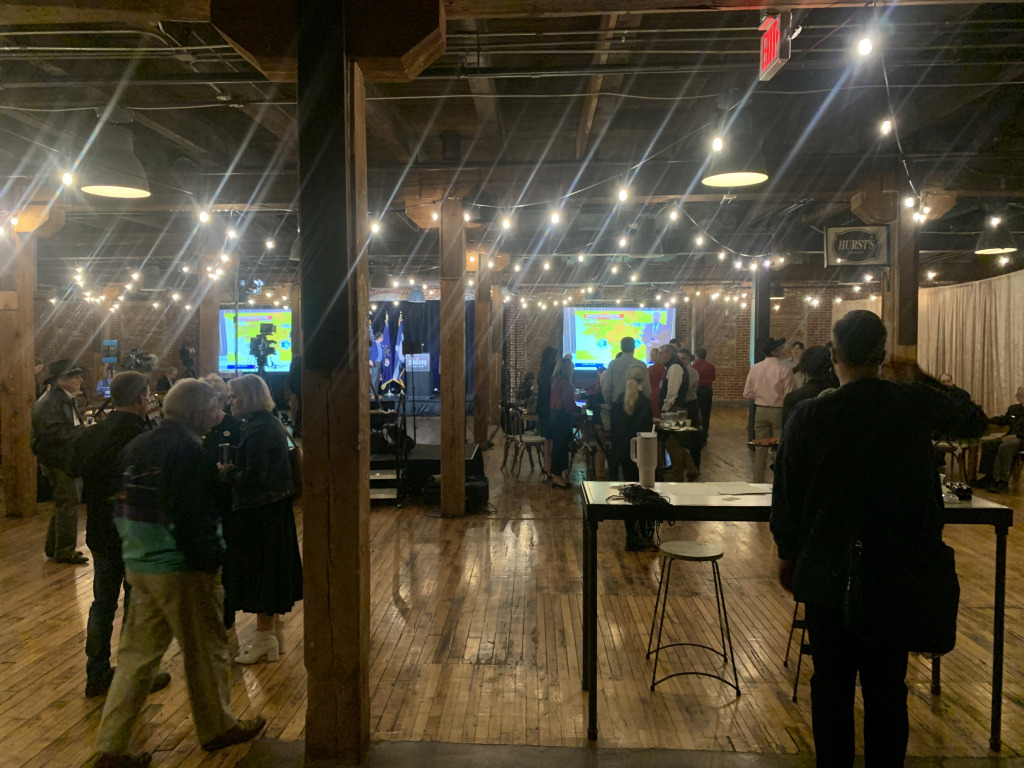 Marion County election officials have not yet posted any results.
7:24 p.m.: Kountry Kitchen site of Hogsett party
Supporters are filing in to Kountry Kitchen Soul Food Place for Joe Hogsett's election night celebration and awaiting results.
On Tuesday night, supporters were dining on a fried chicken buffet.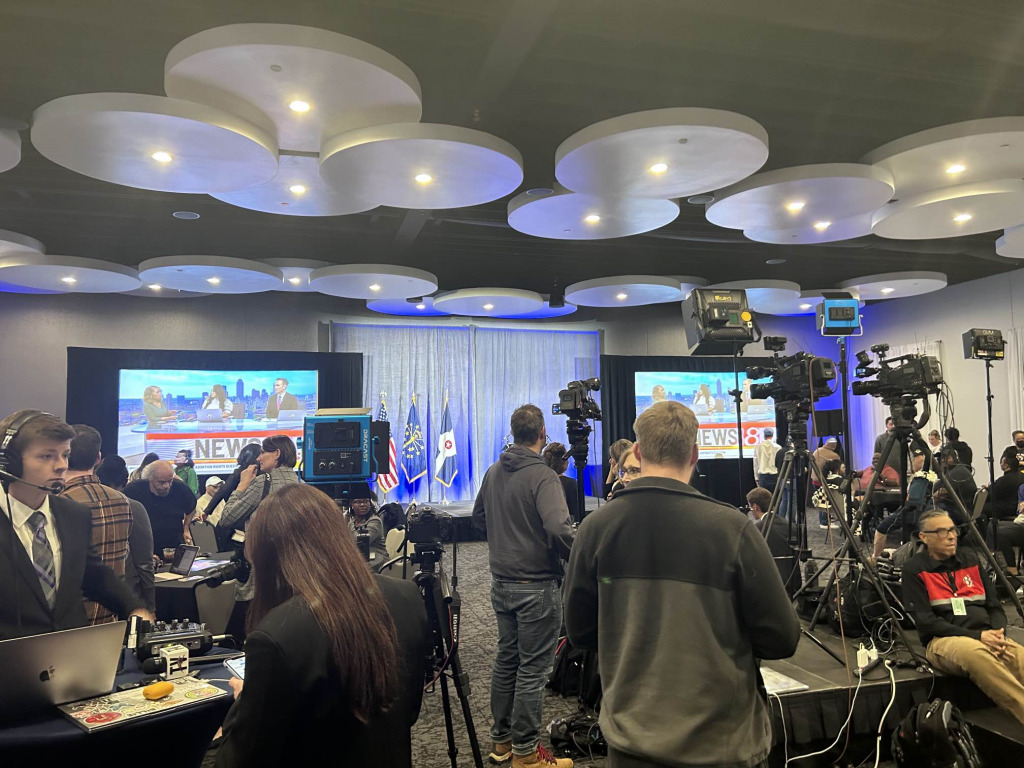 6:21 p.m.: Early results give Finkam narrow lead
Republican Sue Finkam holds a 51% to 48% lead over Democrat Miles Nelson in the Carmel mayoral election with early voting and some absentee votes counted in Hamilton County.
6 p.m.: Polls close and the vote-counting begins
Polls for Indiana's municipal elections closed at 6 p.m., and now candidates and political watchers will gather to await the results.
Supporters of Indianapolis Mayor Joe Hogsett and other Democratic city-county candidates will gather at the Kountry Kitchen soul food restaurant and event center, 1831 N. College Ave.
The Heirloom at N.K. Hurst, 230 W. McCarty St., will be the site of the Republican gathering for mayoral candidate Jefferson Shreve and his supporters.
IBJ reporters Taylor Wooten, Peter Blanchard and Mickey Shuey will fan out to both locations to bring you up-to-the minute reactions to the vote totals as they roll in.
IBJ's Daniel Bradley will be at the Hamilton County government complex to bring you the results of the Carmel mayor's race and other contests in the northern suburbs.
Check our blog frequently for the latest election news.
1:45 p.m.: Spate of power outages affects voting sites
Power outages affected several Indiana voting sites Tuesday morning, including two polling places in Hamilton County.
Hamilton County Election Administrator Beth Scheller told IBJ that people were able to resume voting about an hour after power went out at Grace Christian Church at 5504 E. 146th St. in Noblesville.
People were also unable to cast ballots for about a half-hour at Venture Christian Church at 14501 Hazel Dell Parkway in Carmel.
Generators were used at both locations to allow voting to continue.
The Indiana Secretary of State's Office said in a news release that another power outage in Wayne County disrupted voting for about an hour. Election officials there provided provisional paper ballots to voters, and generators were used to provide power.
The power outages are being tracked by Indiana State Homeland Security, emergency management authorities and utility companies, according to the Secretary of State's Office.
1:30 p.m.: Voting goes smoothly at City-County Building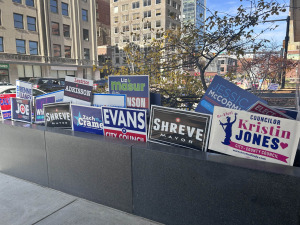 About 550 voters had cast ballots at the City-County Building as of about 1:15 p.m. Amy Alyea, a poll inspector, said operations had gone smoothly. As soon as a line of voters forms, she said, it is quickly whittled down.
Matthew Fagt, a 25-year old Broad Ripple resident, was among the voters at the City-County Building. He said he was motivated to vote because his father worked for the state government.
"I've seen the importance of our voice on government issues," Fagt said.
Noting his involvement in the software industry, Fagt cast his vote in the mayoral election for Republican and fellow businessman Jefferson Shreve.
Linda Cauger, 61, voted for Democratic Mayor Joe Hogsett.
She said Hogsett's experience should play a role in keeping Indianapolis on track. "If he does get elected, we'll continue to make steps to make this a better city," Cauger said.
10 a.m. Irvington polling place stays busy
About 20 people were in line to vote at Irvington Presbyterian Church, which election officials described as one of Marion County's larger and more active voting sites.
Jennifer Ro, poll inspector in Irvington, said about 370 people had voted at the site as of 10 a.m. One of the voting machines began acting up around 9:30, but the line was still moving and a maintenance technician was on hand to address the issue.
Kaitlin Barker came to cast her vote for Democratic Mayor Joe Hogsett as he seeks a third term in a contentious battle against Republican businessman Jefferson Shreve in Indianapolis. She said she was also voting for the Democrat running for City-County Council in her district.
"I just feel like they have my community's interests at heart," she said.
Keith Brown, who lives on Washington Street in Center Township, said he believes the city needs a change. But he declined to say whom he was supporting for mayor.
"It's eight years of not seeing anything get done," he said, adding that he's against the development of the IndyGo Blue Line. He said he recently received a letter in the mail saying that his street would be widened for the project.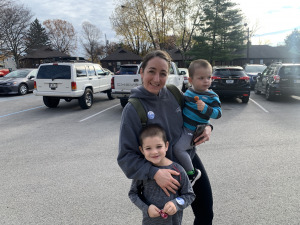 Marissa Bradbury, of Irvington, stopped by the Irvington polling place with her two young sons this morning to to cast her vote.
She says she came out to vote because "it's part of the democratic process. You can't complain if you didn't take part."
8:55 a.m.: Hogsett, Shreve visit the polls
Indianapolis Mayor Joe Hogsett was out visiting the polls this morning, starting with the Nora Public Library and then on to Allisonville Christian Church and Lawrence.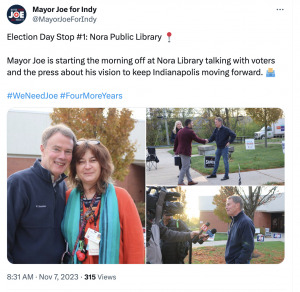 Meanwhile, Republican mayoral candidate Jefferson Shreve and his wife Mary cast their ballots In Perry Township.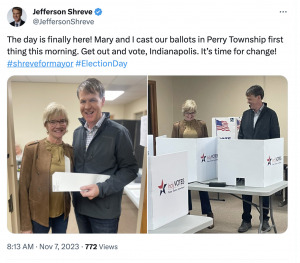 6 a.m.: Polls open for municipal elections
Polls opened for Election Day across Indiana this morning as Carmel voters prepare to elect a new mayor and Indianapolis decides whether give its current mayor a third term.
Interest in the mayor's races in both cities appeared to drive up early voting, and polls were expected to be busier than usual today for municipal elections that sometimes can be sleepy affairs lacking the marquee races offered this year.
In Indianapolis and Marion County, 33,498 residents took advantage of in-person early voting, nearly three times the number recorded for the 2019 municipal election when the mayor's race was much more lightly contested. Mail-in absentee ballots nearly doubled to 9,887 as of Monday.
This year, the battle between incumbent Democratic Mayor Joe Hogsett and Republican businessman Jefferson Shreve is the most expensive mayor's race in city history, with campaign ads saturating internet sites, broadcast outlets and voter mailboxes.
Shreve has self-funded his campaign to the tune of $13.5 million. Hogsett raised nearly $2.6 million this year as of mid-October, bringing his total amount of money available for this election cycle to $6.16 million.
Also up for election this year in Marion County are all 25 seats on the City-County Council, where Democrats currently hold a supermajority, and all city offices in Beech Grove, Lawrence and Southport. All three of those cities feature contested mayor's races.
In Hamilton County, which has contested city council races in Carmel, Fishers, Noblesville and Westfield, it's the Carmel mayor's race that is drawing the most attention.
The fight to succeed seven-term Republican Mayor Jim Brainard has been bruising at times, with Republican Sue Finkam and Democrat Miles Nelson repeatedly taking jabs at each other as Democrats try to make gains there and on city councils throughout the solidly Republican Indianapolis suburbs.
Early in-person voting throughout Hamilton County more than quadrupled this year to 20,121 from 2019, while absentee mail-in ballots rose nearly five-fold to about 6,000 as of Monday.
Check this blog throughout the day for updates from central Indiana polling places and for election results throughout the evening. For more information on municipal candidates, check out the voter guide from nonpartisan voter advocacy site The Indiana Citizen. To find your polling place, go to indianavoters.in.gov.
Please enable JavaScript to view this content.